Why History of Art?
…Because you can: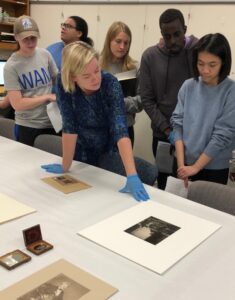 Foster the open mind of a truly global citizen. You'll develop a set of critical tools for negotiating differences and cross-cultural interactions.
Make contact with originals. Examine a 2,000-year-old Roman sculpture, understand how Rembrandt made his prints, or interview a South African activist and artist. It's more exciting to learn directly from primary sources, not digital copies.
Learn by doing. Explore first-hand the hundreds of African cultural objects in our Permanent Collection, or roll up your sleeves with archival research into Wheaton's history. We prioritize experiential learning.
Work with faculty who are also celebrated curators, award-winning authors, fellowship winners, and leaders in the field of museum studies. Because our professors incorporate their latest research, publications, and museum exhibitions into their teaching, your learning will never be static. You'll have a first-hand seat to see how knowledge is created, and how disciplines evolve.
Curate your own exhibition. Design and install thematic physical exhibitions with fellow students. Or create digital exhibitions and story maps that highlight your original art historical research.  No matter what format your exhibition takes, you'll learn how to interpret, analyze, and amplify the stories art objects tell.
Hone your research and writing skills with digital publishing in the arts. Contribute to the ARTHive Revue, our student-led art history magazine, or write about objects for our Permanent Collection website. Course projects often lead to innovative digital publications. Be a published author before you graduate!
Understand how art and design has supported hierarchies of race, class, gender and sexuality. Explore how today's artists and designers are combating systems of oppression, or working with communities to imagine a more equitable world.  Consider how museums and galleries can rectify the part they play in reinforcing social inequities.
Get involved in vibrant campus events and conferences that connect classroom ideas to social justice issues. Interact with visiting activists, curators, and museum professionals, or design your own website of critical resources, to encourage broader conversations about the arts, equity, and anti-racism, beyond Wheaton.
Work with faculty committed to activist scholarship, examining subjects like the role of public art in political controversy, cultural appropriation, or the repatriation of colonial plunder. You'll understand how the History of Art is deeply linked to current events, and an ideal preparation for today's complex world.
Be part of a community committed to the Diversity, Equity, Inclusion, and Belonging (DEIB) goals of the College. We're actively reassessing how we meet the different needs and backgrounds of our students, to ensure all of our students feel seen and heard in our classrooms. We'll continue to challenge ourselves as we strive towards inclusive excellence.
Dive deep into local museums and collections to develop your research and curatorial skills. Our students collaborate with professionals at the Attleboro Arts Museum, Providence Athenaeum, the Boston MFA, and the RISD Museum, Providence. Our courses provide hands-on opportunities off-campus to build knowledge, a professional network…and your resume.
In our Sophomore Experience courses, learn about grant writing for social justice or how to create educational programming for an exhibition. Whether you're proposing acquisitions for the Permanent Collection, or writing an object condition report, you'll be acquiring marketable skills for professional careers.
Apply your knowledge and skills with an on-campus job working in the Permanent Collection or the Beard & Weil Galleries. First-Gen and low-income students, and students from diverse backgrounds are especially encouraged to take advantage of the mentoring, practical experiences, and professional development opportunities provided by student employment.
Find a rewarding internship. Along with Career Services, we actively support students in their efforts to acquire internships in the arts. We're especially committed to supporting students from historically underrepresented populations to explore the museum, archive, and gallery/auction fields. We want Wheaton to play an active role in diversifying and expanding the arts.