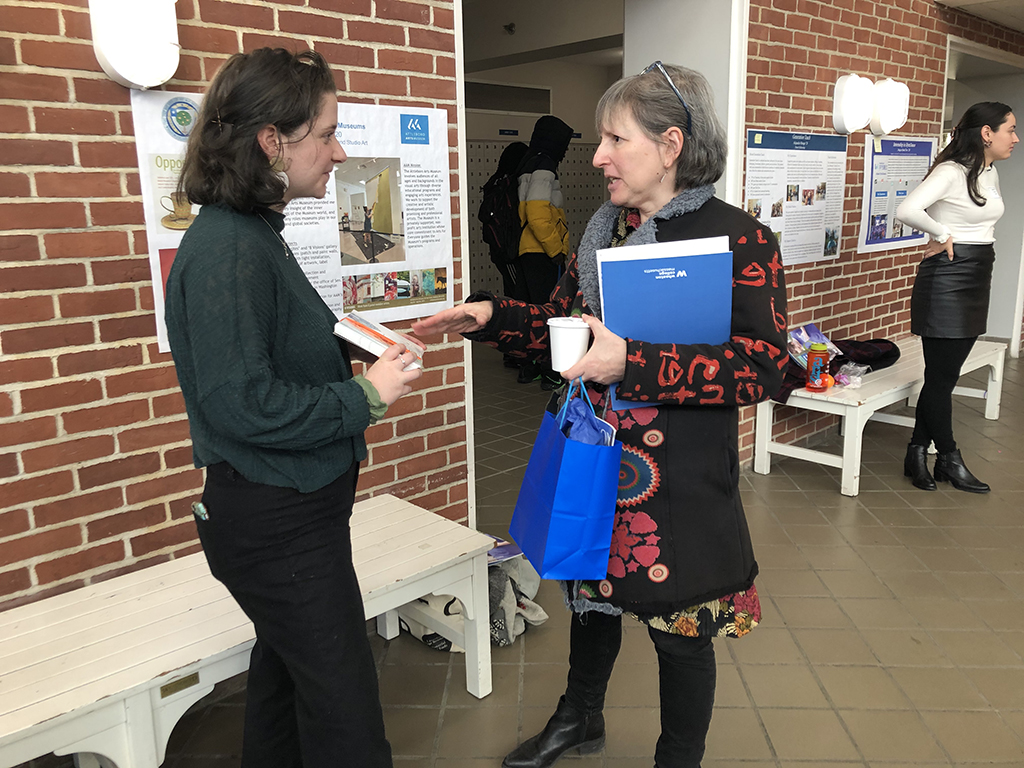 Students discuss experiential learning at event
Standing on the landing near the campus post office in Balfour-Hood Center, Mackenzie Lewia '20 and Mim Fawcett, executive director and chief curator at the Attleboro Arts Museum, spent a long while talking and laughing like long-time friends.
It was a reunion of sorts. Lewia spent summer 2019 as an intern at the museum working for Fawcett, who visited the senior during Wheaton's 11th Internship Showcase held on February 14. Lewia was one of more than 165 students who exhibited posters about their internships and discussed their experiences with visitors.
As an intern at the museum, Lewia had many duties, from managing the front desk and greeting visitors to proofreading labels, hanging art and painting walls for exhibitions. She worked on three exhibitions, including "Opposites," "8 Visions," and the preliminary research for "Character Development," which opened February 15.
"This exhibition juxtaposes 19th and 20th century portraiture and more modern counterparts created by Attleboro Arts Museum members artists," said Lewia, who is a history of art major and is pursuing minors in biology and visual art.
"I had the pleasure of organizing and working in the museum's permanent collection, pulling artworks of interest for 'Character Development,'" she said. "During my search, I looked for works that opened a doorway to a modern interpretation that could inspire a new contemporary piece. Through this experience, I was able to explore my passion for uncovering the stories behind objects and their histories."
Her work was much appreciated as well as noted in The Sun Chronicle (Attleboro, Mass.) in a Jan. 29, 2019 news article previewing "Character Development."
The article noted: "Fawcett credited Wheaton College intern Mackenzie Lewia, class of 2020, for serving as the exhibition's 'casting agent—identifying inspiring portraits from the museum's vault.'"
On campus Lewia, who is the manager of Outdoors House theme residence, works with Wheaton's Permanent Collection as a curatorial intern for Associate Professor of Museum Studies and History of Art Leah Niederstadt.
In the future, Lewia said that she would like to work in the museum field with a focus on archival research. "My hands-on experience at the Attleboro Arts Museum allowed me to explore many different sides of museum work," she said.