Wheaton College is governed by the Board of Trustees, a 32-member volunteer board that holds fiduciary responsibility for the college. The Board includes the president of the college, Michaele Whelan, who serves as an ex officio member.
The college's president is responsible for overseeing all aspects of the institution's administration and leads the President's Council, composed of college officers and senior leaders, who are responsible for managing day-to-day operations.
The President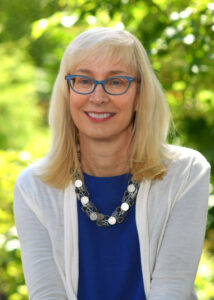 Michaele Whelan, an experienced and energetic higher education leader and a scholar of English literature, took office as the ninth president of Wheaton College on January 1, 2022. In her leadership roles, Whelan has excelled at collaboratively developing academic programs that address evolving curricular and student needs while strategically advancing the institutions she has served.
Throughout her career, she has developed a reputation for increasing academic and inclusive excellence and equity through a broad array of initiatives. She is credited with encouraging a culture of collaborative pedagogy, fostering innovation in teaching, supporting research and creative work, deepening connections of the liberal arts with the professions, and expanding opportunities for global education.
Read Welcome Message from President Whelan
Read President Whelan's full bio