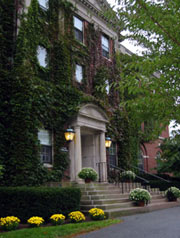 The Provost is the chief academic officer of the college, responsible for oversight of the faculty, the curriculum and the academic support system. The mission of the Provost's Division is to work collaboratively within and outside the division to promote, enrich and support an innovative liberal arts education centered by an integrative, cross-disciplinary curriculum.
Offices that report to the Provost
Related links
Faculty legislation documents can be found on insideWheaton.
Office of the Provost
26 East Main Street
Park Hall
Wheaton College
Norton, MA 02766-2322
Telephone: 508-286-8212
Faculty Spotlight Series