Building on Tradition, Ensuring Transformation
Wheaton College stands poised at a major milestone. Buoyed by a tradition of innovation, the college begins its next phase with new leadership, an expanded charter, and a renewed commitment to growth and transformation.
Upon taking office in January 2022, President Michaele Whelan engaged the college community in a focused and inclusive process of reflection on Wheaton's existing strengths and a collective imagining of its future. These strategic conversations involved every member of the faculty and staff in small group discussions, as well as students, the Board of Trustees and the college's alumni volunteer leaders.
Following a year's worth of collective reflection, the college community has refined and affirmed its educational mission, renewed its vision of an innovative, intellectually rigorous and practical liberal arts education, and set forth a series of strategic principles and priorities aligned to its shared goals. Taken together, they outline a bold plan to build on Wheaton's rich tradition while embracing transformations designed to preserve the college's vitality for future generations.
Mission
Wheaton College provides a transformative liberal arts education, combining theory and practice, for intellectually curious students within a collaborative and vibrant extended community and network that values and strives to create an equitable and just world.
Vision Statement
Wheaton educates students for purposeful, abundant lives and evolving careers.
Essential Elements
Creating a student-centered, action-oriented environment with a shared and sustained sense of belonging
Fostering students' skills, habits of mind, and confidence to make meaningful differences in the world
Maintaining high standards of academic excellence, ethical integrity, intellectual freedom
Providing an innovative and flexible liberal arts curriculum embedded in experiential learning to ensure a transformative education
Empowering all faculty and staff to shape a diverse and inclusive community
Engaging alums in mentoring and career design within a lifelong network of support and connection
Strategic Foundation
The next chapter in Wheaton's rich history will be written by community members who invest their passion for the college in the programs that will define our mission for generations to come. With strategic priorities firmly embedded in our institutional commitment to diversity, equity, inclusion and belonging, Wheaton will continue to strengthen the transformative power of the liberal arts.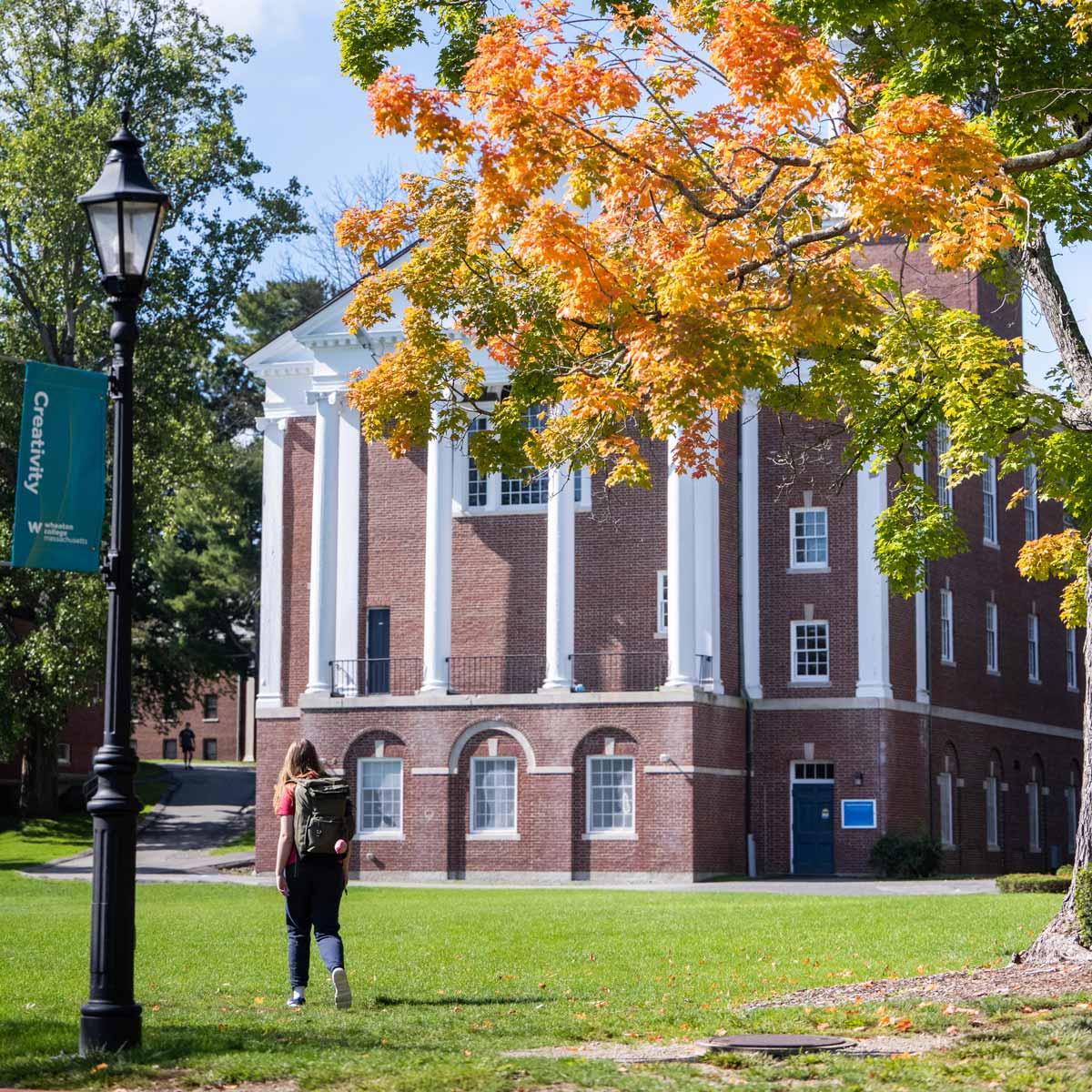 People
Direct resources to faculty, students, and staff to achieve high quality outcomes for all programs and initiatives.
Growth & Innovation
Grow the student body beyond residential capacity and seek ideas to create financial stability for our academic enterprise.
Diversity, Equity, Inclusion & Belonging
Further progress in creating an anti-racist institution in which a diverse group of talented people share a sense of belonging.
Strategic Priorities
The initiatives identified through the strategic conversation process led by President Whelan build on existing strengths, such as the emphasis on combining rigorous academics with experiential learning, while expanding the reach of the college's programs to new audiences and opportunities. It also continues the curricular innovation that has been a Wheaton hallmark, most recently through the development of the Compass curriculum.
Growth
Recruit for new majors (design, nursing, criminal justice)
Increase number of non-residential students (commuting, transfer, online)
Launch new varsity men's/women's sports such as water polo and fencing
Launch revenue-generating summer programs
Curricular Innovation
Continue developing the Compass curriculum (LEAPS, Sophomore Experiences)
Engage departments to develop future majors and 4+1 master's degrees
Introduce new major in Communications
Online summer and winter courses
Experiential Learning & Entrepreneurship
Create Life & Career Design Center
Improve engagement opportunities for alumni mentoring and networking
Provide leadership/training/wellness workshops
Global Education
Recruit for WheaGo first semester abroad program, with partner institutions in Barcelona, Paris, Lugano, and Sydney
Wellness & Retention
Act on recommendations of the Retention Task Force
Address gaps in advising
Enhance health & wellness programs
Build on partnership with Sturdy Medical Center
Financial Stewardship & Sustainability
Finalize plans for new campaign
Form partnerships with area colleges for efficiencies
Monetize campus spaces in summer
Increase capacity at Amen Nursery School
Identify savings within the operating budget