Because of ongoing local and global concerns about the spread of coronavirus (COVID-19), Wheaton College officials have decided to cancel most in-person Admission programs for now. This includes preview days, information sessions, open houses, on-campus interviews and informal visits. We have resumed in-person on-campus tours on a limited basis.
Tour registration is available here.
Please check back to this page for updates. For now, we encourage prospective students to attend one of our virtual information sessions or open houses, which include a video tour of campus.
We've developed ways for you to experience Wheaton virtually, to assist you and your family as you make important decisions about college. If there is something specific you'd like to see or learn about virtually, please let us know: Call 508-286-8251 or email admission@wheatoncollege.edu.
Virtually@Wheaton
This year, things are a little different, so we've created these pages to give you as much of the Wheaton experience as possible until we can welcome you to campus. Visit Wheaton virtually.
Online Info Sessions
Our admission counselors and current students offer a live, info-packed hour to help you learn about applying to Wheaton, our test-optional policies, financial aid, academics, extracurriculars and more. Multiple sessions are offered each week, so we hope you'll join us to learn more and get your questions answered.
Register for an Online Info Session
Virtual Preview Days and Open Houses
Get to know Wheaton during our live Virtual Preview Days and Open Houses. Join us for faculty sessions where you'll learn about academics and our new Compass curriculum and hear from current students about their experiences living and learning at Wheaton. Open Houses also offer the chance to connect with admission counselors, student financial services counselors and get a virtual look at campus, our arts and sciences buildings, residence halls and much more.
Register for a Virtual Preview Day or Open House
Explore campus
Take a virtual tour with our interactive campus map.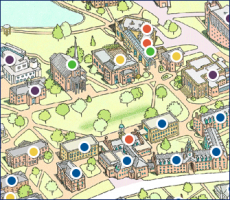 View photos from around campus, taken by members of the Wheaton community.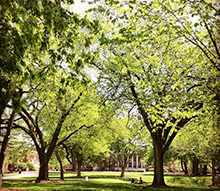 Online Conversations and Interviews
Conversations and interviews are a great opportunity for you to ask questions and learn more about Wheaton, while also giving us the chance to learn a bit about you. Conversations are just that–an informal opportunity, anytime during the admission process, to talk about Wheaton, get your questions answered and find out if we might be a good fit. Interviews, though not required, offer applicants the chance to discuss their candidacy, achievements and future plans.
Conversations and interviews are offered most weekdays via phone, Zoom and Google Meet. Students planning to apply to Wheaton in the fall and transfer students are invited to schedule a time with one of our counselors.
Schedule a conversation or interview
2021 Admitted Student Events
Our spring virtual events for admitted students offer you the opportunity to learn more about Wheaton, hear from faculty, staff and current students, connect with your future classmates—and have a little fun along the way too. From casual, weekly lunches with current students to Welcome to Wheaton Day 2021, our biggest event for admitted students and their families, there are a bunch of great events to help you learn about Wheaton and life as a Lyon.
View upcoming admitted student events
Group and Counselor visits
We offer schools and community-based organizations the opportunity to bring students to campus for a tour. Visit our Information for Counselors page for more information and to request a visit.
Getting here
Get tips on traveling to campus and where to eat.
Campus map and parking info
Visitor parking is available in Parking Lot 2, located on Route 123. Follow the path around Mary Lyon Hall and onto our main quad, The Dimple. The Office of Admission is the third building on your left, just past the chapel. Download our printable campus map (pdf).