Because of ongoing local and global concerns about the spread of coronavirus (COVID-19), Wheaton College officials have decided to cancel all in-person Admission programs from March 11 through August 1. This includes Preview Days, Welcome to Wheaton Day, the President's Reception and all other events, as well as informal visits and on-campus interviews. In addition, Wheaton has extended the deposit deadline to June 1, 2020.
We are developing ways for you to experience Wheaton virtually, to assist you and your family as you make important decisions about college, and will share details when they are available. If there is something specific you'd like to see or learn about virtually, please let us know: Call 508-286-8251 or email admission@wheatoncollege.edu.
Virtually@Wheaton
This year, things are a little different, so we've created these pages to give you as much of the Wheaton experience as possible until we can welcome you to campus. Visit Wheaton virtually.
Explore campus
Take a virtual tour with our interactive campus map.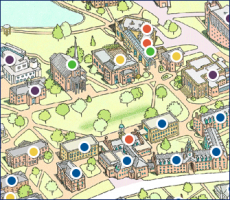 View photos from around campus, taken by members of the Wheaton community.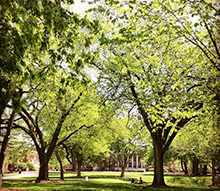 Info Session
Our info session provides a general overview of the opportunities available at Wheaton College. Assistant Director of Admission Joe Palladino covers advising, campus life, the curriculum, dorms, experiential opportunities, study abroad, and The Wheaton Edge.
Online Interviews
Our interviews are a great opportunity for you to ask questions and learn more about Wheaton, while also giving us the chance to learn a bit about you and what you hope to get out of your college experience. Think of them as more of a casual conversation than a formal interview.
Interviews are offered most weekdays via phone, Skype, Google Meet and Zoom. Students planning to apply to Wheaton in the fall and transfer students are invited to schedule a time with one of our counselors.
Group and Counselor visits
We offer schools and community-based organizations the opportunity to bring students to campus for a tour. Visit our Information for Counselors page for more information and to request a visit.
Getting here
Get tips on traveling to campus and where to eat.
Campus map and parking info
Visitor parking is available in Parking Lot 2, located on Route 123. Follow the path around Mary Lyon Hall and onto our main quad, The Dimple. The Office of Admission is the third building on your left, just past the chapel. Download our printable campus map (pdf).