150th Anniversary of the Alumni Association
In the fall of 1869, the Class of 1870 met and created the Alumnae Association for the purpose of holding social reunions each year. In the 150 years since, the association has grown and has become much more than just a social celebration during reunions.
This year, the Association is undertaking a number of initiatives that shine a light on our collective histories. The Oral History Project will capture alumni and faculty stories and preserve them in a printed book. The Alumni Recognition Committee is presenting a slate of award candidates who have demonstrated outstanding commitment to professional achievement, volunteerism and to Wheaton. Lastly, at Commencement-Reunion weekend in May 2020, we will be celebrating together in the Chapel at the annual meeting in recognition of the founding of the association 150 years ago.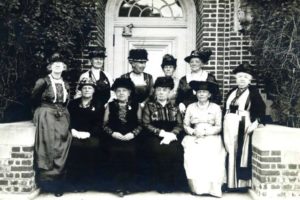 Did You Know? Series
This Fall, in honor of the Alumni Association's 150th Anniversary, the alumni association social media accounts kicked off the "Did You Know?" series, which has to-date featured over a dozen historical tidbits for account followers.
Be sure to tune in for the rest of the year to see what else you can learn!
Alumni Board
Nominate a classmate or fellow alumna/us for a leadership position on the Alumni Board. The Board is a representation of the alumni to the Wheaton Community and Administration.
Nominate Today
Alumni Achievement
Alumni awards help to recognize the hard work and dedication of individuals within their community and to Wheaton.
Submit Nomination
Share Fellow Alumni Success with Us
The Alumni Relations team and the Alumni Board of Directors are asking you to share interesting news and stories about yourself or fellow alumni.
Share