Stay connected to Wheaton and your friends, through the Alumni Association.
Enjoy your lifelong connection to Wheaton and the friends you made during your college career. You are part of a community that stretches around the world, yet plays a role in keeping our beautiful New England campus alive and vital.
It doesn't matter that you no longer live a 90-second walk from the Dimple. You can still connect with Wheaton friends through our online community. You may want to search for a friend, refer a student or visit your class webpage. Here, you are never too far away from your alma mater.
The opportunities to stay connected to the college community are endless. Wheaton has clubs in dozens of cities and regions around the world. There may be an event coming up in your hometown, or in a city to which you are traveling.
Your involvement, and the participation of hundreds of other alumni, gives our community strength. If you haven't looked at the opportunities for learning and leading as a volunteer, you may be surprised by what you contribute and how much you can accomplish.
Alumni Board
Nominate a classmate or fellow alumna/us for a leadership position on the Alumni Board. The Board is a representation of the alumni to the Wheaton Community and Administration.
Nominate Today
Alumni Achievement
Alumni awards help to recognize the hard work and dedication of individuals within their community and to Wheaton.
Submit Nomination
Share Fellow Alumni Success with Us
The Alumni Relations team and the Alumni Board of Directors are asking you to share interesting news and stories about yourself or fellow alumni.
Share
Share Your Memories
This year, we are collecting memories from our alumni to share with the rest of our community. Take advantage of the opportunities to share yours!
Tell Us Your Story
Oral History
As part of the celebration of the 150th anniversary of the Alumni Association, Alumni and faculty are invited to share their Wheaton stories for a book that will preserve the rich history of our beloved institution, as told by those who have lived it.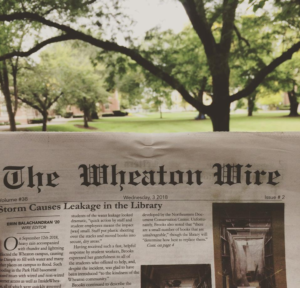 In May 2020, we will be celebrating 150 years of the Alumni Association. At the association meeting on May 16, 2020, held in the chapel over Commencement-Reunion weekend, we will be reflecting on our collective history. Please share your memories.