Run with Roary Virtual 5k
Join the Wheaton community from all around the world for our first ever Run With Roary Virtual 5k! Participants can walk, run, skate, bike, or even swim, all at their own pace, on their own time, and in their current locations. Click here to learn more.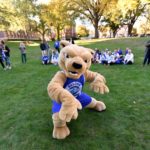 September 24-30, 2020
Open all members of the Wheaton Community.
Virtual Gallery Opening—Postcards from the Pandemic
Thursday, October 22, 2020
5:30 – 6:30 p.m.
The exhibition is an effort to combat the social isolation this virus has forced on us. It is a chance to see, through the eyes of another, an expression of this experience. It is an opportunity to come together when we still have to remain physically apart.
COVID-19 Update
Dear Alumni:
As the health and safety of all members of our community are our highest priorities, officials across the college have been closely monitoring the ongoing developments regarding the coronavirus (COVID-19) and planning for appropriate action. In an update to the campus community on March 11, it was deemed that all on-campus and off-campus college events are suspended, until further notice. We are continuing to explore opportunities to conduct engagement virtually such as our new book club along with the hope that regional programming will be resumed as soon as we are able. We will update you as plans emerge.
Please note that end-of-semester activities such as Reunion and Commencement have been cancelled, but we plan to celebrate these events on campus in the near future.
If you have any questions, please contact Alumni Relations. Thank you for your understanding.

To contact the office, please email alum@wheatoncollege.edu or call 508-286-8207