Gentlemen Callers 30th Reunion Concert
Celebrate the successful endowment campaign, including the customary alumni concert,
which will feature the first awarding of the "Eliza's Son Award", a recognition of an
alumnus who has demonstrated exceptional commitment to the GCs.

Saturday, March 23, 2019
7:30 p.m. Cole Memorial Chapel
No RSVP Required
Wheaton Night at The Phantom of the Opera
You and a guest are invited to join fellow alumni and parents for a meet n' greet
reception with Merritt Crowley, vice president for college advancement, followed by
a performance of The Phantom of the Opera.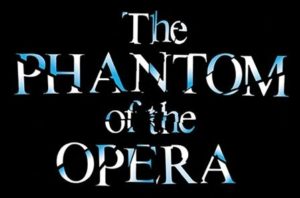 Thursday, March 28, 2019
$35 per person
This event is sold out.
Wheaton Paint Night in Fairfield County
The Fairfield County Club invites you and a guest to join fellow Wheaton alumni
for Paint Night at Pinot's Palette. Come learn how to paint Poppin' Peonies (pictured below)
all while enjoying light refreshments and connecting with local Wheaties.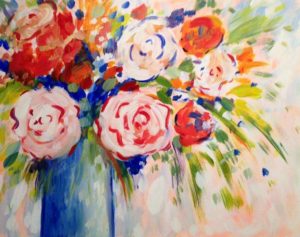 Thursday, March 28, 2019
$30 per person
REGISTER NOW
Wheaton in New York City
You and a guest are invited to join President Hanno,
fellow alumni, parents and current students in the
Business and Management major for a networking reception.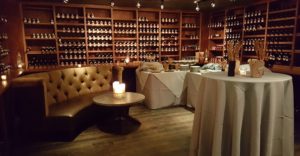 Friday, March 29, 2019
REGISTER NOW
Wheaton WIN Hub Discussion with the Greater Boston Wheaton Club
The Greater Boston Wheaton Club cordially invites you and a guest for a discussion with Khadeejah Muheto '18, coordinator, entrepreneurship programs and high school enrichment activities, along with current students; Nathaniel Chretien-Mansur '20 and Soheir Mobin '20. Nathaniel and Soheir will be participating in the WIN (Wheaton Innovates Now) Hub Student Pitch Contest this spring. Join us to hear more about WIN Hub, a collaboration with the Diana Davis Spencer '60 Foundation to introduce the transformative force of Social Entrepreneurship to the Wheaton Community. The students will be sharing their creative solutions and ideas which they will be presenting at the end of Spring semester.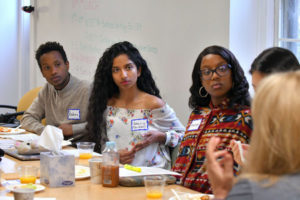 Thursday, April 25, 2019
6–8 p.m.
St. Botolph Club, Boston, MA
REGISTER NOW
Wheaton at DC Moore Gallery, New York
You and a guest are cordially invited to a private reception at the DC Moore Gallery to view the latest David Driskell exhibition titled Resonance Paintings 1965-2002.
Highly regarded as an artist, scholar and curator, David Driskell is cited as one of the world's leading authorities on the subject of African American Art. Heidi Lange '89, director of the gallery, will be your guide and host along with the Wheaton College Tri-State Alums committee.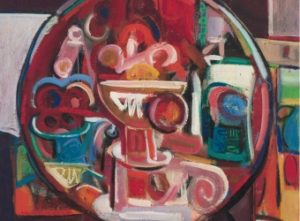 Wednesday, May 1, 2019
6:30–8:30 p.m.
DC Moore Gallery, NY
$10 fee per person
Registration Coming Soon
To contact the office, please email alum@wheatoncollege.edu or call 508-286-8207