Join us in celebrating Wheaton scholarship and creativity!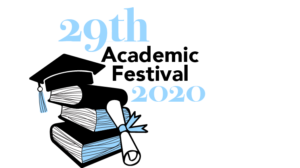 For twenty-nine years, Wheaton's annual Academic Festival has celebrated student scholarship and creativity. This year marks a distinct change, as it is our first virtual showcase of student achievement. Academic Festival has always been a celebration of energizing and extraordinary student work from across academic disciplines. This year we have students from 20 different majors coming together collaboratively in the event. Academic Festival is an opportunity for students to showcase the work they've done on campus and remotely so that Wheaton faculty, staff, peers and the community can witness their academic development and gain a glimpse of the future's artists, scientists, authors, leaders and scholars.
Please visit the Wheaton Blog to view the work of this year's Academic Festival participants. You can find the 2020 Academic Festival Program here: Academic Festival Program 2020
Credits and Contacts
Academic Festival is organized and sponsored by the Filene Center for Academic Advising and Career Services, the Provost's and President's Offices at Wheaton College. Nominating faculty members and participants provided the information contained in this program.
For Academic Festival 2020, we would like to express our gratitude for the efforts of Sydney Beck '16 for her design of the Academic Festival logo. Special thanks are especially due to the staff who dedicated their time and energy to make this event possible: Jessie Knowlton, Jessica Kuszaj, Galicia Rothe, Touba Ghadessi, Ally Baldwin, Autumn Grant, Steven Viveiros and Rachel McElaney. We would also like to thank two special students, Maia Hay '20 and Eugenie Perez '20, who committed time in their remaining weeks at Wheaton to help transition this event to a remote setting.
Wheaton College is committed to ensuring equitable access to programs and services and to prohibiting discrimination in the recruitment, admission, and education of students with disabilities. Individuals with disabilities requiring accommodations or information on accessibility should contact Autumn Grant , Associate Director for Accessibility Services at (508) 286-8215, TTY (508) 286-5282 or email: grant_autumn@wheatoncollege.edu.
Questions about Academic Festival?
Contact the Filene Center at advising@wheatoncollege.edu