The provost is the chief academic officer of the college, responsible for oversight of the faculty, the curriculum, and the academic support system. The Provost's Office also oversees the staff of the Provost's Division within the college, whose mission is to work collaboratively within and outside the division to promote, enrich and support an innovative liberal arts education centered by an integrative, cross-disciplinary curriculum.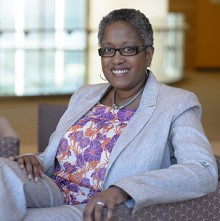 Provost Renée T. White
Renée White, a distinguished administrator as well as a scholar on race, gender and social inequality, was appointed Provost following an intensive national search and officially assumed her role as Provost of Wheaton College on July 1, 2016.
As Provost, White serves as the college's chief academic officer and is responsible for all matters relating to the faculty as well as the administrative units providing academic support services and infrastructure to students, faculty and staff.
White served as the Dean of the College of Arts and Sciences at Simmons College in Boston. Assuming the role in 2011, Dean White led the development of new programs, re-envisioned key aspects of the undergraduate curriculum, promoted interdisciplinary and experiential learning, and championed student and faculty scholarship.
Before Simmons, she served as a professor of sociology and black studies and as academic coordinator for diversity and global citizenship at Fairfield University. She started her academic career at Purdue University, where she held a joint appointment in the department of sociology and the African American Studies Research Center.
White is the editor of three books, including the acclaimed Spoils of War: Women of Color, Cultures, and Revolutions, and author of Putting Risk in Perspective: Black Teenage Lives in the Era of AIDS. She has served as editor of the Journal of HIV/AIDS Prevention in Children & Youth and the People of Color Caucus newsletter for the Society for Values in Higher Education. She also served as editorial advisor to the Journal of HIV/AIDS and Social Services.
White also was a WYE Faculty Fellow at the Aspen Institute and completed a National Endowment for the Humanities summer Fellowship in Black film studies. Her current research examines the impact of public discourse on social policy concerning reproductive rights. White holds an AB from Brown University and an M.A. and Ph.D. from Yale University.
Office of the Provost
26 East Main Street
Park Hall
Wheaton College
Norton, MA 02766-2322
Telephone: 508-286-8212