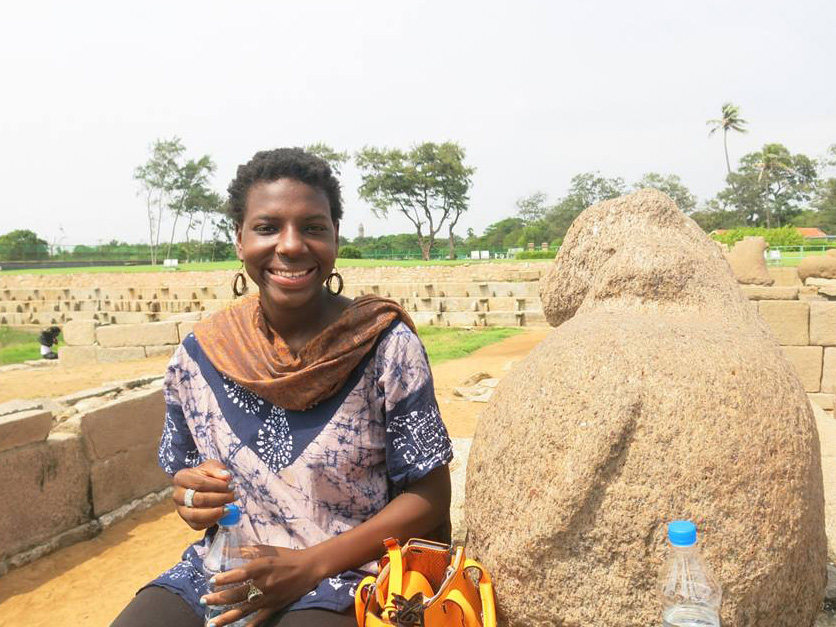 Jasmine Clarke '15 wins Fulbright Scholarship to teach in India
Jasmine Clarke '15 will take her passion for art, culture and social justice halfway across the globe as a Fulbright English teaching assistant in India.
Clarke, who majored in art history and minored in education at Wheaton, said the Fulbright opportunity "allows me to explore my passion for creative youth and community development as an educator and artist in an experiential and challenging way."
In June, Clarke will travel to India to teach in schools and engage students in learning using her art background. She will work with students on their English language acquisition, curating inclusive learning opportunities to enable them to identify the strengths of their cultural identity alongside their peers, and expose them to a global perspective and cultural understanding they might not otherwise experience, she said.
"I plan to use art as a tool for storytelling, creating visual narratives as a way to encourage dialogue about identity that will promote cross-cultural exchanges within the school community, as well as extend to the local community," she said.
Clarke first stepped foot in India as a Wheaton student, spending a semester abroad during her junior year. While there, she produced a historical guidebook that explored the social and political dynamics that led to the construction of a medieval temple in Khajuraho in the 10th to 12th centuries.
"What draws me back to India is the opportunity to explore how the educational system, and more specifically a classroom, can serve as a vehicle for teaching cultural awareness and promoting mutual understanding. A country as culturally complex and diverse as India often is painted into a homogenous culture by the West," Clarke said.
Assistant Professor of Museum Studies and Art History Leah Niederstadt—who was Clarke's advisor and also supervised her when she served as a collection assistant for the Wheaton College Permanent Collection—describes Clarke as an "intellectually curious student who epitomizes grace under pressure."
"She is a remarkably mature young woman. She challenges herself to grow personally and professionally and takes advantage of every opportunity offered to her," said Niederstadt, adding that Clarke was one of 10 students admitted to her "Exhibition Design" seminar. In that course, Clarke collaborated with faculty, staff and other students to research, design and install an exhibition in Wheaton's gallery.
Since her graduation in May 2015, Clarke has immersed herself in the fields of arts and education. She received a scholarship to work at New Urban Arts, a Providence, R.I.-based community arts studio for high school students. She then served as a youth programs assistant with The Theater Offensive in Boston, managing their community workshop series. In addition, she worked as a community arts liaison with the Museum of Fine Arts, Boston, helping to build interest and engagement in the museum's programs among youth and families.
After teaching in India, Clarke plans to pursue a career in visual communications, helping community and youth-based organizations communicate their mission through design, she said.