Uncovering museum mysteries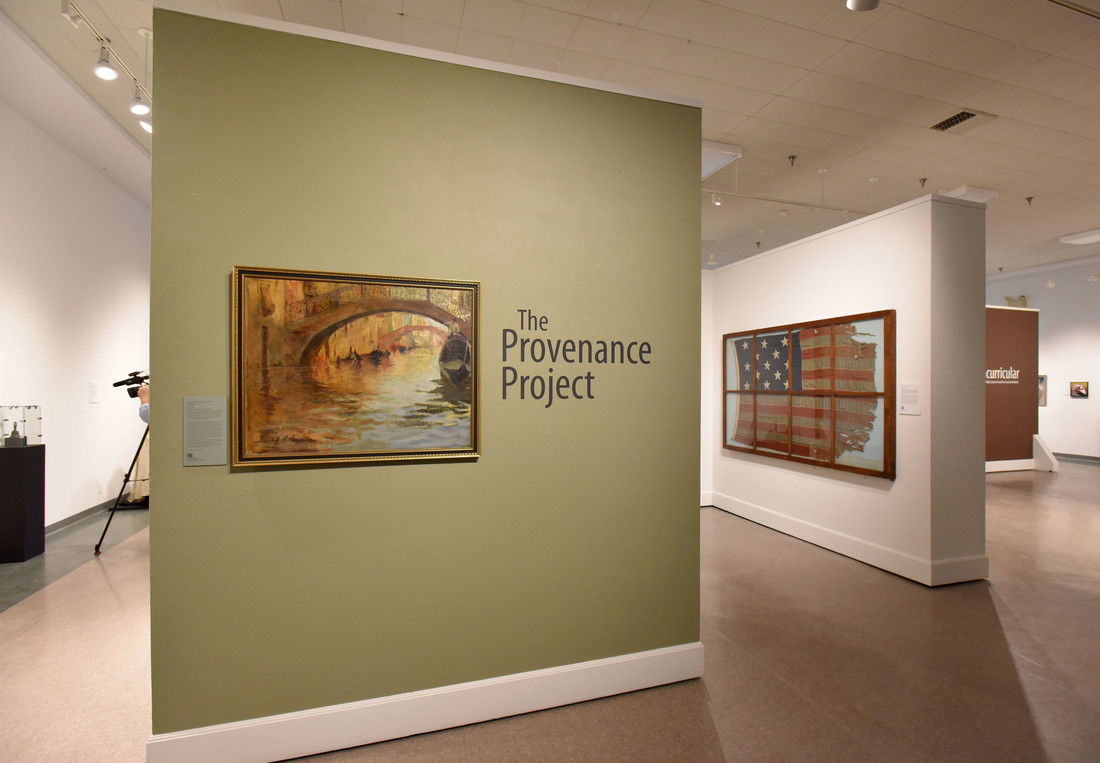 Students' provenance research on display in Attleboro art exhibition
After poring over hundreds of images of bridges in Venice, Italy, Arianna del Rosario '19 was ready to give up. Her search for the landmarks featured in the late 19th century oil painting "Two Bridge Canal Venice" by Attleboro artist Frank Holman seemed fruitless. She would have to mark the painting's location as "unidentified."
The Wheaton junior met with Assistant Professor of Museum Studies Leah Niederstadt to discuss her research progress.
"She told me that if I couldn't find the location then it would be fine, but she encouraged me to look through a few more pictures," del Rosario said. "That night I found a photograph of two bridges in a side canal in Venice and the resemblance between the bridges in the photo and Holman's painting was uncanny. I almost couldn't believe it."
Moments of unexpected discovery (following copious research) are a hallmark of the "provenance project," which Niederstadt has guided students through five times now, starting in 2013. During the first four iterations of the project, students explored objects in Wheaton's Permanent Collection, developing a "provenance"—or history of ownership—for paintings, etchings, ceramics and more.
This fall, the research extended to artwork beyond campus, as "Introduction to Museum Studies" students helped the Attleboro Arts Museum investigate 17 pieces in its collection.
"The Attleboro Arts Museum is a wonderful institution that is very true to its mission, which is focused on engaging the community in the arts," Niederstadt said. "Like our collection, their permanent collection is quite eclectic, and quite strong, and I knew that they were eager to learn more about it. It was an opportunity to support the long relationship we've had with them and also try a different iteration of the project."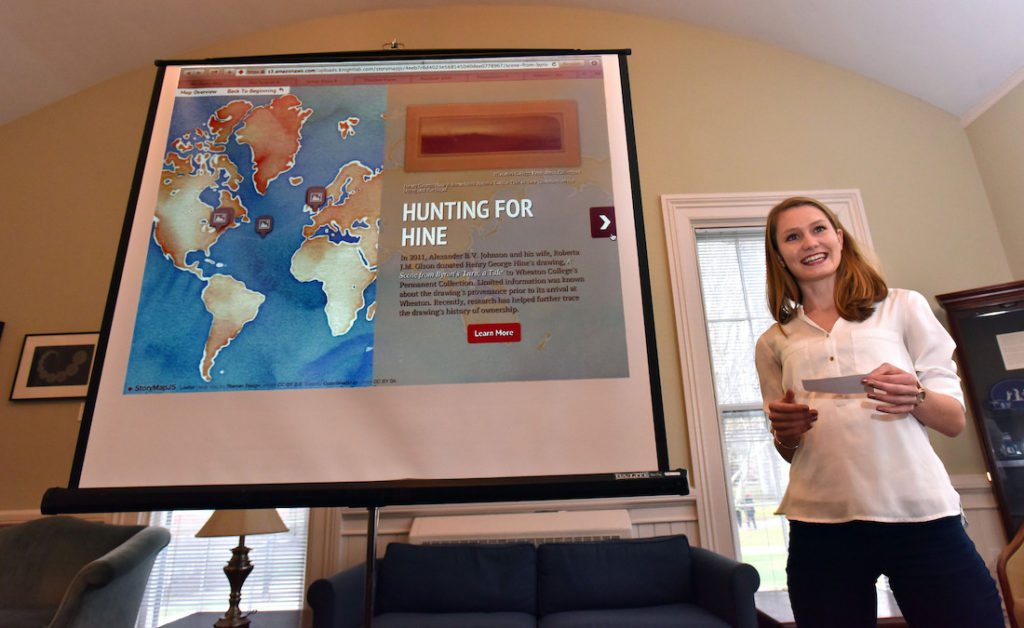 The 17 objects Wheaton students researched are now on display at the museum, in an exhibition running February 10–23, titled "The Provenance Project." Each item is accompanied by a label, written by the student who researched the object, with a scannable QR code that takes visitors to a digital StoryMap tracking its history and movement over time.
Each item from the Attleboro collection is also paired in the exhibition with a Wheaton object that was previously researched by a student, providing exposure to the college's impressive collection, which features more than 7,000 objects.
Speaking at the February 10 opening, the museum's Executive Director and Chief Curator Mim Brooks Fawcett called the provenance project "an incredible opportunity" and commended students on their hard work, noting that "provenance research is not easy."
"I think these folks must dream about those pieces, because they have tunneled through time and space and they have uncovered things that we here at the museum did not know about," Brooks Fawcett said of the students. "They have named names, they have told stories. They have really gotten into why a piece is now here in Attleboro's vault."
Among the items researched were an American flag with 13 stars, a Civil War first aid kit, an English monastery bell, an Indonesian shadow puppet and several paintings, prints and sketches—including a Matisse and a Rembrandt. To uncover their histories, the students searched through genealogical websites, and library and archival resources; visited local cemeteries and the Attleboro Public Library; explored Google images and maps; and conducted interviews.
"The project really meets many of the goals I have for my students—helping them learn how to think critically and creatively solve problems, how to work with primary and secondary sources, how to use objects as tools for learning and how to engage in service learning," Niederstadt said. "All of the students' research logs and copies of the archival materials they used will be given to the museum, helping to strengthen documentation on its collection."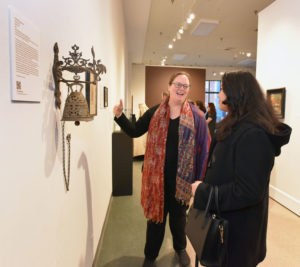 Provenance research can be exhausting, and it can be frustrating, Niederstadt said. Sometimes key information can be just out reach. But students gain many skills during the investigation.
Evan Provencher '19, a double major in art history and film and new media studies, researched a paper-and-wood puppet held in the museum's collection. Though he couldn't develop a full provenance, he did collect important new information, learning that the puppet was used in the Indonesian wayang kulit storytelling tradition and was likely made in the late 19th century, and identifying the character it portrays.
He also learned more about the puppet's donor, Percy Callowhill, and his father, James, finding a possible explanation as to how the object ended up in Percy's collection.
"Upon observing their artworks it became clear that both father and son had an appreciation of Asian art styles, and that it made sense that Percy would have had an Asian art collection at the time of his passing in 1955," Provencher said. "While no travel records for the family could be found, aside from immigration records of the Callowhills moving to America, it was a fascinating insight into how this object crafted in Indonesia could have possibly inspired and influenced the work of two artists living on the other side of the world."
Provencher said the class offered valuable insight into future career options.
"I am very interested in archiving and curatorial duties, so being able to get an in-depth look at the myriad tasks that museum professionals must carry out was a fantastic briefing for me on what to expect and how to plan for what lies ahead," he said.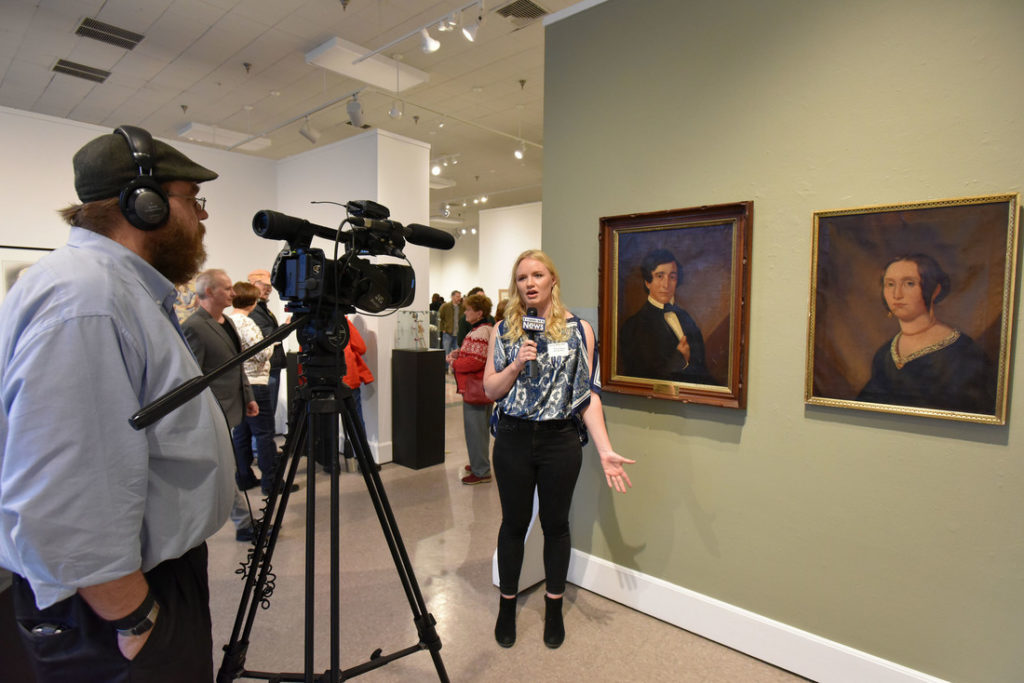 Del Rosario also appreciated the course's real-world focus.
"Before I took 'Introduction to Museum Studies,' whenever I thought of a career in the museum world the title of curator was the only possibility that crossed my mind. Leah's class really helped me learn about the various positions that don't often get as much publicity but are just as important," she said.
Along with discovering the location depicted in Holman's work, del Rosario proved that the painting was older than museum records showed, finding it listed at the 1893 World's Columbian Exposition in Chicago, a full year before the creation date that the museum had on file.
While researching an etching by Rembrandt titled "Abraham's Sacrifice," art history major Anne Tucker '20 experienced both setbacks and serendipity.
"About two weeks before we presented our research, we discovered that several of the pieces had been cataloged under the wrong name, so several of us had been researching the incorrect donor," Tucker said. "Then, just a few days before the presentation, I was working in the Wheaton College archives, sorting through a box of old Admissions brochures for a separate project, when I came across the name of my donor in a schedule of lectures. This stroke of good luck really helped to fit the last pieces of her life into the puzzle we were fitting together."
Niederstadt said she is constantly impressed by the details her students uncover during their provenance research, and that the Attleboro exhibition is a wonderful way to have that work recognized.
"For some students, the ambiguity of the research can be challenging, where they may come across gaps in information. But that's the nature of research, and the value of creative problem solving, which we know employers are interested in. They want students who can think on their feet and try to find another angle," Niederstadt said. "I think it's also important for students to realize that these are issues and challenges for museums all around the world."