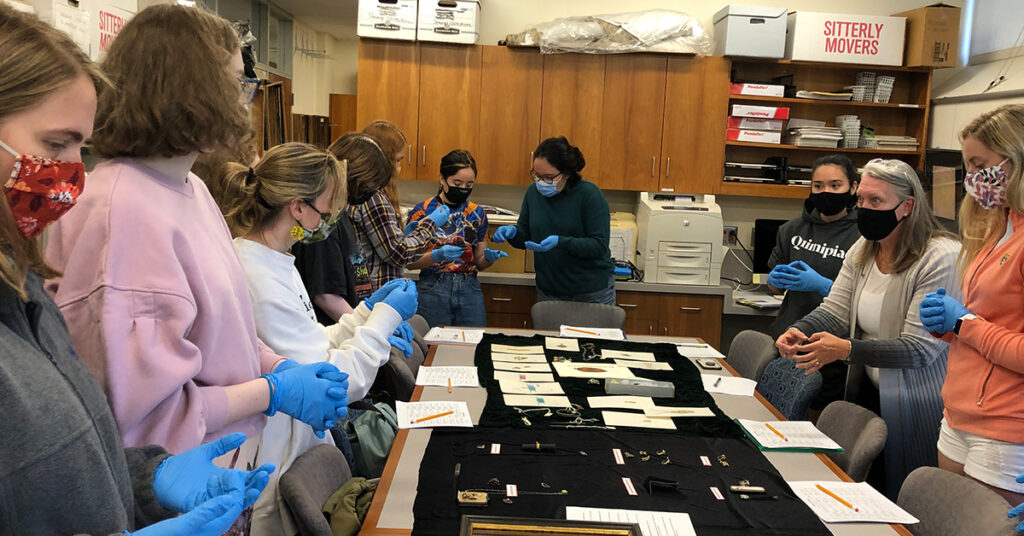 Wheaton, Attleboro Arts Museum collaborate on jewelry design exhibition
Wheaton's Permanent Collection features a wide variety of jewelry from antiquity—from Mesopotamian bone charms and Egyptian necklaces made from faience and gold to Roman glass bangles and scent bottles.
Many of these objects will be on display as part of the upcoming exhibition "Adorned! Jewelry Design from the Ancient Mediterranean to Attleboro" at the Attleboro Arts Museum from February 12 to 26. The Sun Chronicle (Attleboro, Mass.) last week featured a story about the exhibition. See the gallery below.
The show, funded by a grant from the Council of Independent Colleges and the Andrew W. Mellon Foundation, is a collaboration between Wheaton faculty, staff and students as well as museum staff, outside experts and members of the Attleboro community. The college's jewelry includes dozens of ornaments bequeathed to Wheaton in 1966 by collector Adra Marshall Newell. These items will be displayed alongside the museum's collection of more than 150 hand-drawn designs of brooches, earrings, necklaces and other forms of adornment.
The exhibition examines continuity and change in the production and consumption of adornments over time and space while also exploring issues around class, culture and appropriation, according to the article.
"Partnering with Wheaton College has consistently resulted in provocative exhibitions and 'Adorned!' is no exception," Attleboro Arts Museum Executive Director and Chief Curator Mim Brooks Fawcett told The Sun Chronicle. "This exhibit presents objects and renderings that have rarely, if ever, been on public view, resulting in pairings that establish unexpected and remarkable relationships, and uses current technology to bring ancient objects and 2D renderings to life."
Leah Niederstadt, associate professor of museum studies and curator of Wheaton's Permanent Collection, said the exhibition is a meaningful experience for students.
"Projects like 'Adorned!' provide our students with opportunities to engage in experiential, object-based learning at its best. They collaborate with and learn from each other, from collections and from community members both on and off campus, while creating new knowledge and strengthening skills needed to succeed at Wheaton and beyond," she said.