While working as an intern this summer at Christie's auction house in New York City, Jiaan "Rufus" Chen '15 was invited to view one of the items up for sale, a 300-year-old Korean celadon vase. An art history major with an interest in East Asian art and vases in particular, Chen was thrilled by the chance to examine the piece and even more excited when he got to hold it in his hands. Then he learned the vase was worth half a million dollars.
At that point, fascination turned a little to fear as one thought came to Chen's mind: "Don't drop it."
Not only did the Wheaton senior not drop the vase, he handled the rest of his summer duties at Christie's so well that his supervisor invited him back in the fall to help the auction house prep for their big September sale, "Fine Chinese Ceramics and Works of Art."
Each Thursday after classes end, Chen boards the train in Providence and heads into New York City for the weekend, working at Christie's on Fridays and Mondays and returning to campus on Monday night.
"I have to especially thank my advisor, Touba Ghadessi. She helps me with a lot of the planning and scheduling," Chen said of how he balances the workload. "I'm turning this great internship experience into my independent study, talking about my thoughts on Chinese art and its contemporary market in the United States."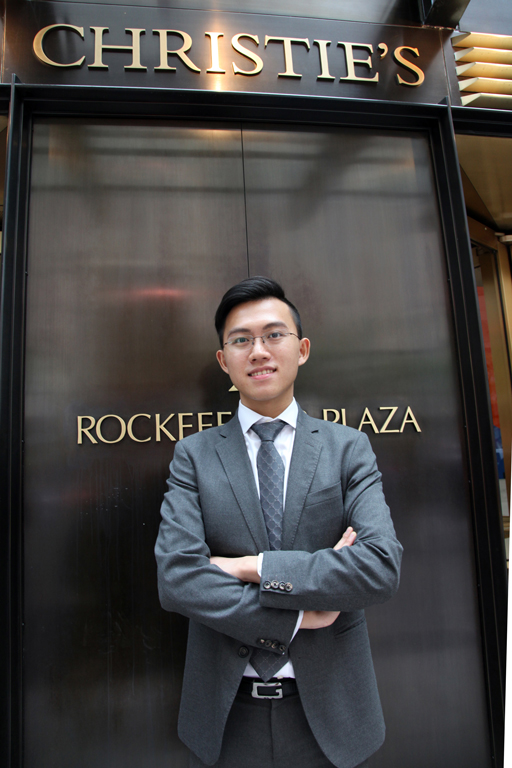 Born and raised in China, Chen first came to the United States at the age of 15 for summer camp. His family later settled in San Francisco. These days, his family travels between China and California, but he has found a home on the other side of the country.
"I just love New York," said the business and management minor, who moved to the city last year. "I'd like to end up there, especially for their arts scene."
He learned about the opportunity at Christie's while studying abroad last spring at Sotheby's Institute of Art in London, when a friend introduced him to someone who worked at the auction house.
Chen started the summer interning in the Japanese and Korean art departments, then during the second session began working in the Chinese art department, where his ability to speak both Mandarin and Cantonese came in handy as a translator.
Much of the summer was spent preparing for the September sale—cataloguing and inventorying items, contacting sellers and helping to spread the word about the sale to interested buyers. He also took advantage of weekly lectures Christie's offers to interns, featuring specialists and business managers from different departments sharing their experiences and providing an insider look at the auction world.
"They're really not just asking interns to do something for them; they really give a lot back to the interns," Chen said.
While discussing his fall plans with a Christie's director one day, Chen mentioned he was looking at internships in the Boston or Providence area. The director suggested he instead continue working at Christie's.
So Chen stayed on through the fall, gaining more hands-on experience in researching and developing relationships with clients, and helping out the day of the auction.
"He's very good at what he does, very calm and professional, and when he talks to clients he really sounds like he knows what he's talking about," said Audrey Lee, Christie's e-commerce sales coordinator for Chinese Ceramics and Works of Art. "During the fall auction season, we really need someone who is quick and responsible to help us out."
When he graduates this May, Chen hopes to continue working with art sales, ideally at Christie's, gaining field experience before eventually applying to graduate school.
"Auction houses are my passion," he said. "There's a lot of pressure, of course, but you also get to know a lot of people."
It's a job Chen feels well prepared for, both by his internship experience and his studies at Wheaton.
"We have such an intense art history program that helps students develop their critical thinking abilities," Chen said. "They have taught me how to write, how to collaborate with different departments. This semester, I'm curating a show for one of my classes. It's an opportunity I'm not sure students from other schools get, to be able to work with professors so closely."