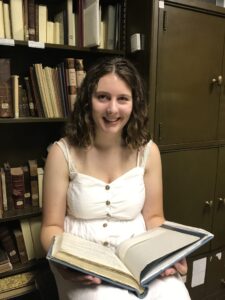 Eliza Browning '22, a double major in English and art history, spent the summer serving as the collections and curatorial intern at the New London County Historical Society in New London, Conn.
"I've always been interested in state and local history and worked with the Tolland Historical Society [Conn.] and Old Sturbridge Village [Mass.] while in high school. This internship allowed me to combine my experience with early New England history with the curatorial skills I've acquired as an art history major," Browning said.
During the internship, Browning processed new donations, worked on smaller research projects within the collection and designed and implemented an exhibition on the 150th anniversary of the New London County Historical Society.
"My duties included researching objects within the collection; writing an exhibition plan, wall text and object labels; and designing and installing the finished exhibition. My favorite part involved discovering fascinating historical objects within the collection, including letters written by George Washington, maps of the British invasion of New London, pressed flower samples from the 1830s and handwritten colonial receipts for Yale and 19th-century whaling harpoons," she said.
Browning said her biggest challenge at work was sifting through a vast archive of material to organize it.
"I sometimes spent hours in the vault searching for a specific piece of paper. I was lucky that collections work is mostly solitary, so I was able to work in person in the archives or in a room by myself," she said.
At Wheaton, Browning works as an art history research assistant for Associate Professor of Art History Ellen McBreen and as a curatorial assistant in the Permanent Collection for Associate Professor of Museum Studies Leah Niederstadt.
"I was able to really develop my research skills during this internship. I hope to apply these to a future internship at a major art museum or graduate school," she said.
This past winter, Browning interned at the Slater Memorial Museum, a midsize art museum in Norwich, Conn. She also recently completed a part-time online internship with Baribeau Consulting to research foundation and grant funding for contemporary art organizations.