Re-examining the slave trade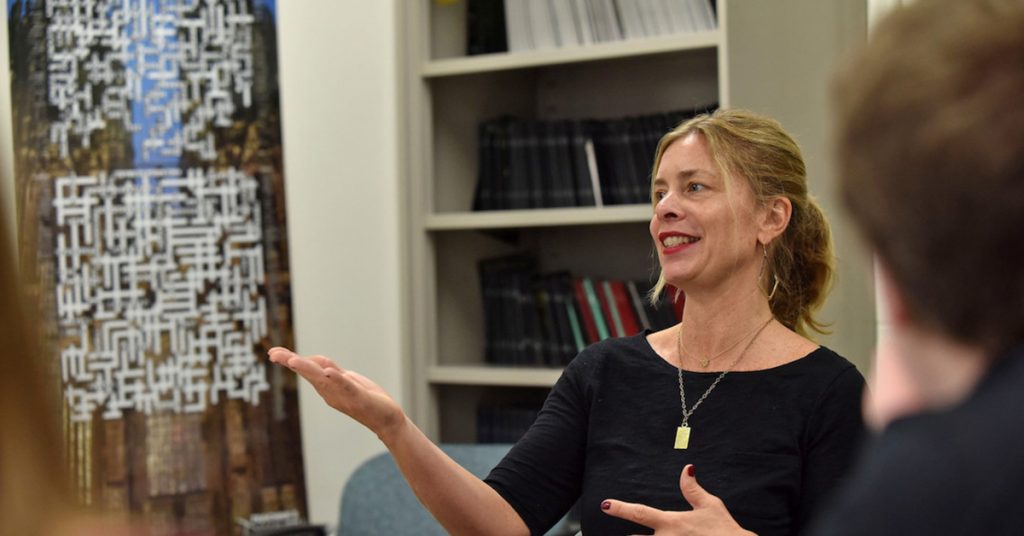 Professor Kim Miller wins prestigious grant for summer research in France
Professor Kim Miller has won a fellowship from the 2021 Marion and Jasper Whiting Foundation to support a 2022 summer research trip to France. Her focus is on the visual culture of slavery and how it is being used to teach about the past and to advocate for change in the future.
"My primary geographic focus is France because of the tremendous commitment that country has made to confronting its role in the history of the slave trade. It has created more museums and memorials than any other country, including the United States," stated Miller, professor of history of art and women's and gender studies, in her application.
The Marion and Jasper Whiting Foundation awards fellowships that enable professors to study abroad or away from their home institutions. This year, the foundation awarded 30 grants out of 65 applications.
The professor said she feels deeply honored to receive the fellowship.
"Doing research is one of the best parts of my job, and the research for this project will take me to places I've never been before, and will allow me to study critically important issues. I also have to say that receiving the award after more than a year of being a Zoom professor, and a scholar who couldn't travel because of the COVID-19 pandemic, augments all of my feelings about receiving this award," she said.
In the summer of 2022, Miller will visit the Atlantic port city of Nantes, which once was France's major slave-trading hub responsible for 45 percent of the country's slave trade, carrying nearly 700,000 Africans into slavery. She will conduct research at the Nantes History Museum, the Memorial to the Abolition of Slavery and the Nantes Slavery Trail.
In Paris, she will visit the slavery memorial and meet with individuals who are developing the city's future museum dedicated to the history and memory of slavery, including members of the Representative Council of France's Black Associations.
Miller's research will enhance the courses she teaches at Wheaton, lay the groundwork for a possible new travel course, and provide material for a scholarly article providing a comparative analysis of how the history and experience of slavery is presented in memorials and museums, she said.
"My hope is that this research trip will greatly enhance my own knowledge of commemoration politics related to the history of slavery. It will also transform—and add to—what and how I teach. I will return from France with new visual materials, including images of sites that have not been published elsewhere, and with fresh perspectives. This will greatly benefit my students and my own scholarly production," she said.
In the fall semester, her research will be part of the curriculum for the First-Year Experience (FYE) course "Storytelling and Social Change," which she will teach with C.C. Chapman, instructor of business and management.
"C.C. and I have designed our class around stories and narratives that have been unheard, unseen or actively silenced, and to be sure, the history of slavery and the slave trade is one of those stories. It is a story that needs to be reimagined. It is a story that is shared, in that it did—and does—impact the lives of most people in Europe and in the U.S. in one way or another," Miller said.
"I'm excited to be able to participate in the new curriculum, through the FYE class and other efforts, in a way that will allow me to draw on this work," she said.
This is Miller's second Whiting fellowship. In 2015, she traveled to Spain to broaden her scholarship on the ways in which visual culture, particularly public art and memorials, reflects social and national views on the past, particularly in the context of gender.