---
IMPORTANT NOTICE: 
In response to the ongoing impact of Coronavirus (COVID-19), Wheaton College is altering its operations and moving to remote course instruction and operations for the remainder of the spring semester. The College's statement can be found here: https://wheatoncollege.blog/student-life-events/student-health-services/statement-regarding-coronavirus/
As a result, ALL public events have been cancelled through May 9, 2020.
We appreciate your patience as we navigate this global challenge and we look forward to welcoming you back to campus when we are able to resume normal operations.
---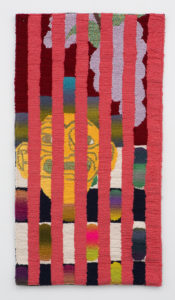 a nerve is not a nerve
but a bundle of fibers
January 30–March 28, 2020
a nerve is not a nerve but a bundle of fibers showcases seven contemporary artists, Caroline Wells Chandler, Pilar Sans Coover, Gabrielle Ferreira, Sean Paul Gallegos, Sarah E. Jenkins, Saberah Malik, and Sarah Zapata, all of whom are working with textiles in innovative ways.
Gallery Hours:
1:00–5:00 p.m., Tuesday, Wednesday, Friday and Saturday
1:00–8:00 p.m., Thursday
The galleries are closed Sunday, Monday, and during college breaks.
About the Galleries
The Beard and Weil Galleries are a vital part of Wheaton's creative and intellectual life. Our dynamic programming features work by contemporary artists in all media, and innovative exhibitions drawn from Wheaton's extensive Permanent Collections, spanning Ancient Greece to contemporary South Africa.
The Galleries' educational mission encompasses all forms of creative expression in an effort to forge meaningful connections between objects and their histories, student and faculty creative work, art historical research, and critical thinking. The crucial role the visual arts play in a liberal arts education is central to the design and focus of our exhibitions.
Programming enhances our curriculum in visual art, history of art, and museum studies.  In addition, a wide range of disciplines across campus, such as Classics, Mathematics and Chemistry, have used the Galleries' resources and exhibitions to enhance Wheaton's connected course of studies. Student-curated exhibitions are designed to give hands-on experience in the conception, design, and educational interpretation of exhibitions. Student creative work is featured annually in a Senior Visual Art Major exhibition.
Our exhibitions have been accompanied by a rich series of publications, written and designed by Wheaton students, staff and faculty.
For more information
Elizabeth Hoy, Director, Beard and Weil Galleries
508-286-3364; hoy_elizabeth@wheatoncollege.edu
Jessica F. Kuszaj, Associate Director, Arts Events and Publicity
508-286-3644; kuszaj_jessica@wheatoncollege.edu
Arts information line: 508.286.3300
arts@wheatoncollege.edu