The Beard and Weil Galleries are a vital part of Wheaton's creative and intellectual life. Our dynamic programming features work by contemporary artists in all media, and innovative exhibitions drawn from Wheaton's extensive Permanent Collections, spanning Ancient Greece to contemporary South Africa.
The Galleries' educational mission encompasses all forms of creative expression in an effort to forge meaningful connections between objects and their histories, student and faculty creative work, art historical research, and critical thinking. The crucial role the visual arts play in a liberal arts education is central to the design and focus of our exhibitions.
Programming enhances our curriculum in studio art, art history, and museum studies.  In addition, a wide range of disciplines across campus, such as Classics, Mathematics and Chemistry, have used the Galleries' resources and exhibitions to enhance Wheaton's connected course of studies. Student-curated exhibitions are designed to give hands-on experience in the conception, design, and educational interpretation of exhibitions. Student creative work is featured annually in a Senior Studio Art Major exhibition.
Our exhibitions have been accompanied by a rich series of publications, written and designed by Wheaton students, staff and faculty.
Coming Soon
November 29, 2018–February 2, 2019

It's Elemental: Fire
Beard & Weil Galleries, Watson Fine Arts
February 14–March 8, 2019

2018 Wheaton Biennial: Brush Coat Cover**
Beard & Weil Galleries, Watson Fine Arts
**See submission information below
For more information
Elizabeth Hoy, Gallery Director
508-286-3364; hoy_elizabeth@wheatoncollege.edu
Jessica F. Kuszaj, Manager, Arts Events and Publicity
508-286-3644; kuszaj_jessica@wheatoncollege.edu
Arts information line: 508.286.3300
arts@wheatoncollege.edu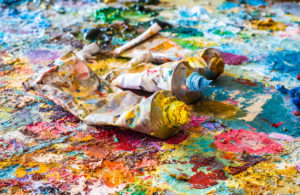 Open Call
2019 Wheaton Biennial: Brush Coat Cover
About the Exhibition
Brush Coat Cover is the 4th biennial held at the Beard and Weil Galleries at Wheaton College in Norton, Massachusetts. This year we invite artists whose work challenges, explores, and celebrates the definition and history of painting as an artistic medium. We are seeking a diverse range of experimental work, collectively evoking an open-ended conversation on painting.
Artist submissions will also be considered for future group shows, solo shows, and visiting artist programs at Wheaton College.
About the Juror
Cade Tompkins has been a contemporary art dealer for 30 years, first in New York while working for a major gallery and then launching as a private dealer in 1992. The platform of Cade Tompkins Projects was established in 2009 in Providence, Rhode Island.
Submission deadline: Monday, December 3, 2018
Download Brush Coat Cover Prospectus (pdf)