Gilman scholarship helps extend Oxford experience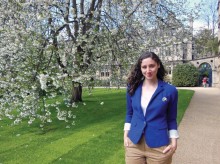 For Sarah Estrela '15, the Gilman scholarship arrived just in time.
Estrela had begun a yearlong study abroad program at the University of Oxford's Lady Margaret Hall last October, but when she approached the spring term with limited funds and a spot on the Gilman scholarship waitlist, Estrela returned from Oxford early and began making plans to start her spring term at Wheaton on January 22.
On January 26, she received notice that she would be given the funding. It was an unexpected gift that would enable her to return to the university for a second and third term.
"The Gilman scholarship is the reason I have been able to continue pursuing this lifelong dream. Without it I would have had to end a unique and enriching chapter of my life in the most abrupt, heartbreaking way," Estrela said.
The English and art history major from Pawtucket, R.I., learned of the Benjamin A. Gilman International Scholarship program last summer, when her roommate, Atiya McGhee '14, received the award. Established by the International Academic Opportunity Act of 2000, the scholarship helps fund study and work abroad opportunities for undergraduate students receiving federal Pell grants.
Having never left the United States, Estrela chose to study at Oxford because of its reputation for academic rigor and its cultural resources.
"When I was accepted to study at Lady Margaret Hall at Oxford, I knew I was in for quite a year. The accessibility of several world-class museums would help sustain my love for art and culture, while the oldest library in the English-speaking world (the Bodleian) would ensure I'd never be in want of a good book," she said.
While at Wheaton, Estrela has been an active presence on campus, serving as vice president of the college's chapter of the Roosevelt Institute last year and helping to organize the spring 2013 WheaTalks. She is also involved with ARTHive and iSpeak.
She kept up that level of activity at Oxford, volunteering at area museums and at Arts at the Old Fire Station, a nonprofit that promotes public art and provides learning opportunities for homeless individuals. She also joined the Oxford Poetry Society and the Hammer and Tongue slam series—all while maintaining a challenging class load.
Now back at Wheaton for her senior year, Estrela plans to share her Oxford experience by organizing an iSpeak workshop on campus and a poetry workshop for students at Providence's AS220, where as a child she attended free after-school programs.
In April, Estrela was one of just 20 students nationwide to receive a Beinecke Scholarship for graduate education. She is interested in studying art history and plans to apply to programs at Oxford, Harvard, Yale, Columbia and the Institute of Fine Arts in New York.