Hands-on curating experience
Students design, install exhibition about fire
Shoes were off. Tools were scattered. And Kool and the Gang's "Too Hot" poured from a portable speaker in the Beard & Weil Galleries as students rushed about installing Wheaton's latest exhibition, "It's Elemental: Fire," on a recent Thursday afternoon.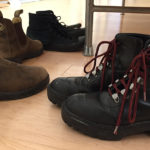 The exhibition, which opens November 29 with a reception from 5:30 to 8 p.m. and runs through February 2, is the culmination of the "Exhibition Design" course taught by Assistant Professor of Museum Studies Leah Niederstadt. In addition to introducing students to the history, theory and challenges of exhibition design, the class provides them a rare opportunity to work as curators, designers and installation crew.
"My understanding—from speaking with colleagues at other institutions and from presenting on this course at conferences—is that it is very unusual to have undergraduates curate and install an exhibition on this scale (filling two galleries for a public exhibition) in a single semester," said Neiderstadt, who also is the curator of Wheaton's Permanent Collection.
Two years ago, an overarching theme for the next four exhibitions was chosen—the classical elements of water, fire, earth and air. In fall 2016, students in the design course curated "It's Elemental: Water."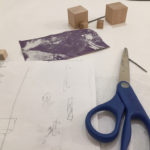 This year's exhibition is organized around three major themes focused on fire's role as destroyer, purifier and heart of the home; a fourth theme features objects that represent things that are fire-like, such as stars. The exhibition includes sculpture, paintings, WWI posters from France, candlesticks and ceramic vessels, as well as a variety of archival documents and materials, including a chemistry set from when Knapton Hall served as Wheaton's science building.
Coincidently, the week that students began installing the exhibition, at least 42 people had been killed and more than 200 were missing in the deadliest wildfire in California history. The faraway tragedy brought close to home fire's impact as students hung artwork exploring the complex nature of fire—from its destructive capability to its life-sustaining power.
For most students like James Margotta '21, fire has a personally pleasing association. Every student's journey through Wheaton begins in fire with lighting and floating of candles on Peacock Pond; fire illuminates the Dimple during holiday Vespers, and, at some point, there are bonfires and s'mores.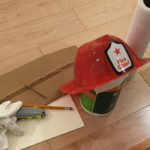 "I have been fortunate enough to have no intensely negative interactions with fire but have always had the warmth of a backyard summer fire growing up," Margotta said. "I think that this kind of experience helped to shape the idea of the complexity of fire that we hope to represent in the show. "
He and 13 classmates have been responsible for every aspect of the exhibition. They reviewed 200 to 300 objects and decided which to include in the exhibition and then worked in teams to design the layout for the display. Teams presented their designs to a jury of faculty and staff, who selected the winning design (by Margotta, Madi Cook-Comey '19, Elisa McClear '20 and Sasha Kasem-Beg '19).
Students researched objects, wrote labels and installed the exhibition as a class November 9—setting the galleries abuzz with overlapping conversation as they shouted questions to each other, worked out measurements, hammered, drilled and solved problems on the spot.
"I hope to have a career in the arts—whether that is working at a college as a professor or working at a museum curating exhibitions," said Kasem-Beg, a studio art major."This class has given me the skills to help me do that."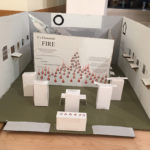 Part of their challenge as curators has been to lay out the objects and then consider how they are communicating with each other and with the other theme areas, taking into account sight lines between sections, Niederstadt noted.
From Margotta's perspective, "The biggest challenge in putting the show together is having ideas meet the standards of reality," he said. "Sometimes things just would not work out and a new idea would have to be made with it not resembling what the designer had in mind. Moving past that initial change can be incredibly tough but it is necessary."
The anthropology major plans to attend graduate school and eventually work in the field of archaeology. He said he has learned a great deal for the course that will be helpful in his future.
"I have an immense interest in the public reception and dissemination of anthropological findings and being involved in the exhibition design process is one key effort to understanding a way of presenting this information. The exhibition has also given me the opportunity to improve my interpersonal skills and meet some amazing people," he said.
"The most valuable lesson that I have learned is that listening to teammates, even when you have a strong vision for the design, is invaluable. Everyone in this course is here for a reason and they all offer incredible perspectives and thoughts."