Why History of Art?
Develop visual literacy

Our students demonstrate how images convey meaning through a process of visual literacy that is separate from linguistic literacy (unless text and image are being analyzed). Understanding how images are perceived and interpreted by and for a variety of audiences/patrons/artists is central to their studies, as is the manner(s) in which images create knowledge. Visual literacy will not only help our students excel in History of Art but will also provide them with skills to navigate an increasingly complex visual world.
Analyze form and design

Engaging with art through formal analysis or an explanation of a work's visual design enhances our students' powers of observation. It provides them with an analytic vocabulary and compels them to look carefully at a work of art, both as a visual object and as a series of design decisions that led to the final piece. An interpretation of the work's visual structure can enhance other methodological analyses to illuminate the meaning(s) of the work of art within its respective culture and its reception by multiple audiences.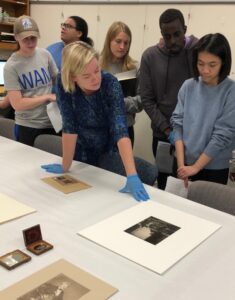 Use objects as primary sources

Through engagement with objects held in our Permanent Collection, displayed in the Beard & Weil Galleries, and exhibited in regional museums attended during Arts in the City-sponsored site visits, students strengthen their observation skills and their ability to use descriptive language and to compare, contrast, and make connections. Our students often work with original works of art from our Permanent Collection, designing thematic exhibitions as curators and designers. Object-based, hands-on learning reinforces concepts, ideas, and theories from readings and class discussions and sparks student interest through the opportunity to handle examples of the objects studied in the classroom. It also emphasizes the multiplicity of narratives embodied in objects and clarifies their roles in the production of knowledge.
Understand how visual expression can be a catalyst for social and political change

Students come to know and theorize how visual culture can construct reality, not just reflect and respond to it. Our diverse curriculum focuses on artists engaged with urgent political and social questions about race, gender, and other structures of power. Understanding these historical relationships between art and politics empowers students to develop their own critical stance.
Learn how art and design can solve problems
Our courses explore innovative solutions to design problems throughout history and around the world. Students examine how artists and designers have responded to the practical needs of their patrons and/or communities. We see how the development of new media, like print and photography, allowed artists to communicate with broader impact. Many of these forward-thinking visual ideas were also on the forefront of social change, ushering in new ways to imagine the world. It's why the History of Art is a crucial foundation for creative, business, media, or public service careers in the areas of design, marketing, architecture, and urban planning, among others.
Articulate art historical analysis through oral presentations

In addition to our commitment to develop our students' talents as excellent writers, we are strong advocates of improving and expanding our students' verbal skills. Most classes include a graded oral assignment in the form of a presentation(s), and, on a more complex level, the creation of podcasts is sometimes required. Seminars, in particular, promote student facilitation of reading, which enhances their oral communication and leads to their firm grasp of art historical vocabulary.
Translate visual qualities into clear writing

Our students are trained to hone their writing skills by following the sequence of courses required by the major. In those, they learn to use appropriate vocabulary in the form of well-written arguments so as to become apt authors in the discipline.
Produce papers using visual productions as primary documents

A large part of becoming History of Art authors is recognizing the centrality of visual productions as primary informants for written works. Students in the department are taught to consider visual productions as primary sources and to use them as such in their written assignments.  Exceptional essays by our students are featured in our online art magazine, the ARTHive Revue.
Situate works in their intellectual contexts, informed by historical evidence

As students progress in their History of Art major, they are taught to become skilled researchers. As such, they not only see the objects as primary evidence, but they recognize the historical attributes of such objects as informants.
Be familiar with a canon of visual productions, spanning several centuries and continents

One of the greatest strengths of our program is in the diversity of our curriculum and its geographical and historical coverage. Our majors graduate with art historical knowledge ranging from Classical Antiquity to contemporary artists around the globe.
Synthesize information critically

Research and writing projects help students refine their writing and presentation skills, making use of the range of art historical periodicals and databases in the field. Students learn to write critically about a topic using appropriate documentation, then present this material to their peers using appropriate digital tools. These efforts are supported by colleagues in Library and Information Services, including a library liaison who is assigned to the humanities, and a digital asset curator who assists with digital image production and support.
Apply various methodologies to further disciplinary inquiries

Starting with the survey courses, students are trained to use art historical methodologies as critical tools to understand varied visual productions. Eventually and in their senior seminar, students become fluent with these methodologies and understand their relevance for the ways in which the discipline has been written and has written itself.
Understand the place of History of Art as a field of inquiry within a larger humanistic and interdisciplinary discourse

In addition to the skills they acquire as writers, researchers, and presenters, students learn about theories and formative discourses tied to the discipline of history of art. In particular, courses teach students to not only think critically about history or art, but to understand that the questions posed through these applications are valid and relevant beyond the boundaries of the discipline and, in fact, are crucial in forming them.
Engage critically with debates pertaining to the History of Art and the wider arts community, including galleries and museums

Pedagogical approaches that foster dialogue, collaboration, and critical analysis are key to department efforts to engage students with historical and contemporary debates within the discipline and the broader art community. Students are encouraged to share their ideas and opinions in writing, class discussions, and formal presentations, and to do so by drawing on evidence gained from their experiences in the classroom, on site visits, at programs sponsored by various campus departments and offices, and in internships, which are often funded by the college.
Understand how to apply knowledge toward professional pursuits

Guest lectures, site visits, and the opportunity to attend programming sponsored by ARTHive and the WIIH, among others, reinforce the applicability of the major and minor in the real world. Faculty members actively support students in their efforts to acquire internships (and the necessary funding to support them) and post-Wheaton employment, and to gain admission to graduate programs in a range of disciplines. Assignments based on real-world experiences, whether proposing acquisitions for the Permanent Collection, conducting provenance research or working on exhibitions for the college galleries, teach students marketable skills that transfer to their professional careers.