'Uphold ideals,' George Mitchell challenges graduates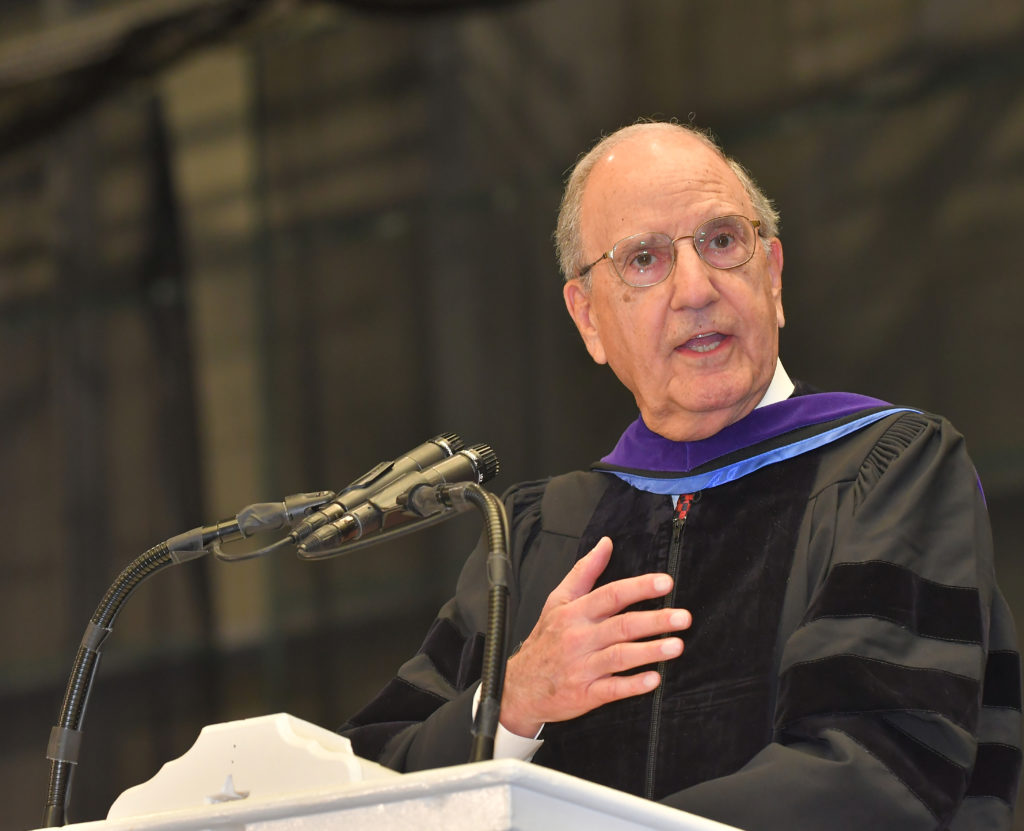 Peace negotiator stresses need to hold true to country's founding principles and act on beliefs
Placing the very future of this country in their hands, former U.S. Senator George Mitchell Jr., who helped lead historic negotiations for peace in Northern Ireland and the Middle East, set the bar high for the graduating seniors at Wheaton College's 183rd Commencement on Saturday.
Mitchell—with his renowned diplomacy—reminded the Class of 2018 of the principles upon which the United States was founded and the responsibility that each of them has to hold true to those principles, if they value a country that is free, fair and full of opportunity for all.
"Power is clearly important and we must be prepared to use it, including military force when necessary and appropriate. But the real strength of America is in our ideals," Mitchell said. "They're not easily summarized, but they are set forth in our Declaration of Independence and our Constitution and, surely, they include the sovereignty of the people, the primacy of individual liberty, an independent judicial system, the rule of law applied equally to every citizen and crucially to the government itself, and opportunity for every member of our society. Neither we, nor anyone else, should ever forget that the United States was a great nation long before it was a great military power or economic power."
Mitchell, who has a bachelor's degree from Bowdoin College in Brunswick, Maine, and a law degree from Georgetown University Law Center in Washington, D.C., was appointed to the U.S. Senate in 1980 to complete the unexpired term of Maine Senator Edmund Muskie. He went on to a 15-year career in the Senate, finishing in 1995 as the Senate majority leader (a position he had held since January 1989).
For his service in Northern Ireland, he received numerous awards and honors, including the Presidential Medal of Freedom, the highest civilian honor given by the U.S. government.
Public service is an ever-present need in a world of imperfect people who don't have all the answers, he told the graduates.
"There is much for all of us to do. Each of you will have your own list of what you see as our society's challenges and  its failings. …If you believe that every American child, regardless of background or family wealth, is entitled to a good education, you must oppose any action that would prevent them from having that opportunity. If you believe that every American is entitled to equal opportunity and equal justice, you must stand up and speak out against all forms of discrimination and injustice.
"Never forget that in the presence of evil, silence makes you an accomplice," he said.
In conclusion, he wished the Class of 2018 lives enriched by the work of doing good: "Real fulfillment in life will come from striving with all of your physical and spiritual might for a worthwhile objective that helps others and is larger than your self-interests," he said. "I hope that each of you graduates is fortunate enough to find such an objective in your life."
In addition to delivering the Commencement speech, Mitchell received an honorary degree along with Wheaton Class of 1973 alumna, award-winning actress, writer and jazz vocalist Rose Weaver, and award-winning broadcast journalist, TV and radio program host and commentator Callie Crossley. Read inspiring remarks by Weaver and Crossley.
This year, many seniors have been honored with national awards that will take them all over the world:
Since 2000, Wheaton students have won 107 Fulbright awards, and more than 120 other international honors, such as the Rhodes, Marshall and Truman scholarships. Wheaton has frequently been named in an annual list of the nation's top liberal arts colleges in preparing students to win U.S. Fulbright awards.