Inspiring love of language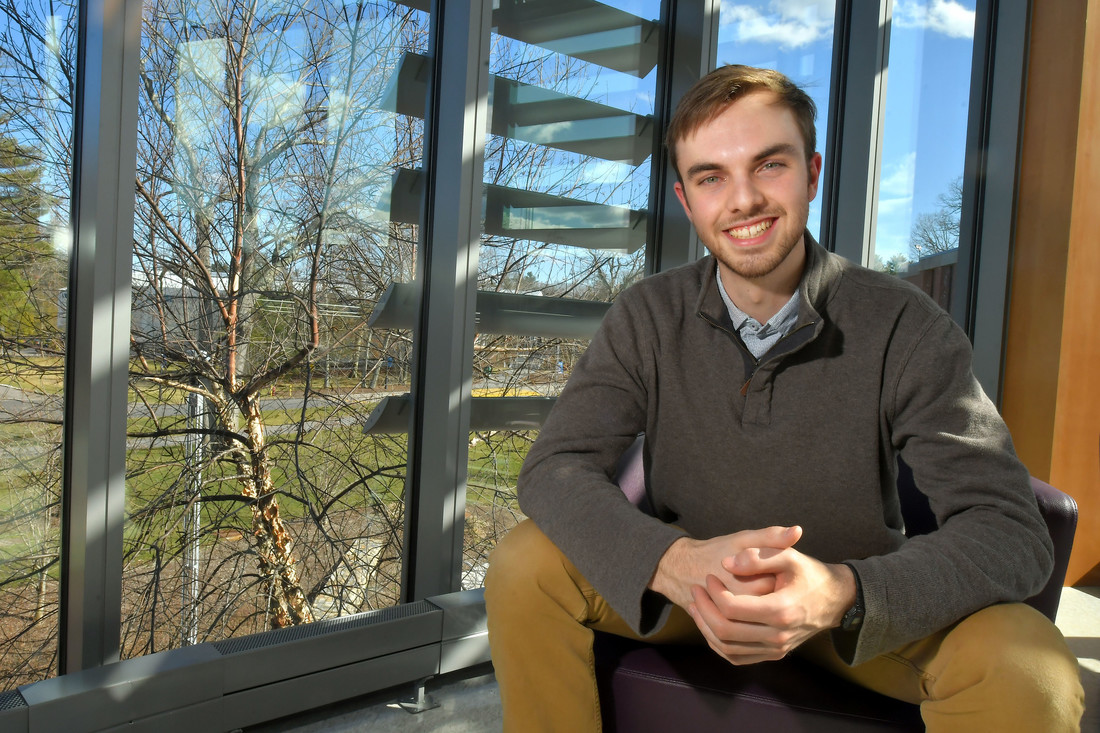 Brendan Geiger '18 wins Fulbright to Taiwan as English Teaching Assistant
Growing up in a Vermont town of about 1,000 people, Brendan Geiger '18 broadened his world through books. Words took him places and, consequently, ignited a love of language that this fall will transport him across the globe to Taiwan as a 2018 Fulbright English Teaching Assistant.
As a Fulbright scholar, he hopes to inspire other students to love the English language, which he views as key to opening doors because it has become so common within the international community.
"English allows access to international opportunities, communication between different societies all over the world, business-related employment and attending international schools," said Geiger, whose hometown is North Pomfret, Vt.
"I consider the Fulbright program an opportunity for me to use my current educational background and experiences teaching to help others access this network of opportunities."
"I chose to apply for the ETA in Taiwan because I feel strongly that engaging with East Asian culture in a meaningful way will greatly impact my understanding of the world, and my performance in diverse, multilingual classrooms."
Geiger, who is double majoring in English and secondary education with a minor in studio art, has been getting experience working with youth since he was a sophomore. He interned with the Interpretation and Education Department at the Marsh-Billings-Rockefeller National Historical Park in Vermont, connecting with students ages 4 to 12.
As a junior, Geiger taught ninth grade students from low-income families at the Breakthrough Collaborative in Denver, which pushed him to continually think about the importance of his role as an English-as-a-second-language teacher, he said. That was the summer he knew what he wanted to pursue as a career.
"I had my first experience in front of the classroom there. I was teaching writing to two small classes of rising ninth graders, leading them in activities and sports in the afternoons; living in the faculty housing at the school; and was completely saturated in the teaching experience. By the end of the summer, supported by some amazing students, co-teachers and mentors, I knew without a doubt that I really wanted to teach."
Last semester, Geiger, who is an English tutor at Wheaton, observed and taught in the public high school in Norton, Mass. "I would like to thank Scott Gelber and Sally Guadagno in the Education Department for helping me through my practicum at Norton High School, which has been the most impactful learning experience for me here at Wheaton," he noted.
On campus, he has been involved in many creative endeavors as a performer. He has been a member of the Dimple Divers improv group for four years and an actor in several Wheaton stage productions and in a student-produced feature film.
Geiger plans to rely on his background in the arts to help him take creative approaches to lessons and help motivate students. While in Taiwan he also wants to assist with extracurricular activities and connect with the greater community by volunteering with community arts organizations.
"I hope to give my students as much as I can in every respect, to support their work with the English language, and to make them laugh a couple of times," he said. "In turn, I hope to learn an incredible amount about myself and the world I live in from my students, co-teachers and host country."
After the Fulbright, he would like to teach English at the middle- or high-school level and then begin working on a master's degree.