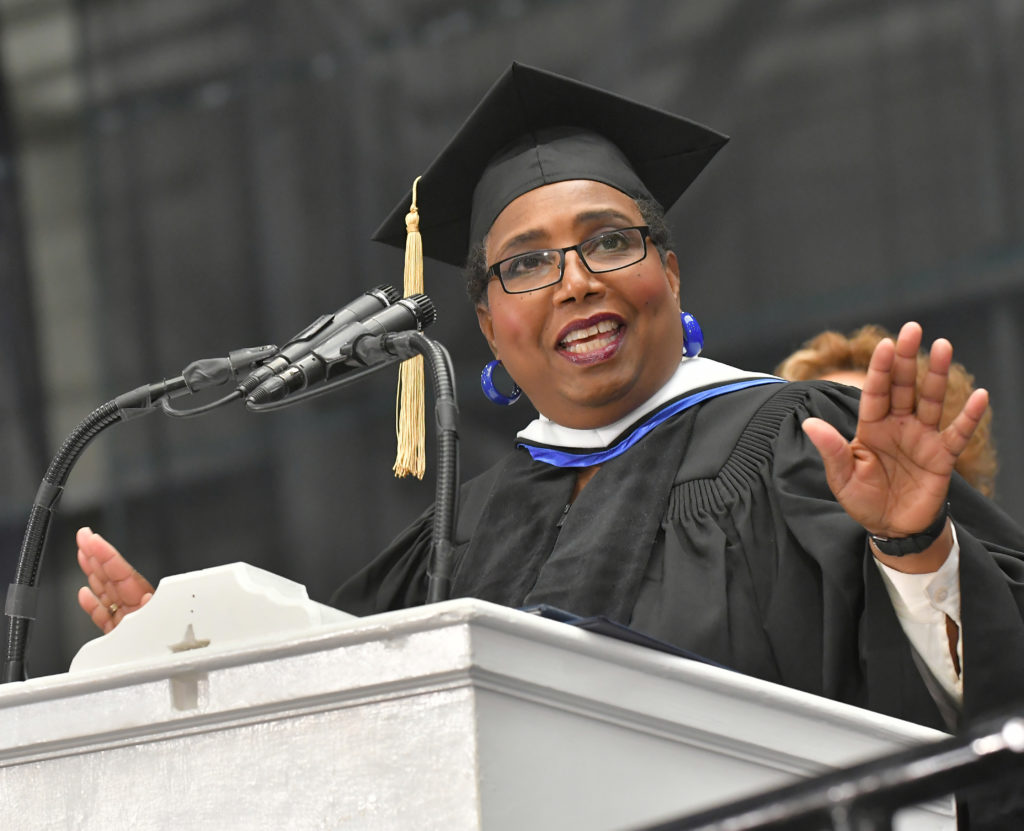 Read Callie Crossley's honorary degree citation
Callie Crossley remarks:
Thank you. I am delighted to receive this great honor from Wheaton College. I feel right at home in a place which celebrates a liberal arts education and whose history is rooted in the education of women. And, were my parents here to see it, they would get a kick out of finding out that I am getting honored for talking. I don't know how many times they sighed as they heard from my elementary school teachers, "Callie is friendly and courteous, but she talks a lot."
I must have asked thousands of questions in my career as a broadcast journalist, and I am always searching for the one that will open up the story from the interviewee. A few years ago, I was interviewing a group of highly credentialed women who were in public service. I asked them for the one thing that they could remember that, without their specific intervention, it would not have happened. And they thought, and each of them—now remember, these are big-time women with many, many accomplishments—went back to their early days of their careers and a small hands-on action that made a victory possible. And it reminds us always that we should not dismiss the early days of what we do to get our voices out there and of our contributions, and that we each have a unique contribution to make that, with only our contribution, can make some things happen.
So college is the place to find your voice, to figure out who you are, and who you are in the world. But I've come to realize that finding your voice is not the same as using your voice. Using your talents for something bigger than yourself in service to your family, to your community, to your nation. Those of you who have had the privilege of this fine education have been trained to take up leadership roles. How will you use your voice?
"When the whole world is silent, even one voice becomes powerful," says Pakistani activist Malala Yousafzai, the young woman shot in the head by the Taliban because she dared to advocate for girls' education. Today she is the youngest Nobel Prize-winner, is studying at Oxford, and, what is more important, more girls are getting an education because of her singular efforts. Obviously, she is one in a million. A growing phenomenon on a world stage. But there is plenty of room for each of us to make a mark.
I have chosen to tell the stories of the ones who can't speak for themselves. These stories help broaden the perspectives of people who don't know, or don't know any better, simply because of their lack of exposure. And I have chosen to be the one in the room willing to tell the uncomfortable truth out loud. There are any number of extremely talented broadcast journalists who are my contemporaries, but when I do my work, I remind myself that nobody can offer my perspective the way that I can, and nobody else has your voice, either.
I can't wait to hear what you have to say out in the world. Thank you so much for this honor, and Congratulations, Class of 2018.