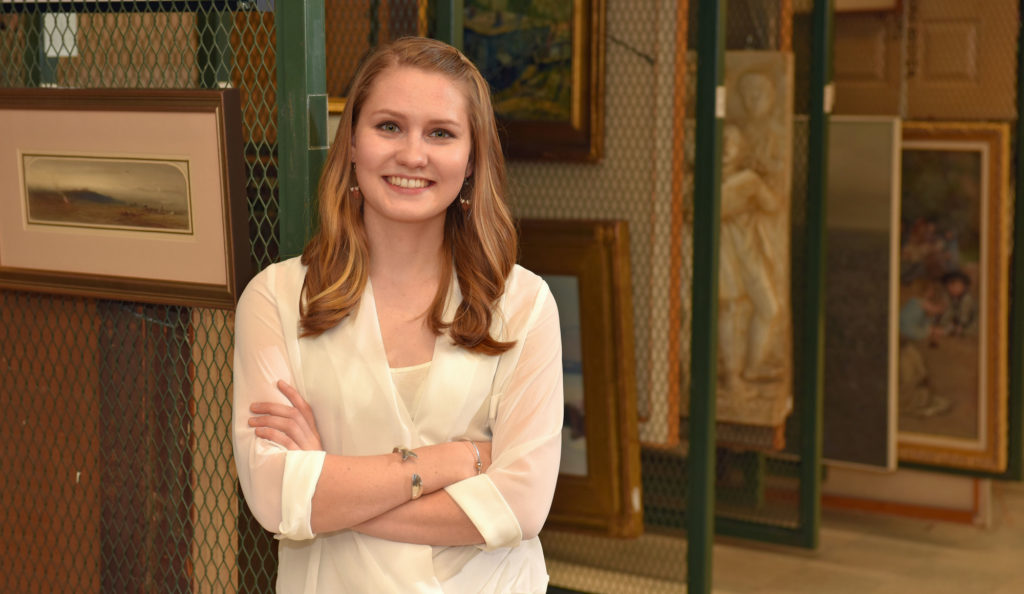 Senior studying art history and language wins Fulbright Grant to Germany
Emma Wynne '18 values the power of art and language to shed light on the human condition.
The Wheaton College senior's fascination with those topics led her to pursue a double major in art history and German studies at Wheaton (in addition to a minor in Business and Management), and it will lead her to spend the next year in Germany as a Fulbright Grant recipient, teaching English and diving into the country's daily life.
"I am beyond excited to become more immersed in German culture," she said. "When I studied abroad (in Regensburg, Germany), I definitely stayed within my comfort zone and mostly interacted with students also studying abroad from all over America and the world. I am excited to become more involved with the local population in whatever community I am placed."
Wynne traces her academic interests to her childhood. She grew up learning English and Swedish and lived in a household frequently hosting international guests, whether exchange students or family from Sweden. That background gave her an early appreciation for the ability to communicate in multiple languages.
She arrived at Wheaton interested in studying history, quickly gravitating toward art history and the insights that artworks offered into the human experience in different cultures and at different times.
"Through my job working in Wheaton's Permanent Collection, I found that what I most loved about art history was actually working with objects, taking care of them and sharing them with others," said Wynne, who was admitted to Wheaton as a Balfour Scholar and has earned membership in the academic honor society Phi Beta Kappa.
Once she discovered her affinity for museum studies, Wynne sought out internships at local museums, including the New Bedford Art Museum and the New Bedford Whaling Museum in addition to her work with Assistant Professor of Art History Leah Niederstadt and the college's Permanent Collection of art and artifacts. She said those experiences have helped her learn how to apply her education and to discover which aspects of museum work she enjoys most.
"These experiences have helped to answer the questions 'Why study art history?' and ''Why are people compelled to look at and think about art?'," Wynne said. "The answer is that in studying art history, you learn more about the human experience. By becoming a museum professional, I would be facilitating that understanding.
"The most compelling part of museum work for me is the concept of stewardship," said Wynne, who intends to pursue a master's degree in museum studies following her Fulbright year. "I feel strongly that by managing and taking care of our cultural history now, we can help preserve these objects for future generations."
For the moment, however, Wynne is focused on finishing her final semester at Wheaton and preparing for the coming year in Germany. Wynne chose a second major in German studies to aid in her understanding of art, particularly due to her interest in German Expressionism and the die Brucke movement. And having spent a semester at the University of Regensburg, she is looking forward to how much more she will learn of German culture and language.
"I learned more German while abroad than from years of formal studying," she said, explaining that there are nuances to the way language is used in everyday life that become evident only when immersed in the culture and society in which the language is used.
"One nuanced word that we learned while in Regensburg was 'genau.' I had never come across that in my studies, but we kept hearing it everywhere," she said. "We quickly learned that this word was a catch all. It means, 'alright,' 'okay,' 'perfect,' 'exactly,' and is used quite often as a 'mhmm.' It very quickly became our favorite word to use in any context."
Wynne also expressed her appreciation for German culture and society. "Germans often have a reputation for being cold or harsh. What I found is that this more reserved way of interacting comes from a place of deep respect," she said. "Germans may not make as much 'small talk' and smile at strangers as much as Americans do, but they have tremendous respective for your time, your space and your peace."
Naturally, she also is attracted to the country's history and its approach to the past—both its Medieval heritage and the honest and constructive way in which it has reconciled with the dark days of Nazism. "The way that they have opened their doors to refugee populations is inspiring, and I think it shows their vision for the future."
During the next year, Wynne hopes to become more involved in this aspect of contemporary German society by volunteering for organizations that assist the country's refugee population. "Having once been an outsider in Germany, I could help refugees navigate the difficulties of adjusting," she said.