Heading to Republic of Georgia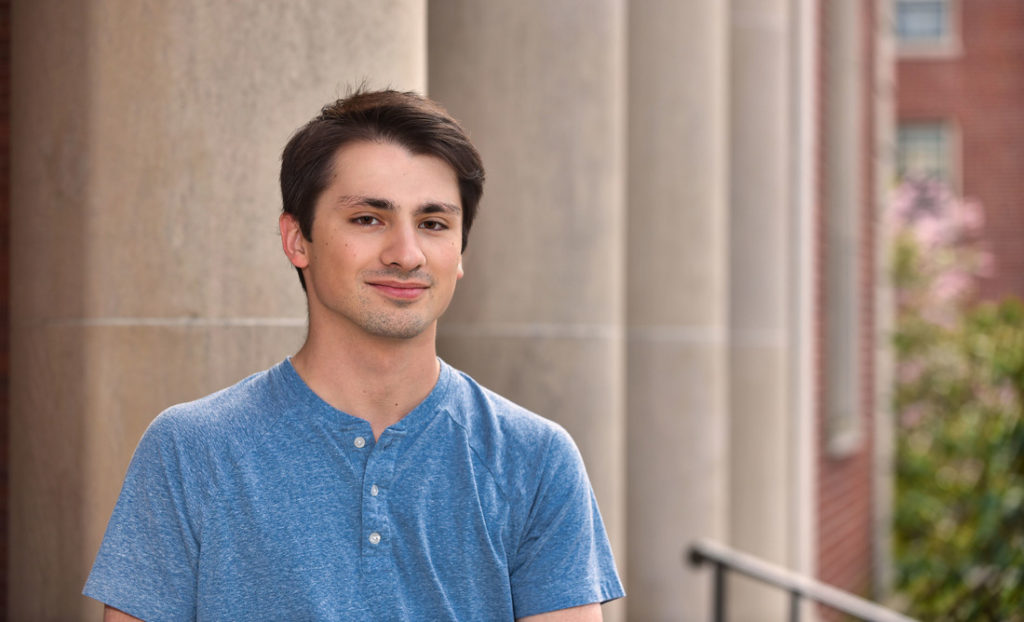 Fulbright scholar will teach English in a place that fascinates him
Justin Gagnon '18 knows firsthand the power of language to explore the world.
Growing up, he spoke what he calls "the Southern Maine version of Canadian French" passed down from his Quebecois grandparents. At Wheaton, he double majored in Russian and political science, broadening his passion for cross-cultural communication.
All of his experiences have led to the ultimate opportunity. He will share his knowledge, practice his skills and continue learning as a 2018 Fulbright English Teaching Assistant in the Republic of Georgia, a former Soviet republic located at the intersection of Europe and Asia.
Gagnon, a former member of Wheaton's Model United Nations team, said the rich and complex history of Georgia has fascinated him since studying it in the course "National Identities in the Post-Soviet Space," taught by Professor of Russian Studies Jeanne Wilson.
"Since the collapse of the Soviet Union, Georgia has found many ways to reinvigorate its national identity, particularly by bringing itself closer to the West. This includes a shift to more emphasis on English language learning," he said.
While in Georgia, he will teach English but he also hopes to enrich his knowledge of the the Georgian language. He already has begun to learn it on his own—adding yet another language to his list.
In high school, Gagnon studied French, Spanish, Italian, Latin and Russian, and served as a teaching assistant in French and Spanish classes and taught sign language. "It was through these experiences that I realized I had a talent for teaching foreign languages and that I wanted to continue this passion for a lifetime," he said.
Gagnon, who is president of the Russian Club and has been a Russian tutor at Wheaton, chose to come here based on the college's strong Foreign Language Department and study abroad opportunities.
"Ever since the Russian course I took in high school, I have been fascinated by the linguistics, politics and culture of Russia, and so I decided to major in Russian," said Gagnon, who recently presented research related to Slavic linguistic studies at the Undergraduate Colloquium on Russian and Eurasian Studies sponsored by the Davis Center at Harvard University.
"My fascination with the ever-changing complexities of the political relationships between the United States and the former Soviet republics led me to declare a second major, political science. My interest was soon focused in particular on the question of how these former republics are now shaping their national identity after the collapse of the Soviet Union," he said.
During his junior year, Gagnon spent nine months studying abroad in Russia enrolled in an intensive Russian language learning program in Saint Petersburg. While there he gained insight into teaching.
"I taught English to Russian students at a local school specializing in arts and languages. Although I had worked as a language tutor before, this was my first experience teaching my native language to foreigners," he said. "The difficult part of this job turned out not to be that I was teaching English, but rather teaching young people. I eventually learned to keep their attention through storytelling, jokes and games."
After his Fulbright year, Gagnon would like to apply to graduate school to continue exploring Russian studies or Slavic linguistics and go on to get a doctorate to become a professor of Russian.
"The opportunity to teach English in Georgia will set the groundwork for a lifelong relationship with the people and culture of the country as I seek to understand post-Soviet Georgian identity and build a life centered on learning and teaching foreign languages," he said.