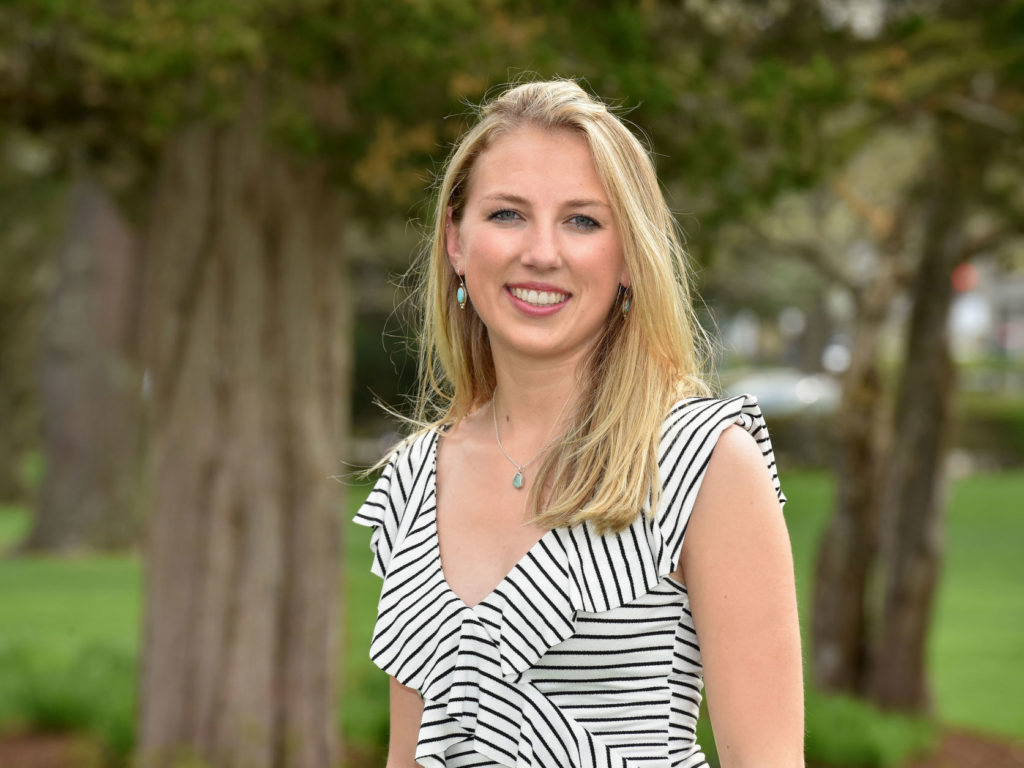 Riley Heist '18 wins Fulbright Grant to Indonesia
Riley Heist '18 knew that she wanted to be a teacher before setting foot in her first grade classroom. The inspiration came from her mother, who is a teacher in their hometown of Bar Harbor, Maine.
"For as long as I can remember, my mom has inspired me to be a teacher. I would watch her grade papers or talk about her students in a way that would light up her whole face," Heist said. "The dedication and admiration that she had for her students was something that I so badly wanted."
Heist will take another step to fulfill that dream later this year when she starts her first full-time teaching position as a Fulbright English Teaching Assistantship award winner in Indonesia, where she will be teaching English to middle and high school students.
"I'm very excited to immerse myself in Indonesian culture and get to know the people," Heist said. "I chose to apply for a Fulbright in Indonesia because it will allow me to work in a secondary school, my area of expertise, and it offers the chance to experience the diversity of this country, which is very appealing to me."
This will not be Heist's first experience teaching abroad. The double major in English and secondary education spent the spring semester of her junior year in Valencia, Spain, teaching English in a middle school and studying at a university. Among the lessons she brought home, was an appreciation for the importance of empathy in the classroom.
"I worked with a boy who refused to read in English for fear he would embarrass himself," she said. "When I put myself in his shoes and read an unfamiliar Spanish text, he began to laugh and loosened up enough to try reading his book."
While in Spain, she also gained important insights into how to successfully immerse herself in another culture by connecting with native residents.
"I've traveled quite a bit throughout the past ten years of my life, and my favorite trips have been the ones where I am able to live with host families, speak the language, eat the country's food, and experience daily life," she said.
Heist said the family that hosted her in Spain went out of their way to make her feel included and welcome.
"Despite my horrible accent and my intermediate level of Spanish, my host family played charades, drew pictures, and did everything in their power to be sure I knew what was going on," she said. "They always set a place for me at family dinners, and my host dad packed me a lunch in a bumblebee lunch box every morning."
Beyond her semester in Valencia, Heist has numerous other teaching experiences to draw upon, from serving as a writing tutor at Wheaton and student-teaching at a local charter school to serving as a teacher's aide and a  substitute teacher in the Mount Desert Island school system in Maine.
In addition, Heist has been an active member of Wheaton's Education Club, serving as its president and launching several new programs, including a reading hour at the nearby Norton Public Library, organizing campus tours for fifth graders and working as a mentor through the tutoring program at the Norton Middle School. She also has been active in the college's chapter of Best Buds, which provides volunteer service for individuals with physical and intellectual disabilities.
Right now, Heist is studying up on the country that will be her home for the next year. Upon her return, the Bar Harbor native hopes to continue her teaching career in the U.S. and pursue a master's degree in teaching English as a second language.