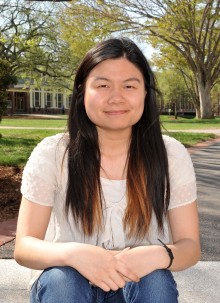 As a junior, Elaine Yuan '15 helped turn an English conversation group into a new club to help international students develop their language skills. Now she'll take her passion for teaching and talking to Taiwan on a Fulbright English Teaching Assistantship.
When English professor Ruth Foley went looking last year for a writing tutor to facilitate a conversation group, Yuan volunteered. The group developed into a club known as Supporting Wheaton's English Language Learners, or SWELL. It provides "a safe space where English learners can build language skills, native English speakers can serve as conversational partners and positive cross-cultural relationships develop," Yuan, a recipient of the Wayne and Jacqui Budd Wheaton Fund Scholarship, wrote in her Fulbright essay. "We have weekly conversations over dinner, club bonding events and [hope to develop] a mentorship program."
The club has been going strong for three semesters and has received support from the Center for Global Education, the Marshall Center for Intercultural Learning and the Center for Social Justice & Community Impact. Along with supporting Wheaton's international population, SWELL has provided invaluable training for native speakers interested in teaching abroad: several of this year's Fulbright winners are members.
For Yuan, a double major in education and psychology, the group and the Fulbright will help her prepare for a career as an educator in New York City, where she grew up. English language learners make up more than one-tenth of the student population in New York City's public schools, according to a 2013 report.
"My experience as a student in an urban public school setting compels me to return to the same familiar setting as a teacher," Yuan said. "When I return to New York, I will be equipped with knowledge from my education courses, experience in classrooms in Norton, New York and abroad, and growing confidence in my capabilities as a teacher."
A first-generation Chinese American, Yuan took her first trip abroad last summer, teaching English through an internship with Summerbridge Hong Kong, with the support of a Davis International Fellowship.
Yuan said she knew growing up that she wanted to be a teacher and thanks her family for emphasizing the importance of education.
"My parents and grandmother are my motivation to challenge myself, work hard and succeed," she said. "They have instilled in me the value of an education and hard work. I will always carry these values with me in all my endeavors, whether I am at home in New York City, at college or abroad."
2015 Fulbright Recipients