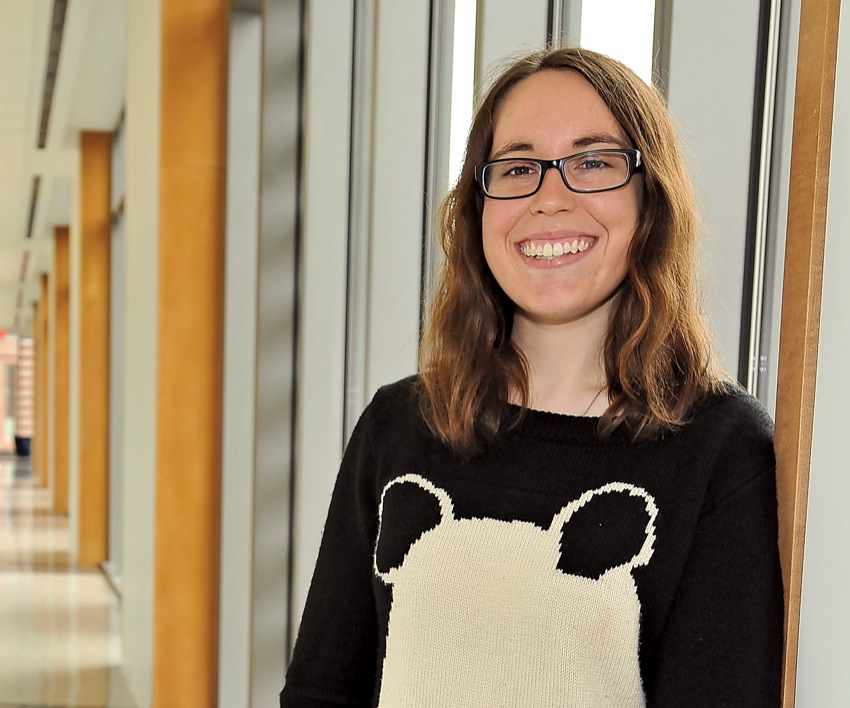 For Fulbright recipient Clancy Connolly '15, learning a language is about more than picking up words and inflections—it's about immersion in another culture and an exchange of experiences.
The anthropology major and East Asian Studies/Hispanic Studies minor will be heading to Macau on a Fulbright English Teaching Assistantship. Macau is one of two Special Administrative Regions of the People's Republic of China; the other is Hong Kong.
Connolly was drawn to Macau in part because of its blended background—it was formerly a Portuguese colony.
"I am fascinated by the ways in which Macau's Portuguese colonial history continues to mix with the Chinese culture found there today," she said.
Connolly also was excited by the opportunity to teach at a university, acting as an ambassador to students who are essentially her peers.
Growing up in Scarborough, Maine, Connolly's exposure to cultural diversity was limited. But the summer after high school graduation she worked a job at a local amusement park that attracted a large number of international students, and these coworkers left "an indelible mark" on her.
"The friendships I made allowed for amazing cultural interactions: having a traditional Turkish dinner, being serenaded by Jordanian and Chinese students and hour-long language sessions with my Kazakh friend, which found me stumbling over Russian words until I mastered them," she wrote in her Fulbright essay. "In return, I organized a potluck dinner, led a tour through Boston and taught my friends the 'Cotton-eye Joe.'"
At Wheaton, Connolly discovered a passion for anthropology and an interest in teaching English abroad. She also developed a love of studying languages; she has studied Spanish for six years, Mandarin Chinese for two years, and is eager to start learning Cantonese while in Macau.
Connolly spent the spring semester of her sophomore year studying in Puebla, Mexico, where she was able to develop her Spanish skills while staying with host families as well as immerse herself in Mexican culture.
"I was part of a traditional Mexican dance group and had the opportunity to dance with fire on top of a pyramid in honor of the Aztec god Quetzalcoatl," she said. "I also made a good friend in my Mexican Poetry class who invited me to her home and to go on vacation with her and her family during Semana Santa, allowing me to experience the holiday with a Mexican family."
At Wheaton, Connolly has served as secretary and president of the Asian Student Association (formerly the Asian American Coalition) and is also a member of the new Supporting Wheaton's English Language Learners club.
After graduation, she hopes to earn a master's in Teaching English to Speakers of Other Languages and to have a career working with international students or immigrant populations both in and outside the United States.
"I am hoping to fully immerse myself in the life of Macau by getting to know the people, the history, the food and the traditions surrounding the region," Connolly said of her Fulbright experience. "From the Fulbright I want to gain experiences outside of my comfort zone, and I want to be put in situations that will allow me to think quickly and make choices with confidence. These are all qualities that I strongly believe will be important in whatever career I find myself in in the future."
2015 Fulbright Recipients