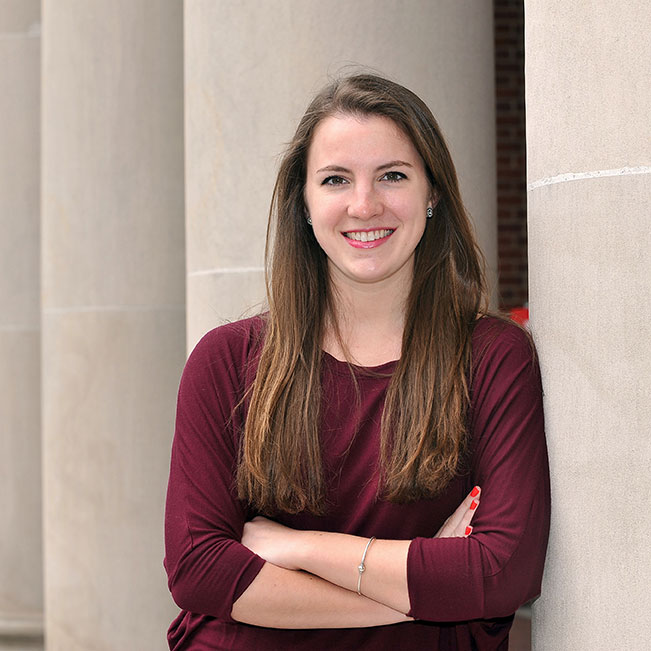 Leslie Gould '15 arrived on Wheaton's campus unsure about what she wanted to study. She will graduate this May with a focus on global education and a Fulbright award to Mexico.
The Ashburnham, Mass., resident credits Wheaton with helping her to discover her interests and "become a more globally aware citizen."
"My first year at Wheaton was very exploratory. I enrolled in a variety of courses to find out what interested me," she said." I soon found that I loved psychology and Hispanic studies courses the most.
"I enjoyed working on those assignments and the professors challenged me to think in ways I had never considered – it really felt like everything clicked," said Gould, who majored in both disciplines and will earn a minor in women's and gender studies, too. She has won membership to the national honor societies for both Hispanic studies and psychology.
Her academic choices build, in part, on her background. She began studying the Spanish language in sixth grade. Her interactions with Wheaton's language assistants–graduate students who bring native speakers' cultural knowledge to campus–sharpened her interest in international education. She attributes her interest in psychology to its multifaceted nature, including social psychology and the cognitive and developmental domains.
A Wheaton Balfour Scholar, Gould said she has developed valuable skills beyond the classroom. She said that her work as a resident advisor, a global peer advisor and a class senator have helped develop communication and planning skills critical to teaching.
Gould said that the opportunity to study abroad also proved to be a critical part of her college experience. In the summer before her junior year, she traveled to Tanzania for a course led by anthropology professor Donna Kerner that include a homestay with a local family and service teaching English to secondary school students.
"Witnessing the growth of my Tanzanian students in their English language comprehension helped me to recognize my desire and motivation to teach," said Gould, who described the experience as life-altering. "Staying with a host family and teaching their children English in the secondary schools allowed me to form close relationships with those around me, despite the language barrier of not knowing how to speak much Swahili."
The following spring, Gould spent a semester studying with the Institute for the International Education of Students in Granada, Spain and connecting with Spanish university students through an exchange program.
Now, Gould looks forward to living, working and learning in Latin America, a part of the Spanish-speaking world that she has not yet explored.
"Mexico has the largest Spanish-speaking population in the entire world— not to mention that it is our geographic neighbor—and yet I have limited experience learning about its culture," she said. "I want to discover more about its culture first-hand and deepen my understanding of the differences and similarities that exist between various Spanish-speaking countries."
2015 Fulbright Recipients