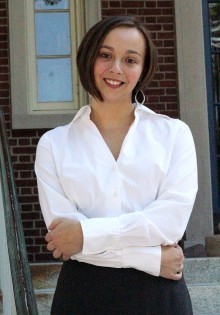 Television dramas first attracted Susan Skaza '14 to South Korea, but it's a Fulbright grant that will take her there.
Skaza, a political science major and journalism studies minor who graduated in December, will teach English to Korean students on a teaching assistantship.
As a first-year student at Wheaton, she was searching for something interesting to watch online when she came across a Korean show called "The Great Queen Seondeok."
"It didn't start out in English, but I thought it might switch over at some point because sometimes shows do that," she said. "Unfortunately, by the time I realized it wasn't going to switch to English I was hooked, and I've loved watching Korean dramas ever since."
Soon she was borrowing books on Korean history from the library and trying to learn the Korean language—which she found to be beautiful—using the Internet, apps and books. She started meeting weekly with Professor of Sociology Hyun Sook Kim, whose native language is Korean, to develop her skills.
The Ludlow, Mass. native had never left the East Coast—never, in fact, been on a plane—when she decided to enroll in a journalism-focused study-abroad program in Morocco during the spring semester of her junior year. She didn't speak the language but quickly adapted to life overseas, spending most of her stay with a Moroccan family.
"What I learned in Morocco was not just how to be a journalist in another country but the communication, survival skills and confidence necessary when throwing oneself into a completely new environment," Skaza wrote in her Fulbright essay.
She knew early on that she wanted to try for a Fulbright, for the opportunity to travel and interact with people from other cultures.
At Wheaton she took advantage of opportunities to expand her teaching and language skills, enrolling in a Teaching English Language Learners class and joining the new Supporting Wheaton's English Language Learners club, which helps international students develop their English skills by spending time in conversation with native speakers.
Currently working as a substitute teacher, Skaza is considering testing to become a Foreign Service Officer and is interested in working in government or other public service after her Fulbright year.
Last summer, Skaza interned in the Department of Homeland Security's public affairs office in Washington, D.C.
"The combination of my education and the experience I received through my internship really sparked my interest in getting a government job—ideally one where I would be a part of diplomatic relations, even in a small manner," she said. "The Fulbright seemed like an excellent opportunity to further my skills and gain some experience internationally."
2015 Fulbright Recipients