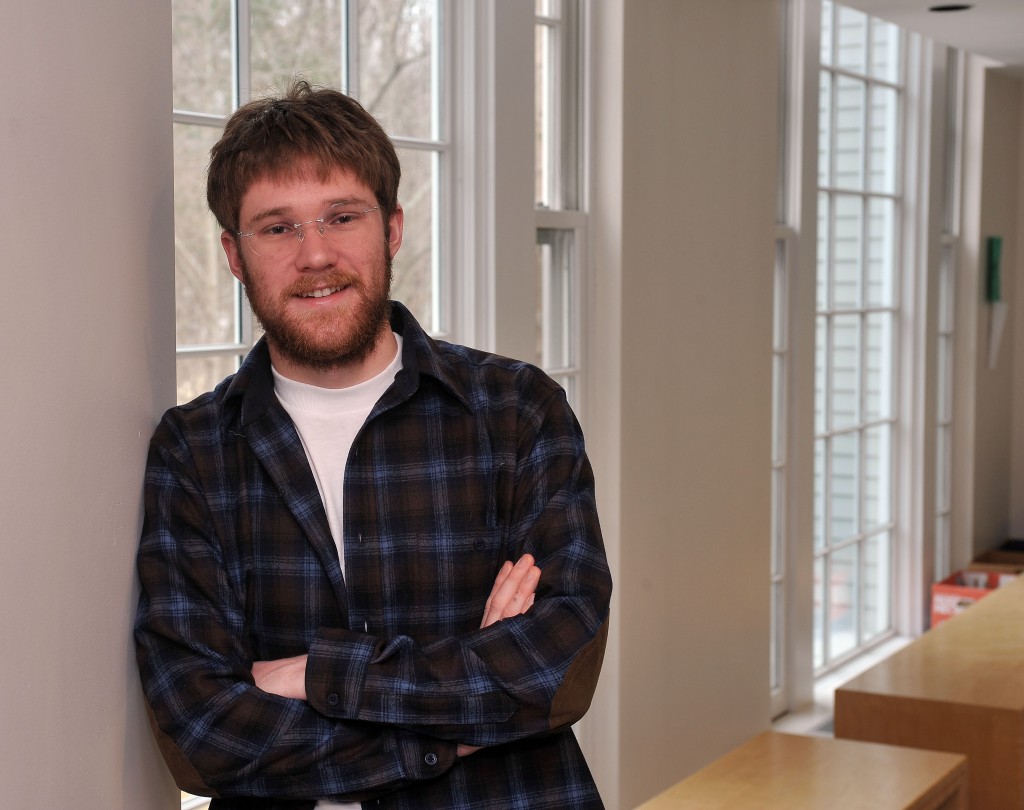 After Wheaton, Jonathan Gerkin '15 plans to obtain first a master's and then a PhD in medieval literature. But first he'll get the chance to explore medieval towns in the Slovak Republic while teaching English on a Fulbright grant.
Gerkin, a double major in English and philosophy with a minor in religion, said Slovakia's diverse culture and history, as well as the chance to teach American literature along with language, inspired him to pursue an English Teaching Assistantship there.
"The chance to garner superior teaching skills makes being a Fulbright ETA the clear next step on my career path, but it is also the cultural exchange component of the grant I seek," he wrote in his Fulbright essay. "I became enamored as soon as I began to research the Slovak Republic. I am fascinated by Hilltop ruins like Považský hrad along with still-living medieval towns like Banská Štiavnica and Kremnica that fit perfectly with my aim to be a medievalist."
The Stamford, Conn. native has always been interested in the crossover between religion, philosophy and literature, and the study of medieval literature has allowed him to indulge those interests.
"The internal logic of medieval literature is highly complex and dependent on the religiosity of the time period. Everything from the period's scientific explanations to its swear words are rooted in this highly religious and seemingly alien mindset," Gerkin said. "I am fascinated by the attempt to understand and rebuild this largely coherent medieval religious perspective, and I find literature is the perfect outlet."
The Fulbright gives Gerkin the chance to further explore three of his other passions: study, teaching and travel. The summer after his sophomore year at Wheaton, he taught English for a nonprofit in Peru, and the following semester, as a junior, he studied English and religion at Trinity College in Ireland.
"While exploring the Irish countryside as part of a study abroad program was wonderful, I learned the most about the culture through simple daily interactions like visiting the pub and listening to old men tell stories," Gerkin wrote in his essay. "Similarly, while volunteering in Shipasbamba, Peru, I struggled through my broken Spanish to talk to people all over town; almost everyone appreciated it and some would talk for hours despite the language barrier. […] It is through these interchanges that personal, intellectual and even professional growth occurs. The more alien the mindset, the greater the chance for growth."
He has also taught two summers with Massachusetts Institute of Technology's Educational Studies Program (ESP), engaging high school students on a variety of topics such as Dostoevsky, existentialism, philosophy and Russian Literature.
"The MIT program really improved my teaching skills and impressed on me how much of teaching is in the prep work," Gerkin said. "Previously, I had significantly underestimated how much time goes into making a coherent and well-structured one- or two-hour lesson. My time with ESP was great, and it certainly helped me develop teaching and presenting skills that will be useful in any field of academia or education."
Gerkin will spend about 10 months teaching in eastern Slovakia, at a school in the town of Humenné.
2015 Fulbright Recipients