Wheaton starts Social Venture Scholars internship program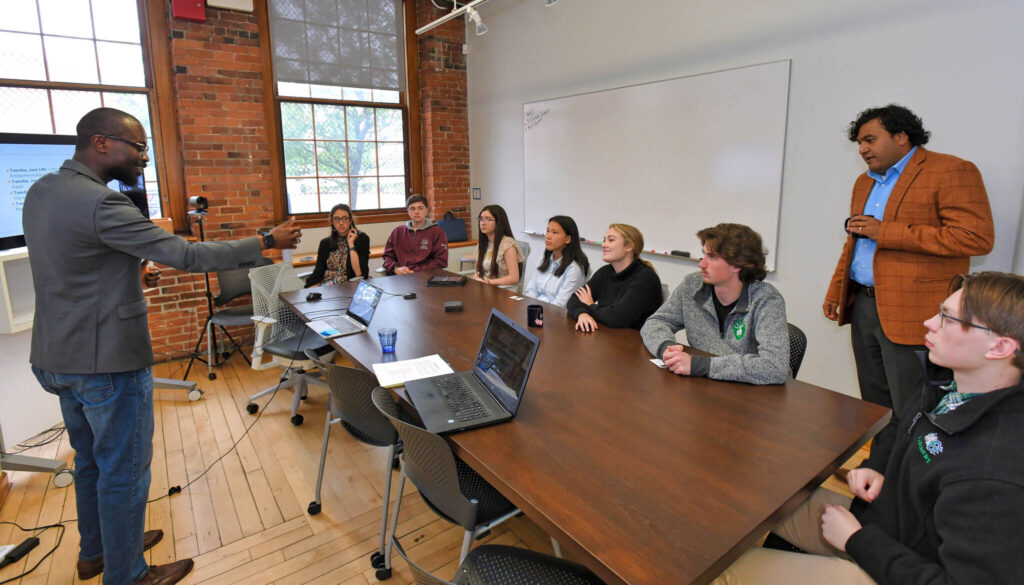 Students gain experience at Rhode Island enterprises that impact area communities
Eight Wheaton College students spent the summer learning how to impact the world through social entrepreneurship as the first cohort selected for The John and Kendra Malloy Social Venture Scholars internship program.
The new full-time, paid internship program places rising sophomores, juniors and seniors in summer internships with entrepreneurial ventures having a social impact in Providence, R.I. It was established through the philanthropic support of the Malloys, who are the parents of a Wheaton Class of 2022 graduate. Kendra Malloy also is a member of the Wheaton College Board of Trustees.
Chris Bennett '23, Ariel Ferreira '24, Sara Giraldo '24, Jack Luyrink '23, Julianne Morse '24, Khushi Parikh '25, Xiulie Perry '24 and Jacob Veilleux '24 were selected as Social Venture Scholars based on their outstanding academic achievement, on- and off-campus leadership experiences, and commitment to the intersection of business and social impact, said Imran Chowdhury, Wheaton's Diana Davis Spencer chair of social entrepreneurship, who oversees the program. See gallery below.
"They all share a common interest in making the world a better place by creating positive impact through social enterprise, entrepreneurship and business," said Chowdhury, associate professor of business and management.
For example, Ferreira, who is double majoring in business and management and political science, said she wants to create an enterprise that helps those in need break the cycle of poverty. She interned as a workforce development intern at Amos House in Providence, which is a nonprofit that serves those without homes, those who are unemployed and individuals living in poverty.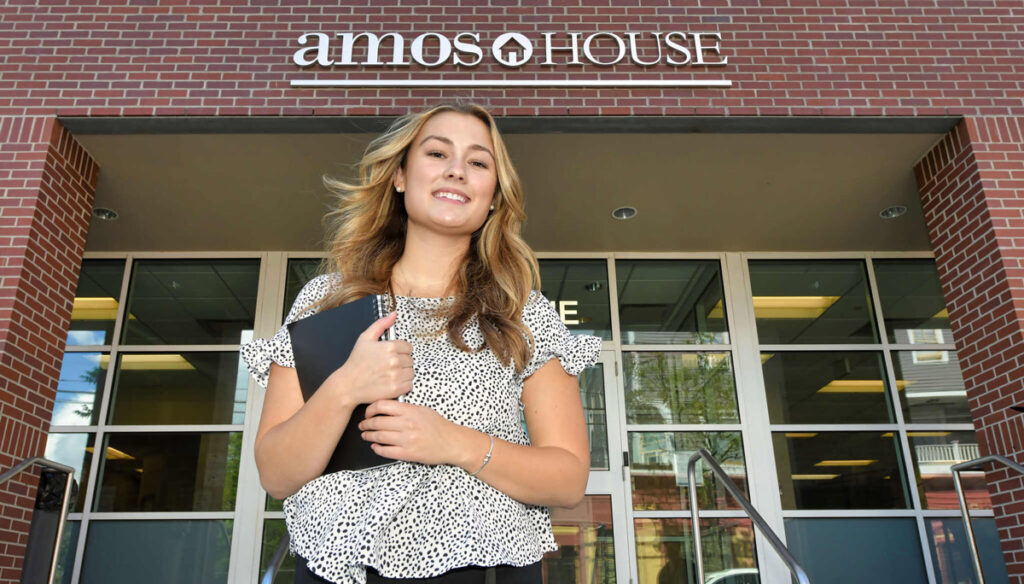 "My long-term goal is to have a career path where I can work toward creating innovative change to help diminish poverty and income inequality," said Ferreira, who is president of the Social Impact and Innovation Club at Wheaton.
"I firmly believe that this internship experience is one of my first steps down this path as I am learning more about the population I hope to work with firsthand on a day-to-day basis," she said.
The program gives Wheaton students an opportunity to gain work experience in a startup or social enterprise environment while receiving mentorship and support from their host-supervisors and building skills in many areas of expertise.
The college partnered with Social Enterprise Greenhouse (SEG) in Providence, which managed placements for students, arranged networking opportunities and coordinated seminars designed to help interns understand the world of work and their own professional aspirations.
Social Enterprise Greenhouse supports entrepreneurs and businesses committed to positive societal and economic change. The location served as a home base for Wheaton interns to gather as a group for orientation as well as for reflection throughout their experience, which included engaging in conversations with mentors and participating in events from May through August.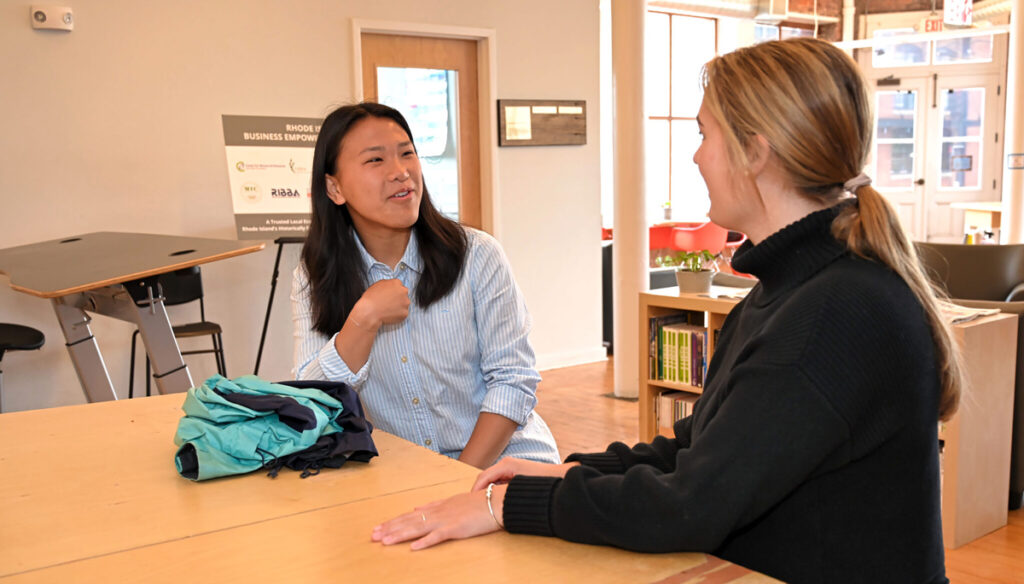 "At SEG, we see university partnerships like the Social Venture Scholars program as a vital exchange between our network of social entrepreneurs and the unique resources of institutions like Wheaton," said Austin Wilson, SEG senior program manager.
"On the one hand, students are given the opportunity to gain real-world experiences with social enterprises addressing critical issues in their communities. On the other, organizations in our network benefit from the diverse range of skills and experiences that Wheaton students bring to their work from their liberal arts education," Wilson said.
The interns represent several majors, including English, political science, international relations, economics and sociology, as well as business and management. Some of them worked on-site at businesses and organizations; some worked remotely or did a combination of both. They all say they gained valuable skills that expand upon their Wheaton education and leadership on campus, and support their career aspirations.
Bennett, an English major, interned at RI Elder Info, a resource website that needed a grant writer. The position required him to tap into and hone his research skills to find the best funding opportunities for the organization.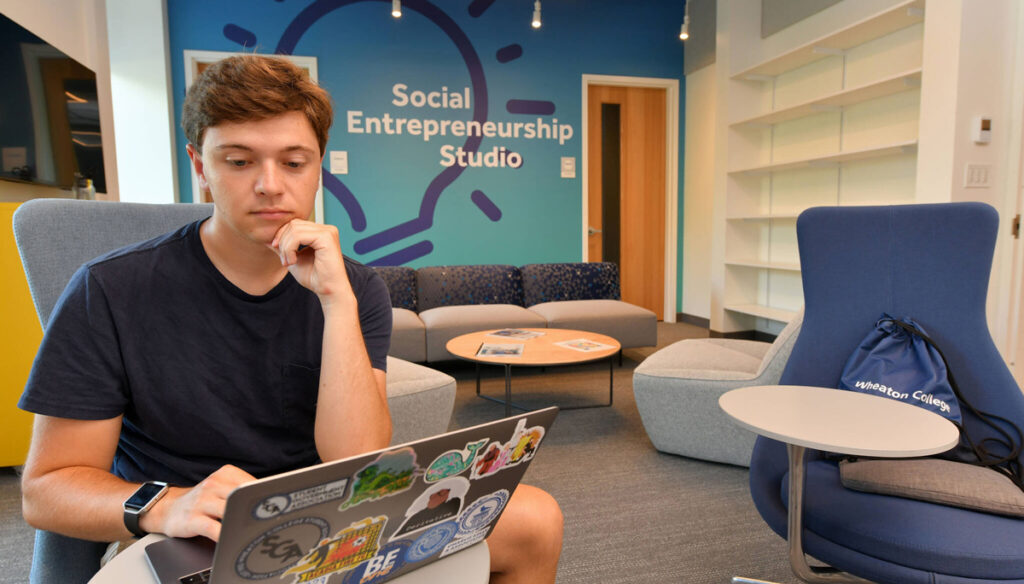 "I knew that I wanted to move on from the theoretical work that I do in classrooms each semester and find a work experience that would help me develop professional writing skills that could apply to policy work," said Bennett, a May Fellow, Class of 2023 Student Government Association representative and a Frisbee club team member.
"The more I talked to advisors and colleagues, the more I heard about grant writing as a good opportunity to indirectly achieve this goal," he said.
Professor Chowdhury said that the inaugural program has gotten off to a great start.
"We had a really wonderful group of students for the program this first summer. They were the stars of the show—going through the application process, interviewing for positions, completing an eight-week internship, reflecting on their professional aspirations, and attending the amazing seminars organized by the team at SEG," Chowdhury said. "The events included dinners with Kim Anderson of Plant City, Lisa Raiola of Hope & Main, and other leaders from the Rhode Island entrepreneurship and social impact community."
The professor said he is thankful for the generous support from John and Kendra Malloy.
"We are thrilled that they helped to make such a big difference in the professional and personal development of this first cohort of the program," Chowdhury said.
Wilson said he has heard great feedback about the interns.
"Each of the organizations that served as placement sites this summer expressed how grateful and energized they were in getting to work with young talent, and they were deeply impressed by each student's dedication and eagerness to learn," Wilson said. "We are looking forward to growing the program and deepening our partnership with Wheaton to help social enterprises thrive throughout New England."