Jacob Veilleux '24 sharpens research, presentation skills at Epic Renewal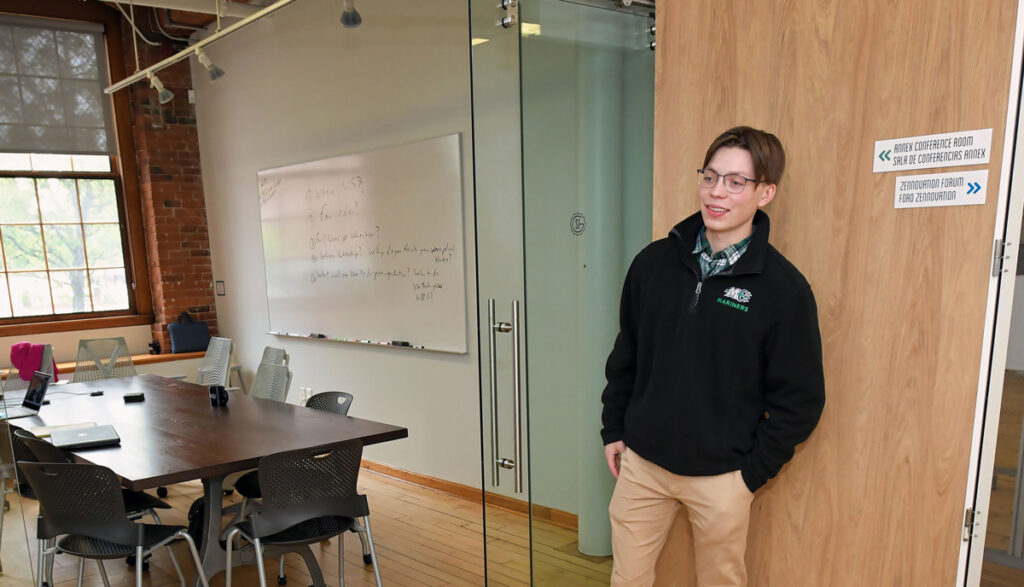 Jacob Veilleux '24, a business and management major, was one of eight students selected for The John and Kendra Malloy Social Venture Scholars internship program.
The new full-time, paid internship program, through a partnership with Providence, R.I.-based Social Enterprise Greenhouse (SEG), places students in summer internships with entrepreneurial ventures having a social impact.
Veilleux spent the summer working for Epic Renewal in Providence as the marketing and communications intern. The company focuses on keeping food waste out of landfills by creating sustainable composting systems. As part of his duties, Veilleux researched the composting field.
"Within this research, I studied what the general product landscape was like, how other businesses advertise, price their products and communicate overall," he said. "I also researched potential collaborators, clients and thought leaders Epic Renewal may consider partnering with."
After compiling the information, he presented his findings in a report and provided recommendations for what Epic Renewal could do moving forward.
"My favorite moment on the job was presenting my findings for the product landscape and communications research to Baba and Tess Feigenbaum, the company founders. Going into the presentation, I was nervous. I was unsure if what I had found would be of use to them," Veilleux said.
"To my surprise, they loved my research and appreciated what I had found, especially my first impressions as someone inexperienced in the field," he said. "It was a great feeling knowing that what I had found may have real-world implications—helping a business improve and grow."
On campus, Veilleux is a member of the men's hockey club team and an executive board member. In the past, he has participated in Wheaton's Social Entrepreneurship (SE) Launch program, which teaches students the beginning steps of creating a business and how to market and finance it.
"I am interested in potentially creating a business of my own one day," he said. "The SE Launch program and this internship have allowed me to learn how to do this firsthand."