Xiulie Perry '24 expands knowledge of nonprofit work at Amenity Aid, Inc. internship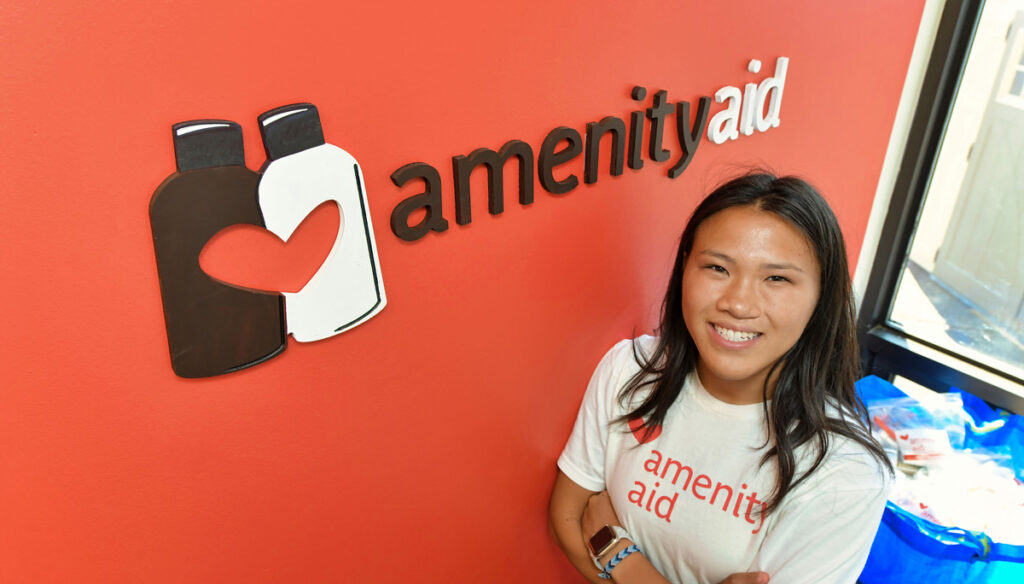 Xiulie Perry '24, a business and management major, was one of eight students selected for The John and Kendra Malloy Social Venture Scholars internship program.
Wheaton's new full-time, paid internship program places rising sophomores, juniors and seniors in summer internships with entrepreneurial ventures having a social impact in Providence, R.I.
Perry worked as a volunteer management and communications intern for Amenity Aid, Inc., which acquires and distributes hygiene products and other toiletry necessities to those in need throughout Rhode Island.
"The organization's mission is to end hygiene poverty. In my 'Human Sexuality' class at Wheaton, I learned that period poverty is when people who live on low incomes struggle to afford period products. I had never realized how big of an issue this is," Perry said.
"Giving back to the community by helping those in need and also working closely with the owner and founder of the organization has been really nice and expanded my knowledge when it comes to nonprofit organization work," Perry said.
Her responsibilities included ensuring that organizations were scheduled to pick up supplies and preparing and having orders ready for pick up. She also was in charge of tracking inventory and donations, and communicating with potential agencies.
"One of my biggest challenges during the internship was making a personal connection with all the agencies that would come and pick up their products," Perry said. "I'm not naturally extroverted. I overcame this by the end of the internship when I became more confident in what I was doing and more comfortable with the agencies."
Along the way, she said she learned two important lessons: "be kind to everyone and make connections."
"Connections are what get you further in life; many people get their jobs because of the connections they have. So, by being kind to everyone and having connections, opportunities will always be available," Perry said.
Perry said her mother, who is an entrepreneur, inspired her interest in majoring in business and management. She has not settled on a career path yet but knows her major will get her to wherever she decides to go.
"I see the major as one with many opportunities and different paths to go down. As someone who's unsure of the future, I wanted many options for when I graduate," she said. "This internship fits into my Wheaton educational experience because I learned more about the business world when it comes to operations, financing and marketing. I also learned how to network and take on new opportunities when presented."