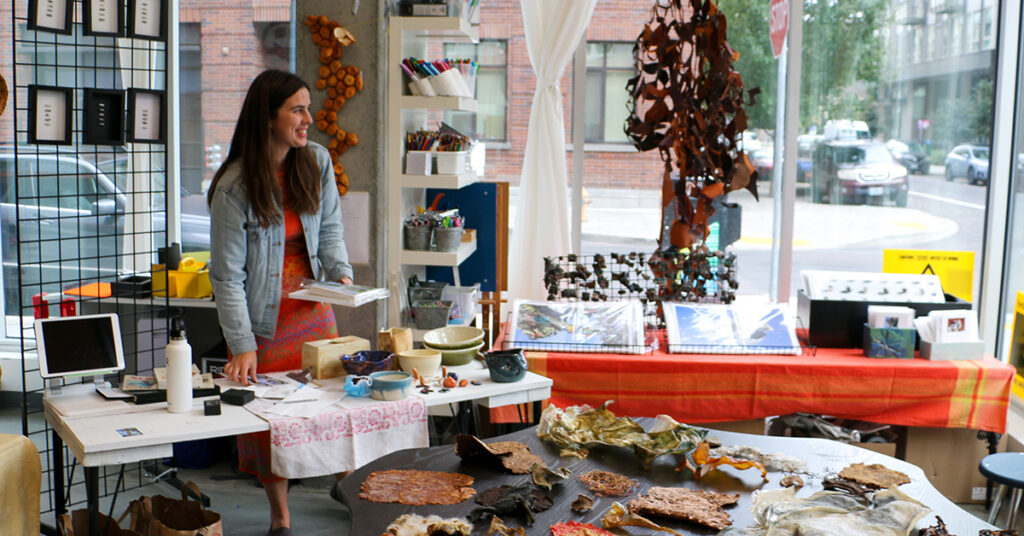 Alum finds early success in chosen field
Sophia Hatzikos '20 humbly calls her early success as an artist "a happy accident"—but her multidisciplinary approach to artmaking has garnered much recognition due to her talent and dedication to the field.
A recent article in The Hollywood Star News, "Emerging artist and Grant Park neighbor Sophia Hatzikos launches career" highlighted Hatzikos after she was designated as a Kimberly Gales Emerging Artist Scholar this summer by Portland Open Studies.
Hatzikos, who double majored in economics and visual art, is a teacher of sculpture at Upper School at the Oregon Episcopal School in Portland, Ore. In her practice as an artist, she specializes in sculpture, textiles and photography, and is committed to giving waste resources a second life. She crafts much of her work from organic and ephemeral materials like eggshells, leather, seaweed, ropes, paper and clay.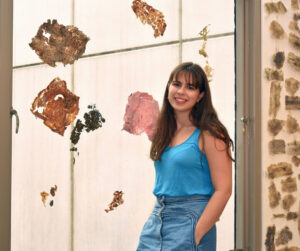 She describes her art as a series of experiments that incorporate the use of both raw and found materials that allow her to discover and push a chosen material's functional and aesthetics limits, ultimately culminating in sculptures that speak to broader social and ecological issues.
Hatzikos has been selected for six group exhibitions in 2021 and was in four others between 2018 and 2020, according to The Hollywood Star News article.
"When [Hatzikos] returned to Portland last year, she said the city looked different to her, possibly because she was seeing it through an arts lens. She didn't expect to have art opportunities after college, but she applied to galleries and special programs during the pandemic. 'I had a lot of yeses,' [Hatzikos] said, which connected her with other artists and opened new opportunities," wrote reporter Janet Goetze in the article.
In a conversation with Wheaton magazine writer Laura Pedulli, Hatzikos said after graduation she was considering a career in economic development. But the energy of organizations was directed toward the pandemic and public health, areas that did not interest her.
Hatzikos instead found meaningful work in art education. Recognizing her artistic ability and leadership qualities, Oregon Episcopal School offered her a position teaching sculpture—a role she assumed in the fall of 2020. At Wheaton, she participated in an Arts in Ireland exhibit on campus (2018), was a Projects for Peace grant winner for a project that focused on reducing food waste (2018), was as an artist-in-residence in Bolivia (2019) and served as student body president (2018-20). She also was awarded the Miriam F. Carpenter Prize in Visual Art.
Since graduating, Hatzikos has been an artist-in-residence in several locations, including in Norton Island, Maine and Alta, Utah.