For senior, Wheaton education nurtured a passion for design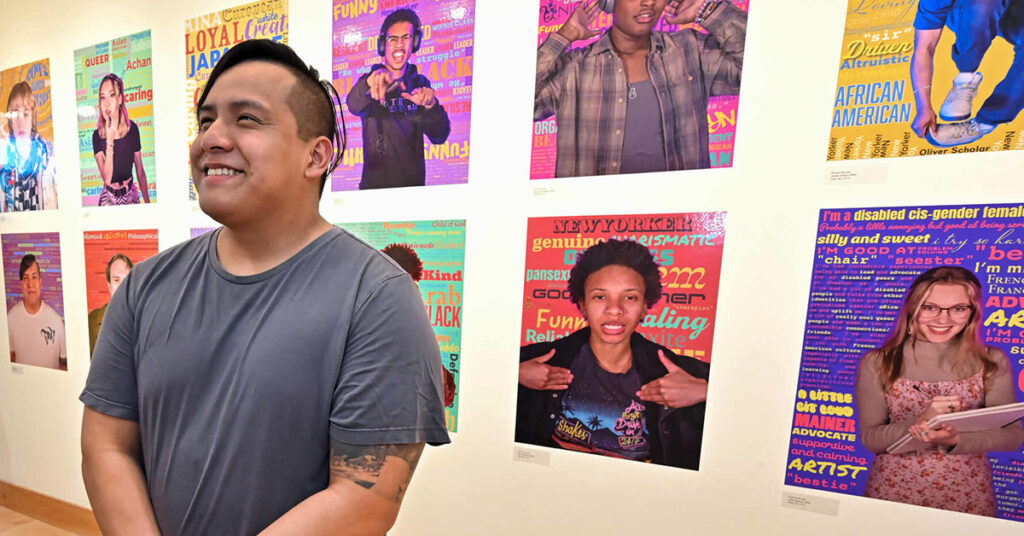 Emmanuel Leal '23, college's first design major, talks about his undergraduate journey
Senior Emmanuel Leal's journey through Wheaton helped him harness his passion and set the stage for a promising career in design. Thanks to the college's Compass curriculum and faculty and staff who connected him to growth opportunities, he was provided with the freedom and support to develop his personal interests and skills. This month, he became the college's first student to graduate with a major in design, which was launched in fall 2022. In a recent conversation, Leal talked about his Wheaton experience.
What drew you to Wheaton for your undergraduate education?
"I have the Posse Foundation to thank for bringing me to Wheaton. I chose Wheaton for its Visual Art program. I wanted to be an artist and was debating between doing computer animation or video game design. Both the graphic design and animation courses caught my eye. 
I enjoyed the fact that I wasn't required to only take courses in fine arts, communications and animation. I could take any courses under the umbrella term of visual art, which was amazing. I took classes in production, which led me to also major in film and new media studies.
The small student-to-faculty ratio also drew me to Wheaton. I was leaving a high school where I was really close with my teachers. I wanted another atmosphere where I could be friends with my professor and not be just a number. I'm happy to say that I was able to grow really close with not only the professors, but also the staff. I think it was both, thanks to the Wheaton culture and the size of the school."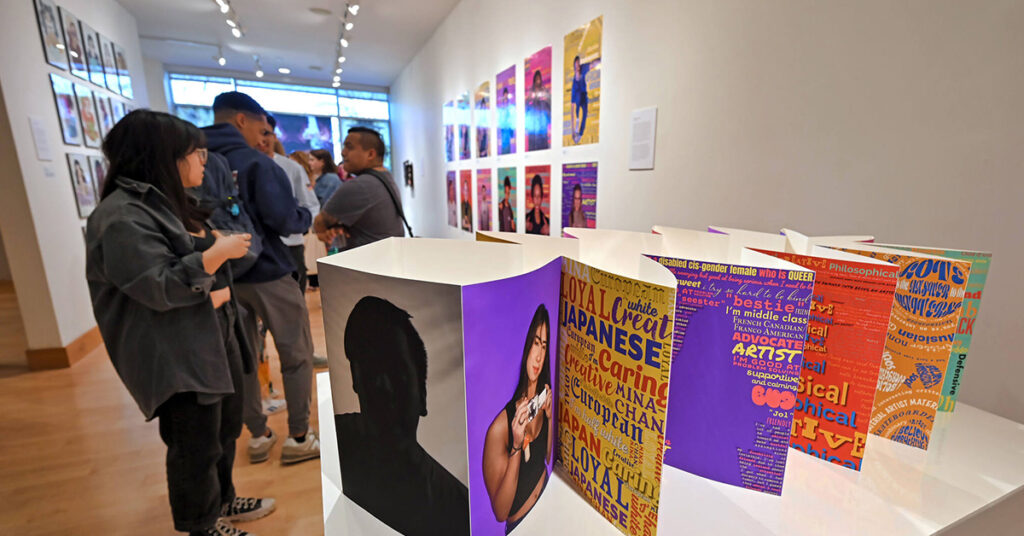 Can you share a little more about your decision to pursue a design major? 
"I always knew I wanted to be an artist when I grew up. That's why my first semester I declared my major in visual art, as the design major wasn't yet an option. 
I started to make the shift from being a mixed-media artist to working in digital art, using the studio art app Procreate. For the art portion of the course 'Addressing Inequality in America,' taught by Professor of Art Kelly Goff, Professor of Sociology Karen McCormack, Associate Professor of English Winter Jade Werner and [then] Assistant Professor of Political Science Lindsay Flynn, I created a poster for mental health awareness that would be applied to one of the satellite dishes of the whispering gallery.
That project created a butterfly effect in entering the realm of design. Kelly showed my final project to Jessica Kuszaj, Wheaton's associate director of arts events and publicity. I happened to be in the building when this conversation took place. As Kelly left Jessica's office, he ran into me, and just as quickly went back [with me next to him] and introduced me to Jessica. That is how I got my job as a student designer for Arts at Wheaton. 
Jessica took me under her wing and gave me the resources to become a designer. The arts office became a second home for me and my job as a student designer led me to take courses like graphic design, digital tools and 2-D design. 
In addition to my work in the arts office, I also developed skills as a marketing and communication summer intern at Fidelity Bank.
Without ever knowing the requirements for the new design major, I took every class needed. The only courses missing were 'Design Methodologies,' 'Design History and Theory,' and the design capstone. All three were being offered for the first time in the spring semester of my senior year. At that point, I saw it as a sign to make the switch from visual art to design. I became the first Wheaton student to declare a major in design."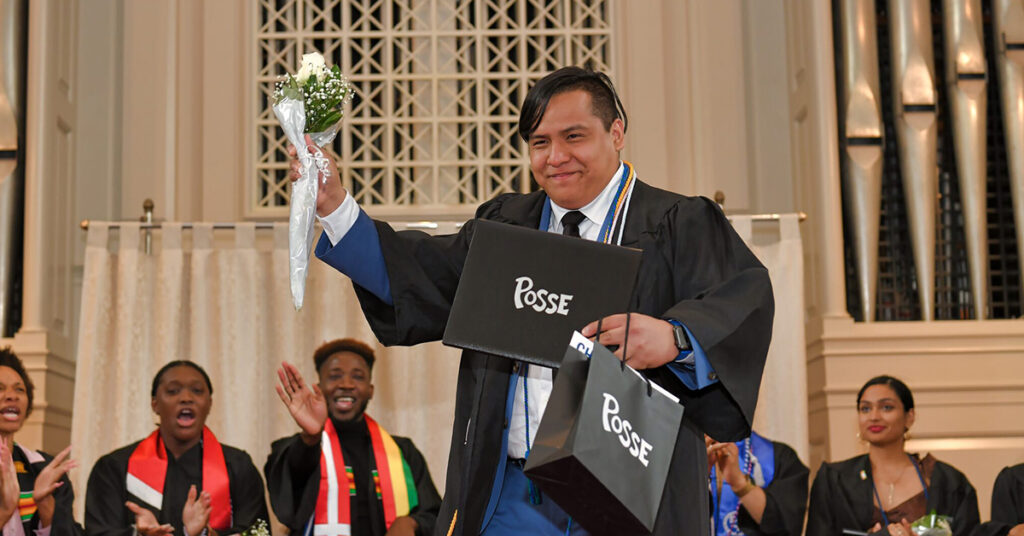 What design classes or projects at Wheaton have impacted your development as an artist/designer?
"'Embodied Labor: Care and Control' was my first full publicity project. I helped the 'Exhibition Design' class create a title, poster, and mailer design for their upcoming exhibition, on behalf of Arts at Wheaton. This project was the first time that I really worked with a 'client,' in this case all 11 students from the class. In addition, it was the first time I got to create a title. I was able to add design assets like the stitches and needle. Most importantly, for the mailer and poster design, I created a digital quilt using a mixture of stock images and fabrics from the exhibition. This was the first time I was trusted and challenged to create something from scratch. This project made me feel confident in my decision to focus on design. 
'Our Stories, Personal and Confidential,' was my final project for my 'Graphic Design II' class. This work inspired my senior capstone project, "Identity," which focused on how individuals perceive each other and how stereotypes, labels and misidentification can harm people. I asked friends and strangers to share the ways they identify or have been identified and how it affects them. After a photo shoot with each participant, and after I received their answers to a series of questions, I combined them to create a typographic poster with their portrait present in the front. I also decided to pick up a new medium—bookmaking—as I love learning new things. At the end of the product, I was able to not only create representation but bring awareness to how individual actions can affect one another." 
What aspect of your time at Wheaton have you enjoyed the most? 
"I've enjoyed being able to see my artwork and projects all around campus, including the Mars Arts and Humanities building and Wallace library. Most recently, my project on the representation of different marginalized communities was featured on the walls of Beard and Weil Galleries. 
What I've enjoyed the most are the connections I've made—particularly with the staff and faculty. I'm not sure how many colleges have the environment and culture to have coffee with your professors. To me, it has been an amazing experience to joke around with my professors, get to know them on a personal level, and know that my support systems extend further than just the student body. Lastly, the staff also is pretty amazing. I'll never forget the conversations that I had with Maria every morning as she was cleaning the bathrooms at Larcom. Getting to learn about her culture and favorite music, all while speaking Spanish—a reminder of home. I also had the opportunity to meet Kris, who cooked a full-blown meal for the Stanton residents during finals week. To this day, I always see her during her breaks. It's a great pick-me-up as we catch up or wave hello. Then we have Jessica Kuszaj, which to this day I'm grateful for giving me a job and starting me on the path to becoming a designer.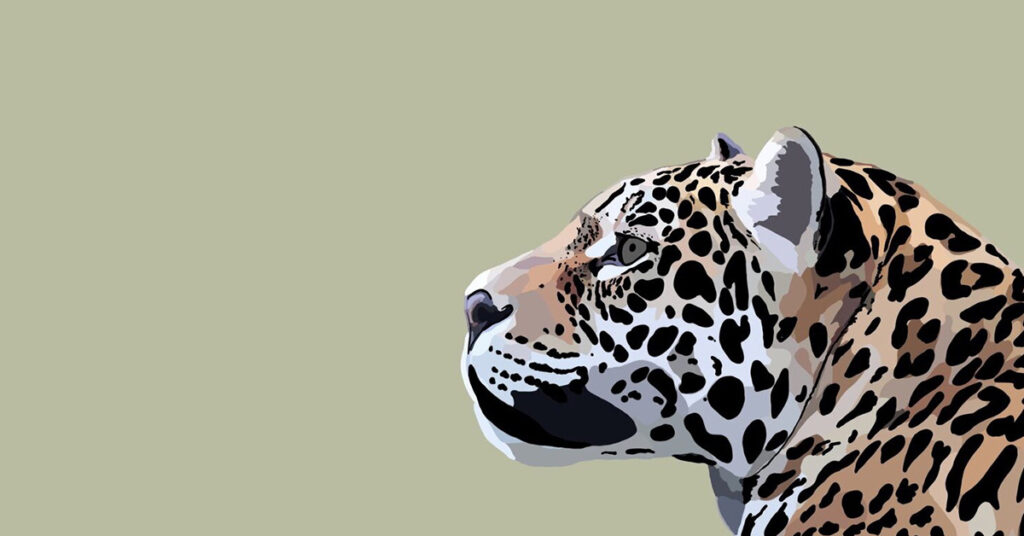 What are your post-graduation plans and long-term aspirations?
"I want to do two things: create and be my own boss. My end goal is to have a design firm, where I would be able to create murals, do photography or filmmaking for companies/individuals and do graphic design. I want to never stop learning and hope to one day teach and mentor the future generation [especially marginalized groups] to help them see that becoming an artist doesn't mean you're financially unstable."