For any questions regarding Visual Art, please contact the Visual Art Chair, Kelly Goff.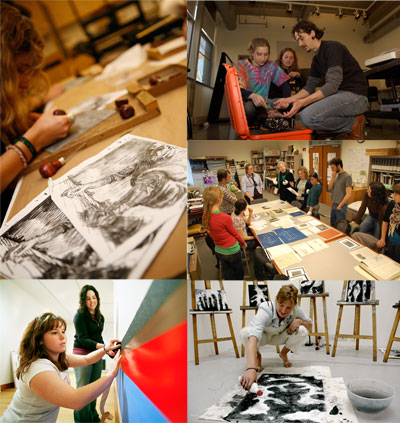 Imagine.  Search.  See.  Shape.  Sharpen.  Express.  Invent.  Experiment.  Reflect.  Analyze.  Resolve.  Share.  The stages of art-making are many and uniquely challenging.  The rewards?  Discover a deeper sense of self and self-awareness.  Create beauty.  Speak truth.  Build agility as an original thinker, nimble problem-solver, inventive tinkerer, disciplined doer—skill sets that have broad application in our increasingly complex world.
Through a wide breadth of course offerings in design, drawing, filmmaking, painting, photography, printmaking, and sculpture, in state-of-the-art facilities that give students the space, equipment, and expert training in traditional and cutting edge artistic techniques, expect to be transformed.
Related Programs
Student Work/Research