Design
Balancing theory and practice for an adaptable education with concrete industry skills.
The design major and minor at Wheaton helps students develop the skills to successfully begin a career in a range of design fields as well as a broad and strong foundation to keep pace in this continually evolving profession. The program combines the breadth of the liberal arts with a strong emphasis on active, practice-based learning. This approach equips graduates with a broadly adaptable education and concrete industry skills.
Major
Minor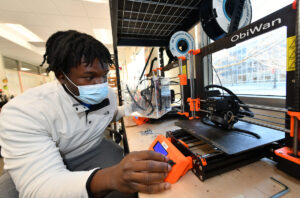 Why study design at Wheaton?
With its focus on human experience, the field of design permeates virtually every aspect of our lives, from the digital domain and the physical world to products, spaces and services. And it intersects with every industry. Given the ubiquitous nature of design, it's no wonder that the federal Bureau of Labor Statistics forecasts steady growth in traditional graphic design and steeper increases in the demand in related fields such as industrial design, web and digital interface design, set and exhibit design, and special effects and animation.
Wheaton's multidisciplinary approach provides a flexible foundation from which to explore the world of design and to keep pace with its constant evolution. The college's program draws on course offerings in visual art, history of art, theatre & dance, film & new media, and computer science, among others. The college's Innovation Spaces programs, and its impressive array of resources for hands-on production, provide students with myriad opportunities for practicing the art and science of design.
Learning by doing
Experiential learning is an essential component of Wheaton's educational philosophy, and it is deeply woven into the design program. Many of the courses in the design major are organized around learning and practicing the craft, whether it be a studio class in printmaking, an animation course in film, or a web design course in computer science.
Design majors will have the opportunity to participate in at least one internship or other form of experiential learning in their field of interest. These opportunities are supported by The Wheaton Edge, which provides access to such experiences for every student.
Finally, all design majors will complete a capstone project in which they work in collaborative groups (modeling contemporary design practice) on real-world challenges. Projects may be rooted thematically, for example, in issues of social change, health, and the environment. Senior projects will be presented in a spring showcase and students will graduate with a professional case-study portfolio.
The Curriculum
Wheaton's design major is a multidisciplinary course of study with tracks that allow students to concentrate on graphic design and visual communication or on objects and spaces (which includes architecture, theater and museum design, and physical and digital environments). The flexibility of the major also allows students to combine design with another discipline. For example, when combined with computer science, the program offers a springboard to digital user interface and experience design, which is a fast-growing area for professional practice.
Navigating the design major
Foundational CORE
2 courses in visual foundations:

Drawing I
2D Design
3D Design
Intro to Design

Digital Tools for Art & Design
Design Methodologies
History & Theory of Design
Choose a CONCENTRATION
Graphic and Visual Communication
Graphic Design, Web Design, Illustration, Animation, and more.
Objects and Spaces
Architecture, physical and digital environments, Industrial Design, Design for Theatres and Museums, and more.
Professional EXPERIENCES
Complete an internship in a design-related industry.
Project-based capstone experience.
Develop and showcase a professional portfolio.
Consider pursuing an associated subject in Liberal Education and Professional Success (LEAPS).
Design Courses
Animation I & II
Architectural Design
Color Theory
Comics & Graphic Novels
Costume Construction
Digital Tools for Art & Design
Design Methodologies
History and Theory of Design
2D Design
3D Design
Digital Fabrication
Drawing I & II
Exhibition Design
Graphic Design I & II
Illustration
Industrial Design
Intro to Lighting Design
Intro to Theatre Design
Mechanical and Electronic Design
Photography
Printmaking for Social Change
Stagecraft
Visualizing Cultural Data
Web Design
WheaGo Global
The WheaGo Global First-Semester Study Abroad program kick-starts your college career in one of the world's great cities, immersed in an exciting cultural adventure and focused on your top academic interests.
First semester study in Paris, France
Start building your portfolio by spending your first semester in the capital of art, design and fashion at the Paris College of Art.
Alumni in Design
While the formal design major is new, many of the courses are longstanding and have provided a pathway for graduates to work in many different fields of design.
Product Designer
Amplify
Brookline, MA
Producer, Human Interface Design
Apple
Cupertino, CA
Senior Graphic Designer
Argot Partners, LLC
New York, NY
Solution Design Manager
Athenahealth
Watertown, MA
Post Production Coordinator
Condé Nast Entertainment
Boston, MA
Senior UX Strategist
Convertiv
Boston, MA
Marketing & Design Manager
Design Imports
Seattle, WA
Creative Director
Image Marketing Consultants
Hartford, CT
Senior Product Designer
Intralinks
Portland, ME
Web Design Specialist
Lenovo Software
Beijing, China
User Experience Researcher
Kiip, Inc.
New York, NY
Video Editor
Markforged
Watertown, MA
Textile Design Leader
Merida
Providence, RI
Graphic Designer
Miami Marlins
Miami, FL
Instructional Design
Northeastern University
Boston, MA
Senior Interior Designer
Rees, Roberts + Partners
New York, NY
Storyboard Artist (film)
Rick and Morty, LLC
Burbank, CA
Lead Product Designer
Toast
Cambridge, MA
Designer
Union Studio Architecture and Community Design
Providence, RI
Style Director, Video Production Design
Wayfair
Boston, MA
UX Designer (web)
WEX
Portland, ME
Design Engineer
Ximedica
Somerville, MA