Students break top 10 in global marketing competition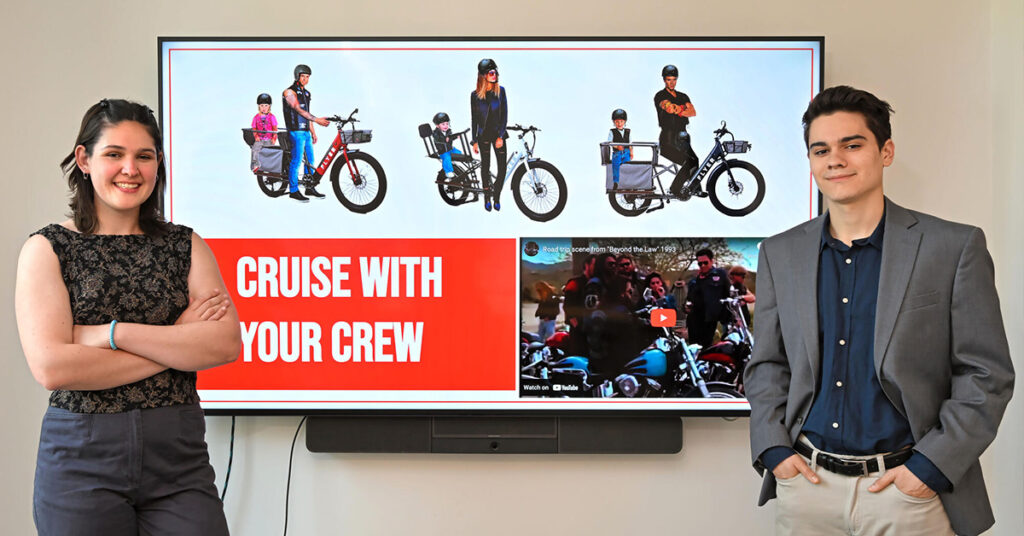 Compelling sales pitch from Lily McDowell and Vincent Versteeg receives high marks
When assigned to promote Radio Flyer electric bikes for a recent global marketing pitch competition, junior Lily McDowell and senior Vincent Versteeg envisioned a whole new way of experiencing the product. One of their ideas: a "Cruise with your Crew" advertisement, with parents and their young passengers in motorcycle gear cruising through their neighborhood on eBikes. The fun nostalgic campaign paid tribute to '80s movie tropes, with families sidling up to schools like biker gangs.
Their creative idea impressed a panel of industry professionals at Purdue University Northwest's College of Business digital marketing competition this spring. McDowell and Versteeg won eighth place out of 242 teams from around the world for their pitch.
Professor of the Practice of Business and Management C.C. Chapman requires students in his "Digital Marketing" course to participate in the Purdue University competition. Small teams of students receive information about a client looking to promote a project and then are tasked with developing a short video detailing a marketing plan.
By the end of the project, students have gone through the brainstorming, research and creation of a marketing campaign and pitched it to a real client.
"I like using this in my class because it quickly takes the lessons in class and focuses them on how to use those skills in the real world," said Chapman. "The rules are clear that all the ideas and work must be done by the students, so I can only guide them on how to make their pitches as good as possible while allowing them to do the heavy lifting. The vast majority of the students have never done anything like this and I warn them on day one of class that it is going to be a lot of work and fast paced as they learn and do at the same time."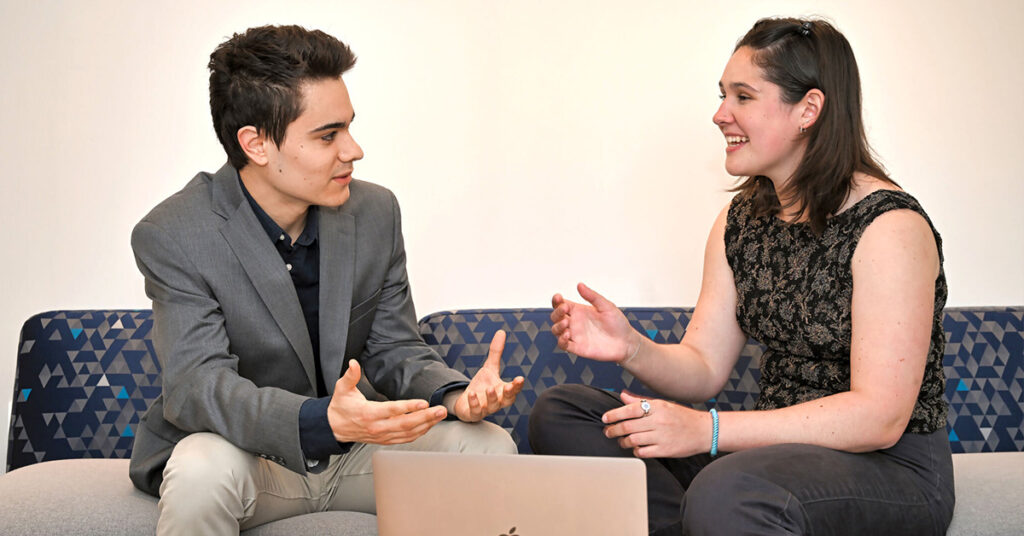 In addition to their "Cruise with your Crew," McDowell and Versteeg's pitch featured extensive market research and proposed a van to visit public places across the U.S. to allow potential consumers to test out the Radio Flyer eBikes.
"I really enjoyed putting together our slide deck at the end of our project. We had worked hard on all of our ideas and finalizing graphics, so putting it all together was easy and awesome to see come together," said McDowell, a business and management and visual art double major.
She credited Versteeg with coming up with the concept of the "Cruise with your Crew" biker gang advertisement.
"We brainstormed for a long time about different ways we could attract customers to these eBikes and settled with a humorous commercial. The idea came as a play-off of biker gangs in movies as we were thinking about comparing the eBike to motorcycles as a form of transportation," she said.
Versteeg, who is majoring in business and management, said humor makes advertisements more memorable—and effective.
"Growing up, the ads I liked the most were those that tried to be funny or clever or just entertaining in some way. If you're going to try to take something from the viewer—their money—then you should also give them something in return—a laugh," Versteeg said.
Both McDowell and Versteeg are thrilled by their success in the competition.
"We are happy with how well we did. We put a lot of hours into this project outside of class and it paid off. We have been proud of our presentation no matter how well it did, but we were even happier when we found out how high we placed," said McDowell.
The experience helps lay the foundation for careers in marketing, they said.
"Having real-world experiences like this in class is one way for us to stand out after Wheaton to employers. I want to go into marketing, and potentially graphic design, and this opportunity made me feel like I am going in the right direction," she said.
"This experience made me feel more confident about pursuing a career in marketing, which is my concentration," added Versteeg.