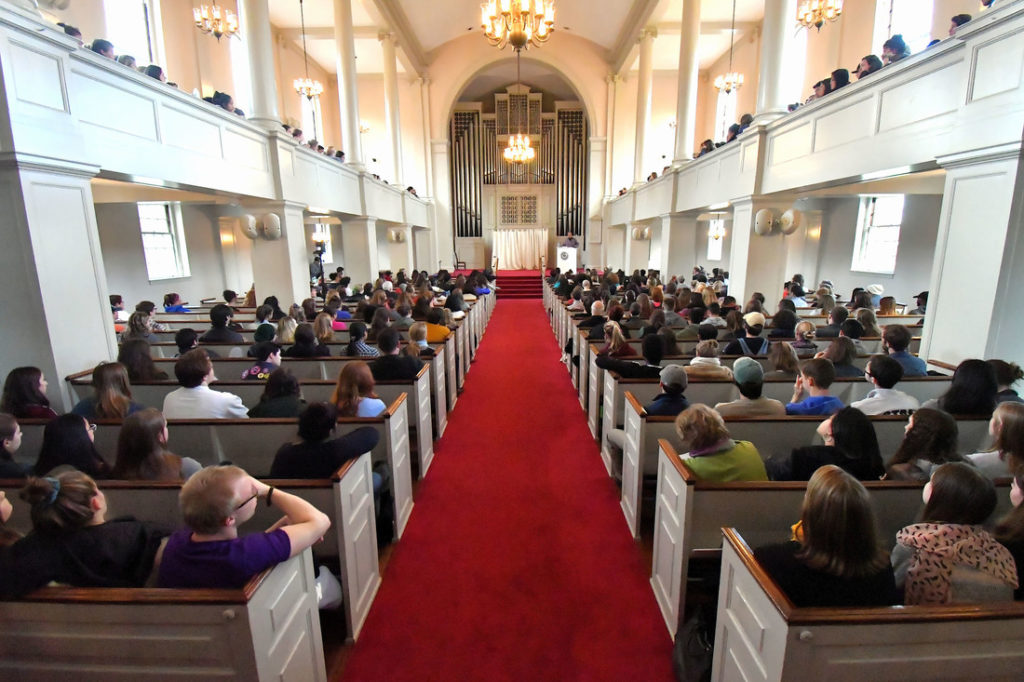 'Three Freedoms' teach-in aimed at preparing Wheaton to support at-risk scholars from around the world
Wheaton will host a teach-in on Wednesday, October 24, focused on core freedoms that are highly valued on a college campus and around the world—the freedom to think, the freedom to speak and the freedom to be—as part of an effort to prepare the campus to take a more active role in advocating for scholars who face persecution in their communities.
The Three Freedoms Project is a new campaign being organized by a group of Wheaton staff and faculty to support the college's membership in Scholars At Risk (SAR), an international network dedicated to protecting scholars and promoting academic freedom. Wheaton is in its second year of membership with the organization.
"Scholars At Risk works to support academics around the world who are exiled or imprisoned or are otherwise targeted by their governments and other organizations because of the nature of the work that they do," Provost Renée White said.
Member institutions support at-risk scholars in a number of ways: by hosting them and their families for a few days or long-term, developing curriculum around related global questions, and working on research to help advocate for an individual's release or heighten international awareness of the dangerous situations scholars are facing, White said.
The committee, which is chaired by Professor Peony Fhagen and includes professors Kim Miller and Aubrey Westfall and staff members Shaya Gregory-Poku, Raquel Ramos, Gretchen Young and Provost White, is working to invite an at-risk scholar to campus to speak for International Women's Day in the spring, and possibly for a longer period in the future. But before that, they wanted to help ready the Wheaton community for that responsibility.
"This year, we thought we could do some programming that would prepare us to think about what it means to be a scholar at risk and to give a more global context to discussions about diversity," said Ramos, dean of the Marshall Center for Intercultural Learning. "We looked at the Scholars At Risk organization and its goals, and at some of the things that are occurring nationally, and discussed creating a unifying theme. We landed on the 'three freedoms' theme, which Peony Fhagen proposed."
The theme is a sort of umbrella project that encompasses a number of already planned programs and ongoing efforts on campus, all of which emphasize the freedoms to think, speak and be, Ramos said. Two of these events include the November 1 performance "Songs of Transformation," with Abena Koomson-Davis, sponsored by the Wheaton Institute for the Interdisciplinary Humanities, and a November 5 talk with journalist Callie Crossley. Another is the student-run Diversity Day program on Friday, October 26.
The committee also wanted to create an event that was unique to the Three Freedoms initiative—the teach-in on Wednesday, October 24.
"We talk a lot about college campuses being a place where freedom of speech is protected and where academic freedom is protected, but it's not clear that we all even have a sense of what that means. 'Freedom' is a political word, but it's also a very personal thing, and so we wanted to provide an environment where we could hear from folks who are doing work in these areas and where we could think about what we mean," White said.
The teach-in, which is open to students, faculty and staff, will begin at Cole Memorial Chapel with short talks focused on each of the three freedoms: Associate Professor of Political Science Alireza Shomali on the freedom of speech, Assistant Professor of Religion Barbara Darling-Smith on the freedom to be, and a staff member from the SAR organization, Chelsea Blackburn Cohen, on the freedom to think. Afterward, trained faculty and staff facilitators will lead small group discussions about the three freedoms. Then the groups will reconvene for a closing conversation. The event will run the length of two class periods, from 2–4:50 p.m.
Cohen also will lead a conversation later that evening, at 7 p.m. in Knapton Lecture Hall, titled "Academics In Exile at Colleges and Universities in the United States."
The October 24 teach-in is modeled after two other teach-ins held on campus during the 2017–18 academic year—one based on a national call to discuss issues around race and social justice following the violence at protests in Charlottesville, Va., and the second in response to an incident of bias here on campus. Both teach-ins were well received by the community and drew several hundred participants each, Ramos said.
Based on feedback from last year's events, and with more time for preparation, the SAR committee is providing training for the Three Freedoms teach-in facilitators, who will help guide the discussions, Ramos said.
"Teach-ins are are a chance to take our educational mission seriously and to learn together and from each other in a collective experience. Shared experiences create community," said Assistant Professor of Political Science Aubrey Westfall, a member of the SAR committee. "It's also a chance to develop consensus around and communicate commitment to our central values. These three freedoms are at the core of being a scholar and a student. We can not learn, generate or communicate knowledge without the simultaneous protection of these freedoms."
Sparking debate and conversation about global issues is an important part of an education in the liberal arts and sciences, helping to build essential skills that will help students in their careers and in life, White said.
"It's important for students to know that it's OK to ask questions, to know how to structure disagreement in a way that is thoughtful but still relevant and pointed, and to figure out how to listen to other people's voices and other people's points of view," White said. "Even within the U.S., freedom doesn't mean the same for everybody, and you shouldn't assume that, because your world view shapes you and defines 'freedom' in a particular way, others think like you. That alone is an incredible lesson that, if we can have our students—and all of us—thinking about, will set them up well for other environments they're going to be in."