An Evening with Callie Crossley of WGBH's Under the Radar with Callie Crossley
November 5, 2018 @ 7:00 PM

-

8:00 PM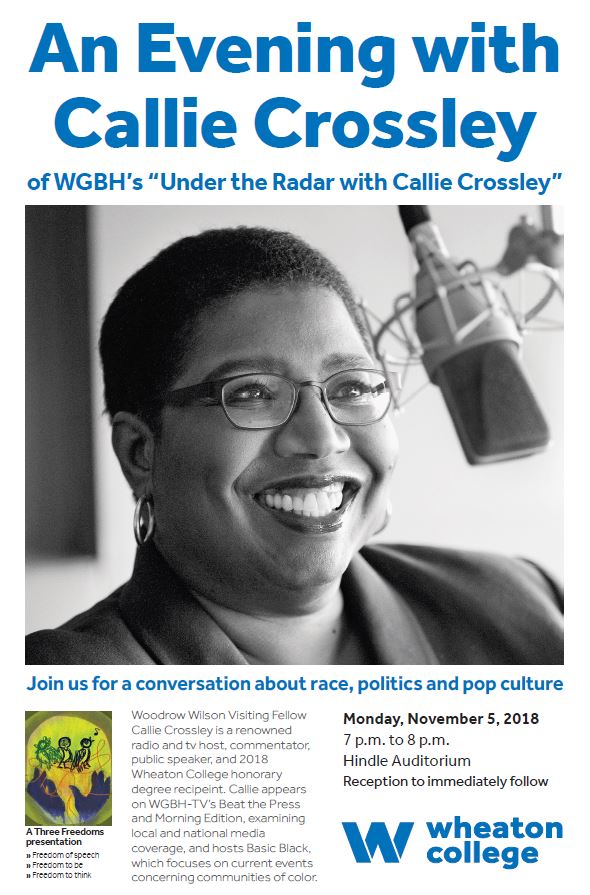 Callie Crossley, a renowned radio and TV host, commentator, and public speaker, will talk about race, politics and pop culture. She appears on WGBH-TV's Beat the Press and Morning Edition, examining local and national media coverage, and hosts Basic Black, which focuses on current events concerning communities of color.
Crossley is an award-winning journalist and documentary filmmaker, whose professional recognition includes a National Emmy, the Gold Alfred I. Dupont-Columbia Award, plus Associated Press, Edward R. Murrow, and Clarion awards, and top honors for commentary from the Public Radio News Directors. She is the first African American to win an Oscar nomination in the Documentary Feature category for her work as a producer on "Bridge to Freedom," part of the documentary series, "Eyes on the Prize: America's Civil Rights Years 1954-1965."
As a Woodrow Wilson Visiting Fellow, Crossley guest lectures on media literacy, media and politics and the intersection of race, gender and media. She has held fellowships at Harvard's Nieman Foundation for Journalism and the John F. Kennedy Institute of Politics. She was named one of Boston's Top 100 Influential People of Color.
This lecture will be streamed live on Livestream as well as on the college's Facebook page. The Facebook stream will be public and will not require you to log in or establish an account.