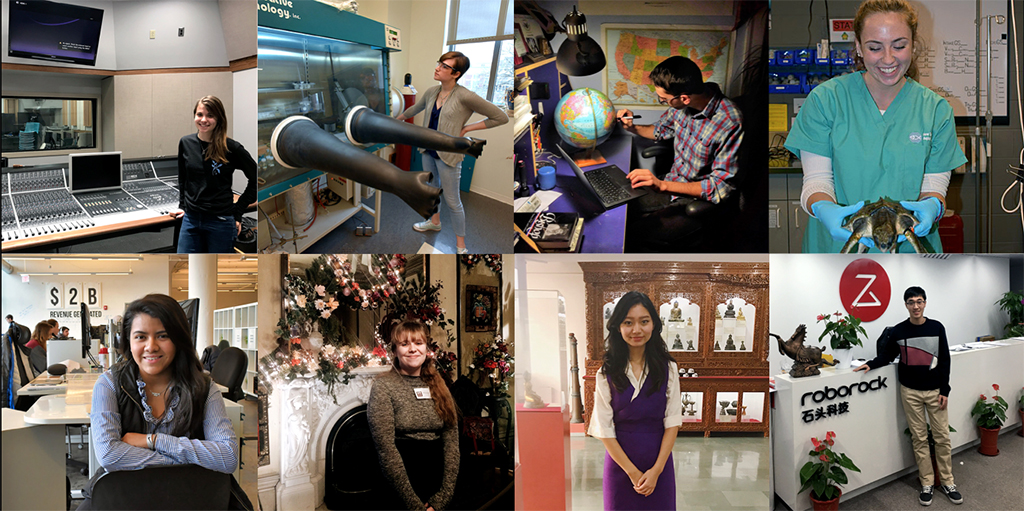 Students take advantage of weeks 'off' to gain professional skills, experience in internships
Every January, Wheaton students make the most out of the break from classes by gaining career experience with funding from Wheaton—learning more about what they might want to do (or not do) after graduation and building skills and professional connections in offices, labs and workspaces all over the world.
This year's crop of winternship funding recipients (47 in all) worked in a wide range of fields, including biotechnology, ceramics, cosmetics, education, entrepreneurship, human rights activism, marine biology, marketing, medicine, museum education, music technology, neuroscience, political science, real estate, robotics, television, tutoring and more.
For several students, this latest internship is just one of a few they've had so far at Wheaton. Others will be continuing the work they began over the break while taking classes this spring. All of these students illustrate how experiential learning is an integral part of a Wheaton education.
Staff at Wheaton's Filene Center for Academic Advising and Career Services work with students during the internship application process to prepare their resumes and cover letters, identify opportunities and reach out to employers.
"Most employers follow a semester calendar when posting internships, so students often have to take a proactive approach to find a winternship," said Ben Chalot, senior associate director of career services at Wheaton.
Students receiving winternship funding are required to submit a reflection essay after the experience, which helps them build on what they've learned, both from the job and about themselves. Often, winter internships can serve as a steppingstone for more in-depth summer opportunities, Chalot said.
Here's a look at some of the work students did this winter: