Dear World at Wheaton
October 26, 2017 @ 11:00 AM

-

2:30 PM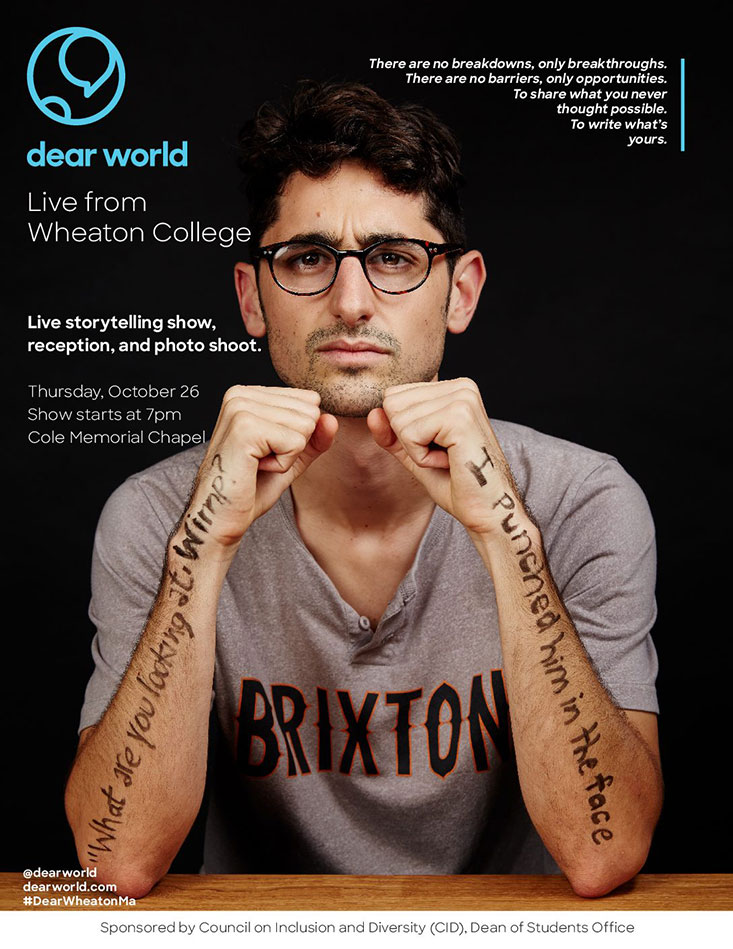 Wheaton students, faculty and staff will have a unique opportunity to get to know one another during a two-day event presented by Dear World.
The project, which has traveled around the world collecting individuals' photos and stories, invite participants to write a few words or a phrase somewhere on their skin to be photographed, sharing a small part of that person's story with their communities and the world at large.
It's part conversation starter, part self-exploration, and the hope is that Dear World will add to a greater understanding of the diversity of the Wheaton community, says Tai A. Feaster, who is organizing the visit.
"Usually when we talk about diversity we're talking about race, ethnicity, age, sexual orientation, and that's important—we need to have those conversations," says Feaster, assistant director of intercultural programs at the Marshall Center. "But a lot of time, we don't talk about the diversity of individuals, about the diversity of experiences—be it family structure, education, likes and dislikes, traumas, some of the more invisible things that people don't know about. Those stories deserve to be heard; they deserve to be honored. And Dear World gives people the opportunity to say the things they've never had the opportunity to say."
Feaster was introduced to the project at a regional conference and initially liked the idea of using Dear World as a diversity session during first-year orientation. Eventually, leaders in the Council on Inclusion and Diversity and the Dean of Students Office decided to bring the project to campus as a sort of extended orientation, involving everyone in the community.
Dear World will be on campus on Wednesday, October 25, offering two closed workshops for which attendees are invited. On Thursday, October 26, organizers will hold three hour-long workshops open to all Wheaton students, faculty and staff.
"Within that hour-long workshop, they work with you on thinking about your story, developing your story and figuring out what message you want to write on your body. Then you write that message and they take a picture," Feaster says.
Everyone who participates in Dear World will receive a copy of their photograph, and all photographs will be made available to the college, for exhibition or display around campus, Feaster said.
The hour-long workshops will be held Thursday, October 26, at 11 a.m., 12:20 p.m. and 1:30 p.m., in the Student Government Association Office, inside Balfour-Hood Campus Center. Sign up online at readymag.com/dearworld/874392.
On Thursday evening at 7 p.m., in Cole Memorial Chapel, Dear World will hold a live storytelling show—highlighting a few Wheaton individuals who participated in the workshops and presenting all of the photographs to those in attendance.
Following that live show, there will be an after-party, at 8 p.m., in the Balfour-Hood Atrium, where there will be some time for individuals who haven't participated to write out their own stories and be photographed, Feaster says.
Vice President for Student Affairs and Dean of Students Kate McCaffrey says the Dear World initiative is similar to the Unity Project held on campus last year, in its efforts to highlight and strengthen connections among the Wheaton community.
"I hope everyone will take advantage of the workshops on Thursday to share personal stories and be part of the culminating event on Thursday evening," she says. "Coming together in this way is important given how many ways we can be divided in today's world. I see this as an opportunity to learn from each other, grow in our own understanding of each other and strengthen our community."