Illustrating unity through art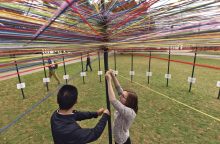 I believe that diversity makes our community stronger and healthier. At Wheaton, a collaborative art piece created last fall served as a powerful reminder of our interconnectedness and the intangible benefits of differences within communities.
During several weeks starting in October 2016, students, faculty, staff, campus visitors and friends worked together to create public art as part of the Unity Project.
The Unity Project was a temporary and timely visual representation of how the individual participation of many could create a simple work of art that demonstrates an idea larger than ourselves.
(Watch The Unity Project video on the Wheaton College YouTube channel)
Virginia artist Nancy Belmont launched the Unity Project in June 2016 as a response to the divisiveness of our political climate, and within months, communities worldwide had begun to participate.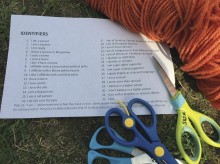 Wheaton's version of the project, centrally located between the library and Balfour-Hood Center, was constructed on 10-foot poles positioned in a 30-foot circle with an extra pole in its center. Each outer pole held a sign labeled with a personal identifier such as "I am married," "I am atheist," "I am a student," "I speak English as a second language," "I identify as LGBTQ."
Participants selected a skein of yarn of any color, connected one end to the central pole up high and then wrapped their line of yarn around each outer pole marked by a label with which they chose to identify.
As increasingly present in contemporary public art, the power of our campus project resided within participant and observer alike. For participants, the exercise of selecting and committing to an identifier—"gun control supporter" or "gun rights supporter" for example—required consideration of the nature of binary categorization and their place within it. This demonstration revealed for some that our viewpoints are often more complex than the narrow labels that we place on each other and ourselves.
Each day, new participants stopped by. Professors brought entire classes. Student groups came, and individual passers-by added their "voices" one line at a time, and quickly a simple visual display of our collective identity emerged.
While an individual's path of yarn may have created just a few threads of the canopy developing overhead, the participation of hundreds of others who chose differently slowly transformed the threads into a dense and colorfully woven tapestry of our differences united.
Built by individual narratives, one at a time, the Unity Project provided us with a reminder of how communities are formed and reinforced by the unique individuals within them.
—Kelly Goff, assistant professor of art
In their own words
A look at the collective effort of constructing connections or go back to Close-knit
"Built by individual narratives, one at a time, the Unity Project provided us with a reminder of how communities are formed and reinforced by the unique individuals within them."
Professor Kelly Goff
"We are a place about learning, generating new ideas and facing challenges. So we should be able to use that in response to social questions."
Provost Renée T. White
"When the world is divided, it is easier to target and oppress groups of people. To me, community is about showing up. It is about unity."
Olivia Benissan '19, sociology major
"'I see you' is an important sentence for the 21st century, and building community is an essential task for the future, as, on a daily basis, we face interaction with diversity locally and around the world."
Professor Russell Williams 
"Community is built daily through seemingly normal dialogue."
F. Steven Kimball '18, economics major
"Accepting the evidence that the world is structured unfairly and that, unchecked, even our perceptions and behaviors can perpetuate that unfairness, allows us to work together toward change."
Professors Michael Berg and Karen McCormack
"As writers, we understand writing as a way to grapple: It allows an inner confrontation with what, on the surface, we cannot accept."
Professors Constance Campana, Ruth Foley, Lisa Lebduska and Angie Sarhan
"As a neuroscience major, I recognize the interconnected nature of everything that I have become part of here at Wheaton. Yet, I am challenged to find the connections between the sciences and social justice issues."
Kelvin Ampem-Darko '17, neuroscience major