Effective March 15, 2021 Dean Shaya Gregory Poku will move into Wheaton's inaugural position of Associate Vice President for Institutional Equity and Belonging. This senior-level role is a fulfillment of one of Wheaton's 10 Action Steps towards Racial Justice to create a senior-level position focused on inclusion and equity.
Read the announcement from President Hanno
A Letter from Shaya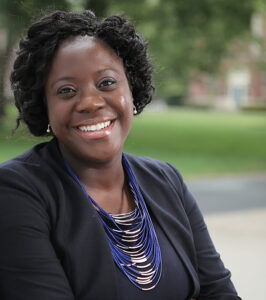 Wheaton community,
Thank you for entrusting me to serve you all as the inaugural associate vice president for institutional equity and belonging.
I am a proud mom of two, wife, and native of California: Richmond and Oakland to be specific.
I have been glad to be part of the Wheaton community since October 2017. I have worked alongside remarkable colleagues to build the  Center for Social Justice and Community Impact, and Center for Religious and Spiritual Life; to launch DEAL and the Network for LGBTQ+ Inclusion Support and Advocacy; to expand the work of the First-Gen and Low-Income Task Force; and to develop the Taylor and Lane Scholars program.
My professional experiences prior to Wheaton are as varied as being the Deputy Project Manager for a European Union funded project to support demobilization, disarmament, reintegration among ex-militants in the Niger Delta, to directing the Social Justice Resource Center at Northeastern University, to managing a local program promoting literacy and life-skills among girls ages 11-14.
The span of my professional history centers around one persistent question: how can I transform violence, exploitation, apathy, and oppression into access, restoration, justice, and human flourishing?
I do not have the answer systemically, but at the micro-level there are significant strides we can make together. In this graphic, you will see some of the essential components for how I plan to partner with each of you to entrench equity and belonging here at Wheaton.
I posit these next steps for us as a community informed by my work history, but also my scholarship. I hold three interdisciplinary degrees. They are a master of arts degree in intercultural relations with a concentration in intercultural conflict management from Lesley University, a master of science in security and resilience studies at Northeastern University, and a bachelor of arts degree in international relations from Agnes Scott College. I am also a certified mediator through the Program on Negotiation at Harvard Law School.
This will be a long journey. The work did not begin with me and it will not end with me. As Coretta Scott King said: "Struggle is a never-ending process. Freedom is never really won, you earn it and win it in every generation." I am, however, hopeful that when my tenure concludes that we can point to key areas where we have anchored justice and empowerment in a way that feels palpable.
Sincerely yours,
Shaya Gregory Poku (she/her/hers)
poku_shaya@wheatoncollege.edu
Institutional Investment and Commitment
Shared Vision, Tools, and Goals
Collecting and Learning from the Data
Attention to Barriers and Disparities
Personal and Departmental Accountability
Revisiting System, Policies, and Processes
Continual Capacity Building
Celebrating Clear Points of Progress
Invitation for community input
We encourage you to share your hopes and aspirations for the Office for Institutional Equity and Belonging. If you have any immediate suggestions or thoughts you'd like to share, please email equityandbelonging@wheatoncollege.edu.