Associate Vice President for Institutional Equity and Belonging
Vacant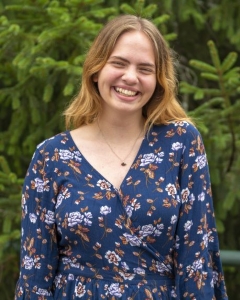 Mae Flibotte
Campus Compact AmeriCorps VISTA Member for First-Generation & Low-Income Student Success (They/Them/Theirs)
Email: flibotte_micheala@wheatoncollege.edu
Phone: 508-286-3494
Office location: Park Hall 210
Operating hours: Monday – Friday, 8:30 a.m. – 4:30 p.m.
Mae Flibotte serves as the First-Generation & Low Income Student Success VISTA in the Center for Social Justice and Community Impact and the Office for Institutional Equity and Belonging. Mae will help to continue to expand support for FGLI-identifying students through active campus partnerships and institutional policymaking. This year, Mae enters their third year serving on the First-Gen & Low Income Task Force and will begin to further develop programs like the Brave, Bold, & First LLC, wayfinding materials for students, staff, and faculty, as well as the Wheaton Food Pantry. Originally from Bowdoinham, Maine, Mae graduated from Wheaton in 2022 and holds a Bachelor of Arts degree in Anthropology and International Relations with a focus on Political Behavior and Identity. Mae hopes to be able to expand Wheaton's FGLI-centered offerings, identify and address institutional barriers to student success, and help make Wheaton an overall more equitable institution.
Personally, Mae enjoys spending tons of time with their friends and family, going to see local bands, podcasting, and reading. Above all, they are an avid road-tripper and traveler and has never turned down an exciting side quest.
Contact Us