Wheaton earns nods from Princeton Review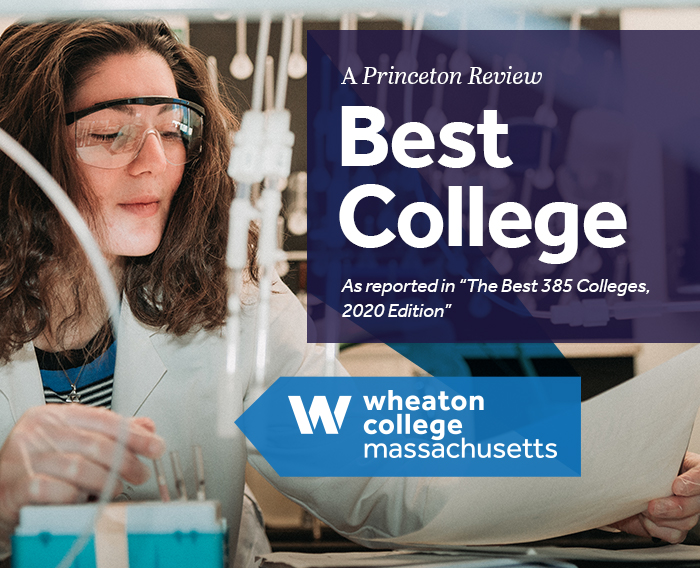 The 2020 guidebook ranks colleges based on student reviews
Wheaton College has once again been named one of the best schools in the U.S.—and recognized specifically for its inclusive community and excellent science labs—in The Princeton Review's The Best 385 Colleges 2020 Edition.
Wheaton also was featured in The Princeton Review's 2020 "Region by Region" list as one of the best schools in the Northeast.
For its 2020 Best Colleges lists, The Princeton Review surveyed 140,000 students nationwide, asking them about college life, academics, administration, the student community and their own experiences, to rank the top 20 colleges in more than 60 subjects. The overall list of best colleges is unranked.
Based on students' feedback, Wheaton was featured in the list of top schools for "Lots of Race/Class Interaction." And this year, the college made the top 20 for "Best Science Lab Facilities."
"Undergrads here particularly love that their school champions 'diversity and multiculturalism.' And, in doing so, Wheaton has created a 'very progressive and forward-thinking environment,'" The Princeton Review wrote, quoting student surveys.
Students also love Wheaton's approach to "active learning" and that Wheaton professors are "incredibly knowledgeable in their fields" and "encourage you to ask questions instead of quietly sitting in the back of the classroom," according to The Princeton Review.
Earlier this year, The Princeton Review recognized Wheaton's return on investment for graduates, including Wheaton in its 200 "Best Value Colleges" list.
These latest accolades join a long list of ways Wheaton has been recognized for its value to students, as well as to the global community. In July, Kiplinger's included Wheaton in its 2019 "Best College Values" list, ranking the college among the top 100 best-value liberal arts schools.
Wheaton also has been named a Top 40 U.S. Liberal Arts College by Wall Street Journal/Times Higher Education, and one of the Top 20 Colleges in the World for Promoting Gender Equality, in Times Higher Education's first-ever University Impact Rankings.