Wheaton recognized for global impact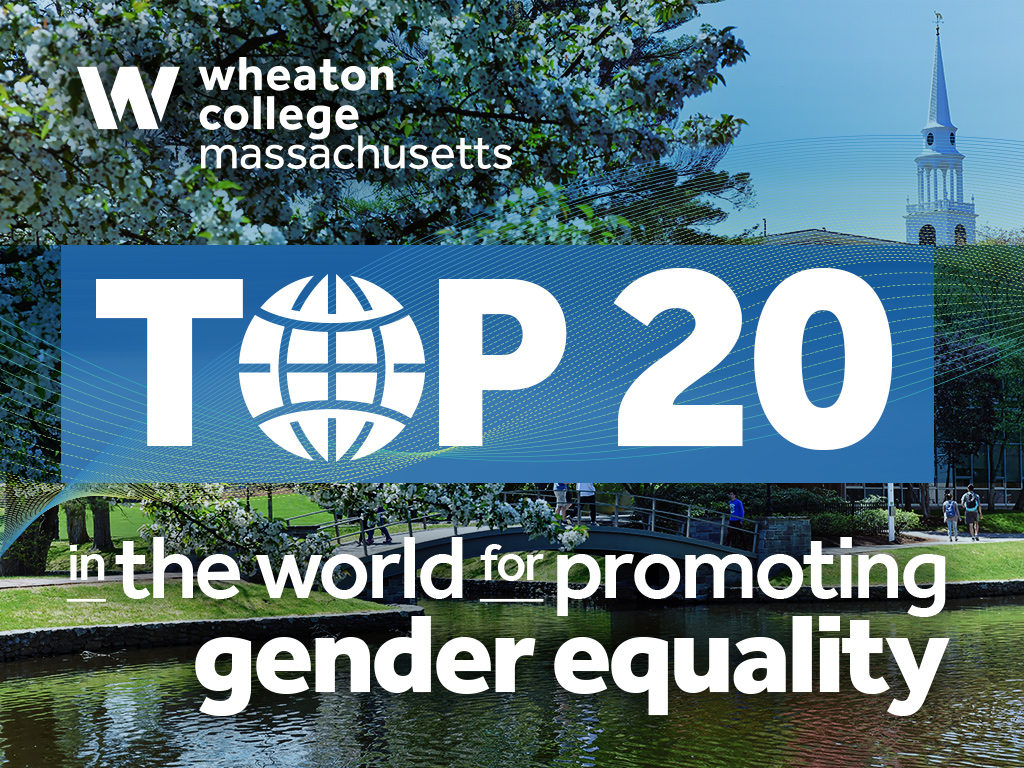 College included in Top 20 list of world institutions for promoting gender equality
Wheaton College has been recognized as one of the top 20 colleges in the world—and third in the United States—in promoting gender equality, in a new Times Higher Education ranking that highlights institutions for their positive social and economic impact.
The 2019 Times Higher Education University Impact Rankings evaluate colleges and universities on their success in delivering on the United Nations' (UN) 17 Sustainable Development Goals, which were adopted in 2016 to provide a framework for developing the world in a sustainable way. The UN goals include ending poverty and hunger, promoting good health and quality education, providing access to clean water and sanitation, and other key values.
In the Times Higher Education list released on Wednesday, April 3, Wheaton is ranked 20th in the world, of the nearly 500 institutions ranked, and third among U.S. colleges and universities, for its impact on gender equality, UN Sustainable Development Goal No. 5. The goal includes providing women and girls with equal access to education, health care, decent work and representation in political and economic decision-making processes, as well as promoting female equality in the workplace, eradicating harmful practices targeted at women and ending gender-based discrimination.
Wheaton is joined on the list by institutions from Australia, New Zealand, Netherlands, Sweden, Italy, Spain, Canada and the United Kingdom. Among colleges in the U.S., Wheaton scored just under the University of North Carolina at Chapel Hill and Wayne State University in Michigan for its efforts to promote gender equality.
The Times Higher Education ranking evaluates the ways that colleges contribute to gender equality through research efforts and outreach, as well as campus policies and programs that support and encourage women to pursue higher education, from students up through administrators. Among the data looked at are the college's proportion of first-generation students who are women, women-focused mentoring programs and scholarships, positive human resource policies such as maternity leave and non-discrimination policies protecting both cisgender and transgender women.
"The Times Higher Education ranking affirms the importance and effectiveness of the efforts of Wheaton faculty, staff and students to promote equality," President Dennis M. Hanno said. "It reflects the historic commitment of our community's shared values, which continue to be an essential part of Wheaton today and tomorrow."
Wheaton's commitment to gender equality is rooted in its founding in 1834 as a higher education institution for women. Today, the college is co-educational, home to an increasingly diverse and global student population and a talented team of faculty and staff whose work propels many of the goals outlined by the UN, including gender equality.
The Wheaton curriculum emphasizes many of the key issues addressed in the UN goals, integrating the study of race and ethnicity and its intersections with gender, class, sexuality, religion and technology in the United States and globally across all disciplines.
The college's women's studies program, now women's and gender studies, was established more than 40 years ago and was developed in partnership with the Gender Balanced Curriculum Project, which integrated scholarship by and about women throughout the entire Wheaton curriculum.
Wheaton's commitment to promoting gender equality can also be seen through a wide variety of programs. This coming weekend, the college will host the third annual Wheaton Summit for Women in STEM. The full-day event, spearheaded by Associate Professor of Mathematics Rachelle DeCoste and Assistant Professor of Biology Laura Ekstrom, brings together students, faculty and professionals in science, technology, engineering and mathematics to share their research and discuss the challenges and opportunities for women in these fields.
The college continues to introduce new offerings that promote gender equality. For example, thanks to the generosity of trustee and alumna Diane Nordin '80, Wheaton recently joined a select group of colleges and universities to partner with the Forté Foundation, to support the professional development and career aspirations of Wheaton women through access to elite conferences, career networks and and other professional development opportunities.
Wheaton also has been recognized as a Top 40 Liberal Arts College, in a 2019 ranking of U.S. colleges and universities by Times Higher Education in partnership with the Wall Street Journal.