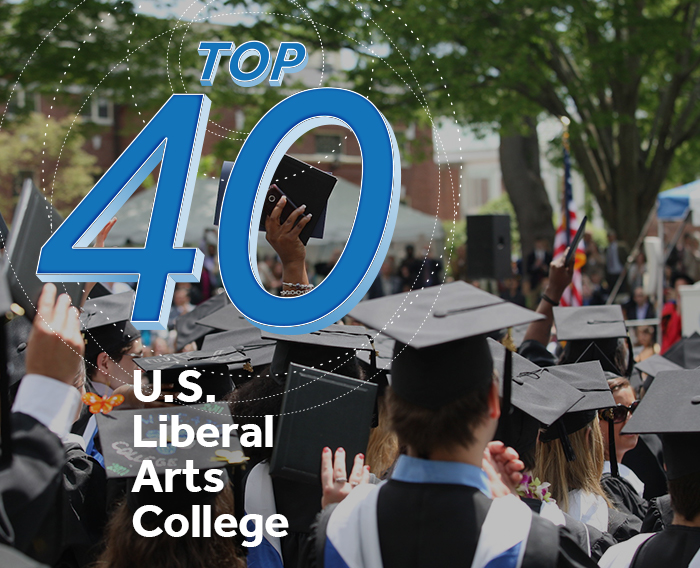 Wheaton College has been named one of the top 40 liberal arts schools in the country.
In the 2019 College Rankings, released this week by The Wall Street Journal and Times Higher Education (WSJ/THE), Wheaton is ranked 106th overall (out of nearly 1,000 U.S. colleges and universities), and 39th among U.S. liberal arts schools.
The college has consistently ranked high in this list—earning a spot among the top 50 liberal arts schools for the past two years. This year, Wheaton jumped nine spots in the overall ranking.
President Dennis M. Hanno said the WSJ/THE ranking is an accurate reflection of Wheaton's strength in the field of higher education, because it draws on both student satisfaction and graduate outcomes.
"Wheaton is focused solely on providing an outstanding education for students—with more choices and more opportunities—to prepare them to be leaders and change makers," President Hanno said. "I see the impact of the college's commitment to students every day on campus and in the incredible success that our students achieve six months after graduation."
The WSJ/THE College Rankings, now in its third year, are based on 15 key indicators within four areas: graduate outcomes, college resources, community engagement and campus environment, with 40 percent of the assessment weighted toward outcomes, according to WSJ.com. Among the key indicators looked at under outcomes are graduates' salaries 10 years out and student debt after graduation.
The rankings also draw from a national survey of about 200,000 current students, which accounts for about 20 percent of a college's score. For Wheaton, some of the strongest survey results included students' assurance that Wheaton was the right choice for them and their belief in the financial value of a Wheaton education, according to the college's profile on WSJ.com.
In addition to the student survey, the College Rankings results are based on data from the U.S. Department of Education College Scorecard and Federal Student Aid, the U.S. Bureau of Economic Analysis, Times Higher Education's Academic Reputation Survey, Elsevier and the Integrated Post-Secondary Education Data System.
Wheaton also was recently recognized in The Princeton Review's "Best 384 Colleges" and "Top 200 Colleges That Pay You Back," and has been rated highly by a number of other organizations, including U.S. News & World Report, Forbes, Money, Kiplinger's and Fiske.