Social Impact Conference to inspire ideas for a better world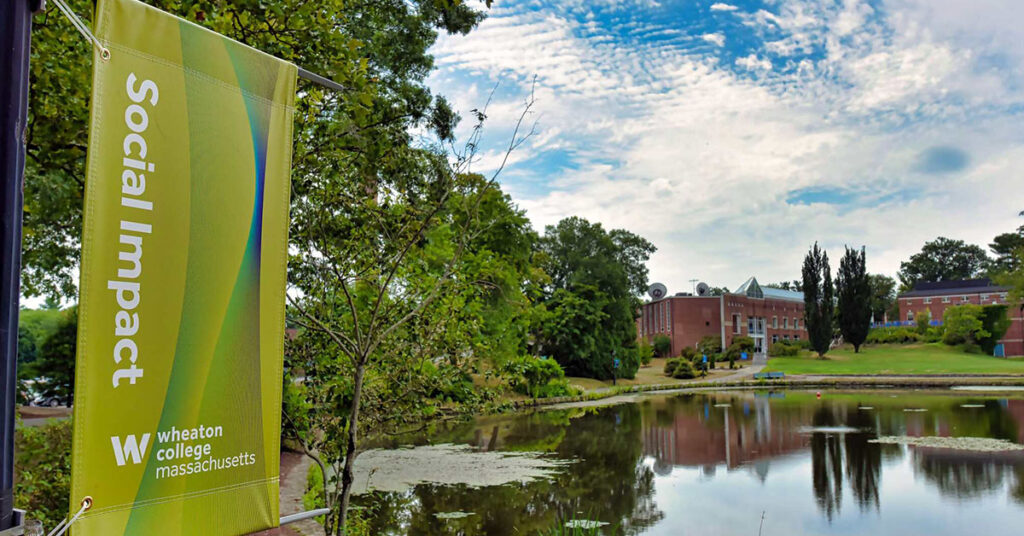 Student-led event features speakers, workshops and networking opportunities
Changing the world for the better requires new, compelling ideas and a plan to manifest them. Wheaton College students are helping provide those tools—and developing their own actionable ideas—as the key organizers and participants of the second annual Social Impact Conference, scheduled for April 28 to 29 at the Diana Davis Spencer Discovery Center Dedicated to Free Speech and Innovation.
The in-person conference is part of Wheaton's larger effort to infuse social entrepreneurship education and innovation within the liberal arts. Students will have the opportunity to network with distinguished practitioners and scholars working on social impact issues while learning how to employ their own talents for social good.
"The conference brings together many of the elements that help Wheaton students develop the expertise that they can use to strengthen their commitment to social change and to make the world a better place," said Imran Chowdhury, associate professor of business and management and Diana Davis Spencer chair of social entrepreneurship. "After a successful virtual Social Impact Conference in 2021, the student organizing committee is ready to take the event to new heights with an in-person event this year."
Conference organizers Gabriel "Gabe" Fellows '23, Ariel Ferreira '24, Akib Marzuk '22, Ervin "Erv" Williams '24, Masa Mita '22 and Erin Billinger '25, with assistance from social entrepreneurs in residence Archana Shah and Pabel Delgado, are planning a full slate of speakers, workshops and interactive activities.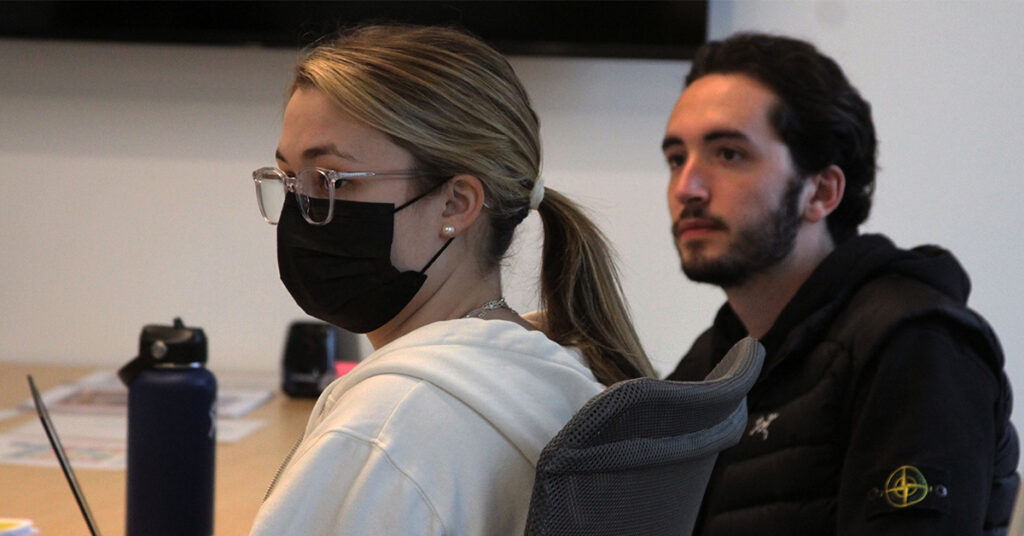 The students have selected Ross Franklin '02 as this year's keynote speaker, who will kick off the event. Ross, a cross country student-athlete who majored in biology at Wheaton, is the founder and CEO of Pure Green Franchise, a juice and smoothie franchise with locations around the United States. Recently, Forbes recognized Ross on its list "The Next 1000 2021: The Upstart Entrepreneurs Redefining the American Dream."
Victoria "Tori" Hay Lindahl '08, the global head of social impact at Snyk, a Boston-based startup cybersecurity company. Lindahl, who was a psychology major at Wheaton, will receive the 2022 Alumni Social Impact Award at a closing ceremony on April 29 in Hindle Auditorium. The award honors her work in social responsibility, and her efforts to advance the potential of women and girls, and build diverse and inclusive communities.
Students are working on all facets of the conference, which will take advantage of the new spaces dedicated to social entrepreneurship in the Discovery Center.
"The conference being in person this year is taking this event to a whole new level to achieve our goals of creating a space for collaboration and knowledge-sharing within social impact fields," said Ferreira, the social entrepreneurship chair programming assistant who is helping promote the conference.
"Our program's space, the Social Entrepreneurship Studio, is the hub for all of our organizing. We are proud to be able to showcase and share the studio along with all of the other new spaces with our community and the broader community while igniting the spirit of innovation and entrepreneurship," she said.
Serving as an ambassador to these spaces during the conference is Williams, a history and business and management double major. Williams helped organize the virtual conference last year and also pitched his own entrepreneurship endeavor called PSI 7—a board game that helps players better understand world history and cultures. He developed the framework for PSI 7 as a participant in the 2021 Social Entrepreneurship Launch Program, a partnership between Wheaton and the Global Center for Social Entrepreneurship Network.
This year, Williams is in charge of coordination between the conference and the Fab Lab, which will display information on student projects and businesses. William also will oversee conference merchandise and general managerial duties.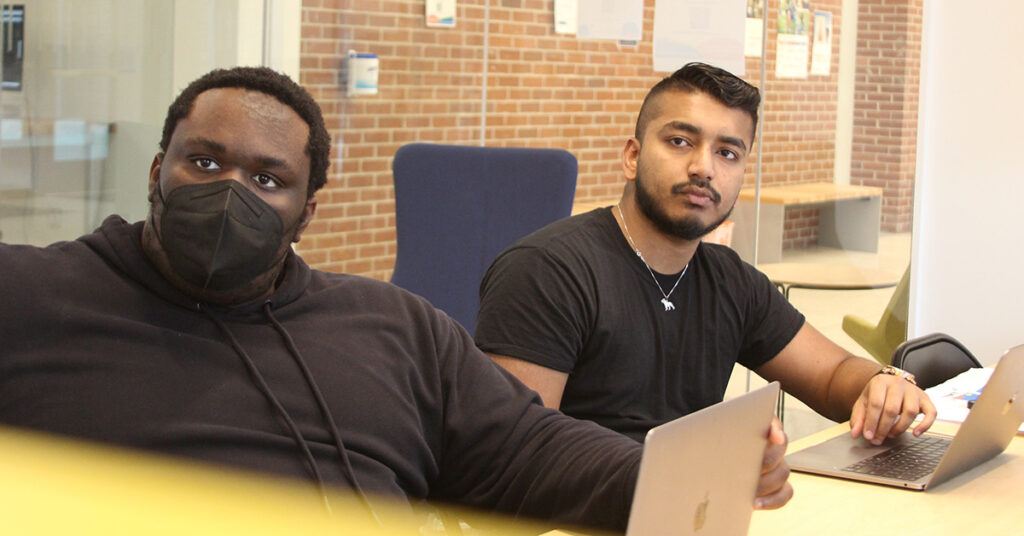 Billinger, who is involved in outreach and communications efforts, has focused on recruiting organizations and professionals to take part in the event.
"I have met and connected with some amazing entrepreneurs, business owners and other creative minds over the past few months, which I think is really meaningful, especially since I'm only a first-year student," said Billinger, an international relations major.
Many of the speakers will address issues that the students have identified as crucially important, including diversity, equity and inclusion. Billinger noted Margie Breault's round-table discussion, "Underrepresentation in Social Impact Ecosystems." Breault is a program manager with Entrepreneurship for All in Worcester, Mass.
"This session aims to educate attendees about the realities marginalized people face in a social impact context while also empowering those who may see themselves in such groups," Billinger said.
As part of their responsibilities, the student leaders will moderate panel discussions. Ferreira, for instance, is moderating a panel on community development that will include Madison Marks, director of the social innovation lab at Johns Hopkins Technology Ventures; Jessica Mello, business assistance and marketing officer at South Eastern Economic Development Corporation; and Michael Partis, executive director of the Bronx Cooperative Development Initiative.
"We're going to have a discussion on their organizations' community development models and see how these models can be applied in different contexts. Community development bridges the gap between organizations and external funding," Ferreira said.
Fellows, a business and management major, will moderate the impact investing panel and financial literacy workshop. Speakers for the investing panel include Marjorie Radlo-Zandi, an environmental, social and governance investor; Everett Cook, CEO and co-founder of Rho Business Banking; and Claudio Demolli, senior vice president and treasurer at International Gaming Technology. Wheaton's Ohm Initiative, a theme house formed with the intention to strive for a more inclusive community within the STEM field, will be leading the financial literacy workshop.
"I hope attendees leave with a desire to seek out more information about social impact and become motivated to make a difference," Fellows said.